In his November 29 address to the nation regarding the COVID-19 omicron variant, President Biden noted that 99% of U.S. schools are now open. While in-person learning is back for most students nationwide, classroom safety regulations vary significantly from district to district.
Mask or no mask? 6 feet distance, 3 feet distance? Open windows or air purifiers? As consensus on the safest way to maintain classroom learning remains elusive, many families are taking the issue of classroom air quality into their own hands.
With transmission-reduction guidance around air flow, ventilation, and purification becoming a household topic over the last two years, parents are keen to keep tabs on the air quality in their kids' schools. In the absence of hard facts from local school officials, The New York Times reports that some parents are sending their students to school with personal air quality monitoring devices.
Jan K. Carney, M.D., M.P.H., a professor of medicine and associate dean for public health at the Larner College of Medicine at the University of Vermont, recently weighed in on classroom air concerns in the Parents.com article, Parents Are Sending Kids to School With Air Quality Monitors—But Should You?
"COVID-19 virus particles spread between people more easily indoors where the virus can concentrate, as compared to outdoors where virus particles are more easily diluted," Dr. Carney tells Parents.com.
As much as we may want a one-size fits all solution to keeping classrooms air as COVID-19-free as possible, it's important to recognize that situations will vary. "Each school is different," Dr. Carney reminds us, "and the approach should be practical, based on the type of school and best practices to improve ventilation. I prefer a holistic or "layered" approach [to transmission reduction], based on scientific evidence, to protect all children."
To Monitor or Not to Monitor Air Quality in Schools?
Joseph Allen, DSc, M.P.H., an associate professor and director of the Healthy Buildings program at Harvard's T. H. Chan School of Public Health gives non-dispersive infrared monitors — the device of choice for many parents — a thumbs up for their ability to provide a general picture of how well a building is ventilated.
The devices work by measuring the amount of carbon dioxide (CO2) in a room, which is an indication of ventilation. The rub, however, is that CO2 levels can vary based on multiple factors, including the size of a room, the number of people in the room, the amount of time people spend in the room, and beyond. As a general rule, a room that clocks in at more than 1,500 to 2,000 ppm of CO2 may be under ventilated.
Measuring CO2, however, provides only a limited picture of air safety, as it doesn't take into account air filtration — that is, the concentration of aerosol particles or pollution that remain in the air. The true picture of a room's air safety comes from a combined reading of ventilation and filtration, something the now popular non-dispersive infrared monitors cannot provide.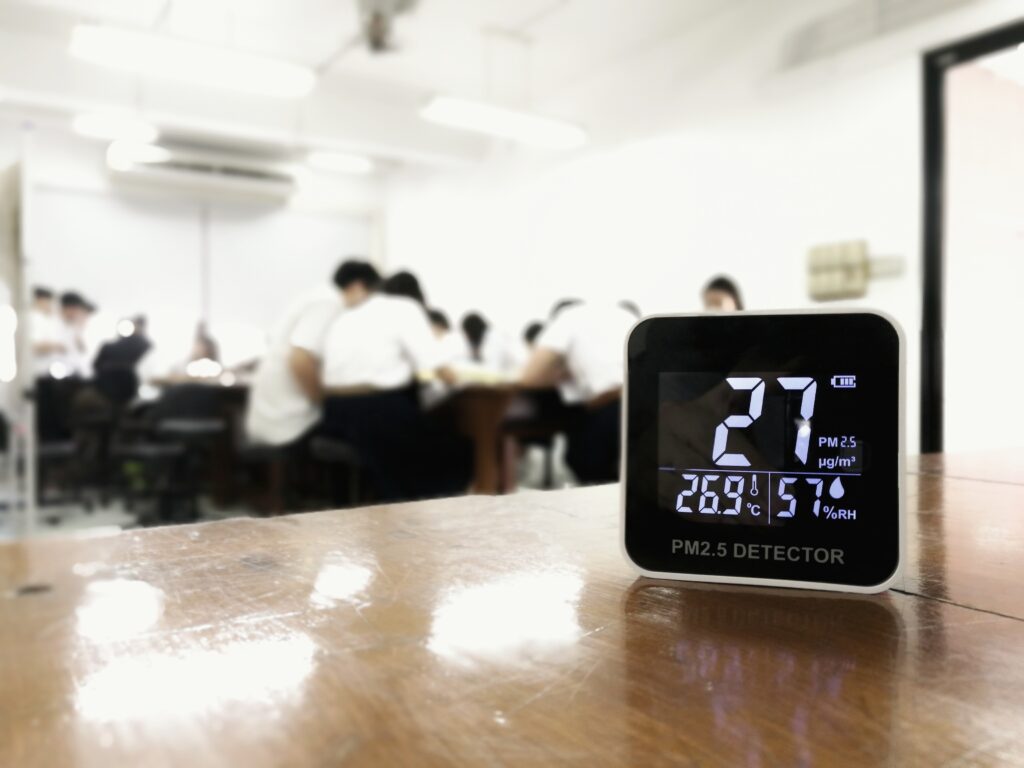 At the end of the (school) day, Dr. Allen advises to use such monitors as a suggestion rather than a confirmation of air quality. "It's often best to establish a baseline and monitor for drastic changes," he says. "For example, if a sensor usually says 600 but one day says 1,100, that suggests a change and something you should pay attention to."
Bringing unusual air quality readings to school officials can help jumpstart a productive conversation about ensuring air quality is consistently and transparently monitored.
Finally, it's important to keep things in perspective, remembering that reducing COVID-19 transmission requires layered interventions. A recent CDC study, for example, found that masking in schools reduces the spread of COVID-19. And now that vaccines are available for children ages 5-11, there are multiple simultaneous strategies that parents can implement to reduce risk.
---