Burlington – The Vermont Urban and Community Forestry Program (VT UCF) recently bestowed Tree Steward Awards on several Vermonters for their commitment to protecting and preserving their community's forests and trees.
The Award Winners
VERMONT ARBOR DAY AWARD - This award went to two dedicated individuals who have made a difference in their community's urban and community forest. 
Jane Brown, Waterbury Center, was the first landscape architect hired by the Vermont Agency of Transportation, a position she held for 23 years. She was involved in several transportation corridor renovation projects, including Main Street in Waterbury and Route 7 in South Burlington and Brandon. Brown has served on the Vermont Urban and Community Forestry Advisory Council since 1999 and contributed to the VT UCF's Resilient Right-of-Ways project (2015-2020) and the development of the Vermont Green Streets Guide. She also is a Waterbury Tree Committee member.
Dave Schneider, Fair Haven, was the municipal forester and arborist for the City of Rutland for 20 years. He collaborated with the Rutland Blooms citizen group to plant trees along the city's gateways and treated more than 100 ash trees within the city's right-of-ways to protect them from the emerald ash borer, an invasive forest pest. He also worked with Stafford Technical Center students to build and maintain the Rutland City Tree Nursery, which has supplied 900 trees for city plantings. Schneider has been a Vermont Urban and Community Forestry Advisory Council member since 2001.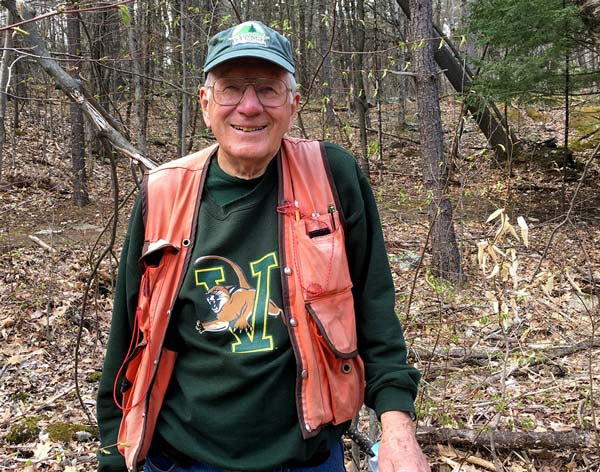 HAMILTON AWARD - Chuck Vile, Essex Junction. This long-time Essex tree warden has conducted rural road tree inventories, corrected erosion problems on forest trails and coordinated with contractors for emerald ash borer response efforts and town forest timber operations. Vile also was recognized for his work with the Essex Conservation and Trails Committee and homeowners to assess the health of trees on their property. This award is presented to a tree warden who has advanced the goals of urban and community forestry through sustainable forestry practices, public education and other means.
LEADER AWARD - Tom Estill, Rutland. Estill, a lifelong science teacher and outdoorsman, was recognized for his long-term efforts to reintroduce blight-resistant American chestnut trees in Vermont. He has worked with the Vermont-New Hampshire chapter of the American Chestnut Foundation to obtain seedlings and with local students for planting at Pine Hill Park, Mount St. Joseph High School and the Alan Street Campus, all in Rutland. He received this award for demonstrating strong leadership in an urban or community forestry project. 
UNSUNG HERO AWARD - Nancy Knox, Burlington. Knox was recognized for her above-and-beyond efforts to make a difference in an urban and community forest project. She works with Branch Out Burlington!, a volunteer group that plants and cares for trees in Burlington. She first joined the board in the late 1990s and has helped educate the public about the importance of trees through tree walks and other events. Knox conducted tree inventories after the 1998 ice storm and has served on the Vermont Urban and Community Forestry Advisory Council for many years.
VOLUNTEER GROUP AWARD - This is presented to an organization or group that has demonstrated a strong commitment to introducing or sustaining an urban and community forestry project. There were two winners this year.
The Guilford Conservation Commission has focused its efforts on the emerald ash borer. Members mapped more than 2,700 ash trees on 67 miles of town roads to report the status and condition of each for Vermont's Roadside Ash Inventory. They worked with an arborist to apply approved insecticides to save important ash trees on town properties. With an Arbor Day grant they plan to plant trees for shade and beautification near Guilford Central School to teach the students about planting and care of trees and their importance to ecosystems.
The Austin Parcel Flood Plain Forest Restoration Collaboration, begun in 2018, is a partnership between the Waitsfield Conservation Commission and the Friends of the Mad River, the Intervale Conservation Nursery, the Mad River Path Association and the Vermont Master Naturalist Program. The goal of this multi-year effort is to restore an important floodplain along the Mad River in Waitsfield through removal and management of invasive species, enhancement by planting native species and community engagement in floodplain forest restoration.
VT UCF also serves as the Vermont coordinator for a national awards program for the Arbor Day Foundation. Recipients of these awards are:
TREE CITY USA - Burlington, Essex Junction, Hartford, Middlebury, Montpelier, Rutland, South Burlington, Shelburne, Winooski
TREE CAMPUS USA - Middlebury College, University of Vermont
TREE LINE USA - Vermont Electric Power Company
VT UCF is a partnership between UVM Extension and the Vermont Department of Forests, Parks and Recreation. To learn more, visit www.vtcommunityforestry.org.