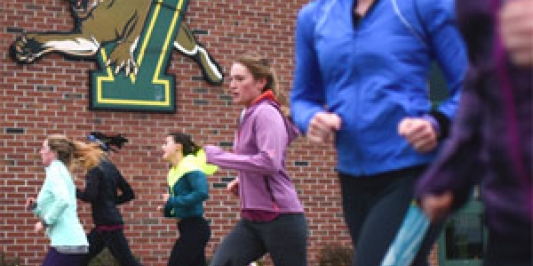 Department of Rehabilitation and Movement Science programs develop competent graduates who demonstrate the knowledge, skills, and behaviors essential for those who participate in health promotion and management of injury and disability.
Athletic Training Careers
UVM Athletic Training alumni take jobs in a variety of settings in high school, collegiate, and professional sports, outpatient orthopedic rehabilitation clinics, and in emerging areas including performing arts organizations and the military.
Athletic trainers work closely with physicians and other health care professionals in the prevention, treatment, and rehabilitation of injuries incurred by athletes and others engaged in physical activity. Athletic trainers are often the first professionals on the scene when an injury occurs, and need strong assessment and evaluation skills.
Advances in injury prevention, detection, and treatment are expected to increase the demand for employment of athletic trainers by 30% from 2010-2020, according to the National Bureau of Labor Statistics.
UVM Undergraduate Program Outcomes
The UVM Athletict Training Education Program has achieved a 100% first-time pass rate on the National Board of Certification exam for fifth year in a row.
Athletic Training Board of Certification Pass Rates

| Period | Number of UVM graduates taking exam | National first attempt pass rate | UVM first attempt pass rate | Percentage of UVM students who passed exam regardless of number of attempts |
| --- | --- | --- | --- | --- |
| 2014-2015 | 16 | 80.65% | 100% | 100% |
| 2013-2014 | 19 | 82.85% | 100% | 100% |
| 2012-2013 | 16 | 80.8% | 100% | 100% |
| 3-year aggregate | 51 | 81.4% | 100% | 100% |
Exercise and Movement Science Careers
UVM Exercise and Movement Science Program graduates pursue careers as research scientists, rehabilitation specialists, fitness instructors and exercise professionals in a variety of settings, including health and wellness promotion programs, exercise prescription and programming businesses, and the health and fitness industry. Recent graduates have taken positions in corporate wellness, research labs, adaptive sports programs, and community organizations including the YMCA, Spaulding Rehabilitation, VT Adaptive Ski and Sports, The New York Rangers of the NHL, and the U.S. Paralympic Ski Program.
The baccalaureate degree also provides a foundation for masters and doctoral study. Past graduates have entered graduate programs in exercise science, kinesiology, physical activity and exercise behavior, public health, and exercise psychology. Many students pursue advanced clinical degrees in physical and occupational therapy or medicine, or to become physician's assistants.
Careers
Exercise Physiologist
Exercise physiologists design and manage individual and group fitness programs. They also work with health care teams to apply physical activity in clinical situations. They may work for corporations, medical centers or community-based organizations.
Fitness Specialist
Fitness specialists instruct individuals or groups in cardiovascular exercise and strength training. They are employed at health clubs, hospitals, yoga and Pilates studios, resorts, and clients' homes. Some fitness specialists direct workplace health and fitness programs. Others become personal trainers.
Strength and Conditioning Specialist
Strength and conditioning specialists are professionals who "apply knowledge to train athletes for the primary goal of improving athletic performance," according to the National Strength and Conditioning Association (NSCA). They design training and conditioning programs, conduct testing sessions, and consult on nutrition and injury prevention.
Corporate Wellness Director
Corporate wellness directors design and implement fitness programs for employees, consult on proper nutrition and stress management, and educate about the benefits of health in the workplace. The goal is to improve the health and well-being of workers in the organization.
Doctor of Physical Therapy Graduate Program Outcomes
The following information about UVM's Doctor of Physical Therapy Program has been reported to the Commission on Accreditation in Physical Therapy Education (CAPTE). Graduation and employment information is compiled from departmental records. Employment data reflect percent employed within six months of passing the licensure exam. The licensure pass rate is reported by the Federation of State Boards of Physical Therapy.
Graduation Rate

| Entry Year | Four-year Graduation Rate |
| --- | --- |
| 2007 | 100% |
| 2008 | 93% |
| 2009 | 97% |
| 3-year average | 97% |
Licensed Graduate Employment Rates & Licensure Exam Pass Rates

| Class | Employment Rate | First Time Pass Rate | Ultimate Pass Rate |
| --- | --- | --- | --- |
| 2013 | 90% | 92% | 97% |
| 2012 | 100% | 90% | 100% |
| 2011 | 100% | 98% | 100% |
| 3-year Average | 100% | 93% | 99% |