Why are students excited about UVM's Secondary Education Program?
"I made countless bonds with faculty and peers, and had the most inspiring group of professors. I was also able to go to China to learn about their school systems, participate in an innovative research project, and do a lot of teaching." Tegan Garon '16
UVM's Secondary Education program provides students with supportive and rigorous learning experiences needed to become a teacher in middle and high school settings. You will learn to develop engaging and relevant curriculum, value and respect the uniqueness of students and their families, and use assessment data to tailor student learning.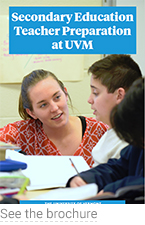 Multiple Field Placements
You will get plenty of hands-on experience in our program. UVM Teacher Education majors complete at least four community-based field experiences in a variety of school settings (rural, suburban, and inner city) with continuous support and mentoring from our faculty advisors.
Dual Degree and Dual Certification/Endorsement
Students in our program actively seek ways to stand out when looking for jobs after graduation. Earning dual degrees is great way to accomplish this goal. Plus you can earn dual certification in both a content area and a specialty area such as Special Education or Education for Cultural and Linguistic Diversity (ECLD), helping you become the kind of teacher that employers want to hire. We also offer minors in Coaching and Human Development and Family Studies.
Teaching Certificate Reciprocity
UVM's nationally accredited teacher education programs enjoy reciprocity with over 50 states and Canadian provinces, so you can prepare to teach almost anywhere. See our Licensure page for more information.
Technology Integration
We embrace the ISTE (International Society for Technology in Education) standards for teachers and students. The standards include attention to inspiring student learning and creativity with a commitment to meaningful assessment. Our technology integration course promotes curriculum design to enhance student-centered learning opportunities.
International Study
There are countless international study opportunities for students to explore. UVM's Office of International Education provides a full range of support services to assist you.
Master's Degree in Secondary Education (with Accelerated Option)
If you already have your bachelor's degree, you can pursue our master's degree in Secondary Education (M.A.T) that allows you to gain teaching licensure in just one year, or at your own pace.