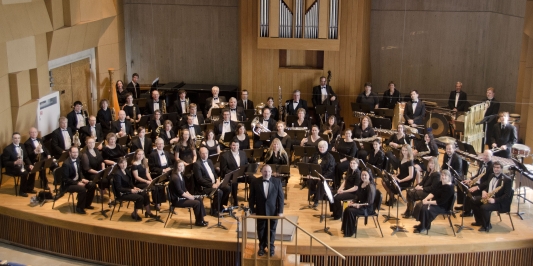 The Vermont Wind Ensemble consists of advanced students (regardless of major), alumni, area music teachers, and dedicated community members.  Repertoire is chosen from band "classics" like the Holst suites, John Barnes Chance's Incantation and Dance and Variations on a Korean Folk Song, and newer pieces, including first performances and American premieres.  The group presents on-campus concerts every semester and has performed throughout Vermont as well as at two conventions of The Association of Concert Bands. The ensemble is conducted by Prof. D. Thomas Toner, who also conducts the Concert Band and Percussion Ensemble.   
More information can be found here (off-site )
Auditions
Detailed audition information, and instructions for submitting recordings, may be found here.
You should plan to play a two octave scale of your choice to demonstrate tone quality and range and 3-5 minutes of a solo or etude that demonstrates your technical abilities and musicality.  Sight reading is required and will be provided.  UVM students are given priority over non-UVM people for acceptance into the ensemble (Note: students who perform in the Vermont Wind Ensemble are required to also perform in the UVM Concert Band). While it is hoped that everyone who is qualified will be offered a spot in the group, ensemble balance issues will occasionally make that impossible.
Upcoming Concerts
Sunday, April 10th, 2022, 3:00 p.m
Past Concerts
Sunday, April 5, 2020, 3:00 PM
Program TBA
Sunday, November 10, 2019, 3:00 PM
Olympiada - Hazo
Songs of Grace and Songs of Glory - Sousa
Hymn to the Infinite Sky - Yagisawa
The Swan on the Hill - Van der Roost
The Witch and the Saint - Reineke
Caderna - d'Arcangelo/Gabriel
Aquarium - de Meij
Sunday, April 14, 2019, 3:00 PM
Larry Solt, conductor
Gavorkna Fanfare - Stamp
American Salute - Gould
Now Is The Time - O'Toole
Slava! - Bernstein
Incantation and Dance - Chance
One Life Beautiful - Giroux
Crown Imperial - Walton
Sunday, November 11, 2018, 2:00 PM
Prof. Yutaka Kono, conductor
Festival Prelude - Reed
Dragon Sky - Guiroux
Lightning Field - Mackey
Fu-Mon - Hoshina
Elegy - Chance
Finale from Symphony No. 5 - Shostakovich
Sunday, April 15th, 2018, 3:00 PM
Chris Rivers, conductor
To A New Dawn - Sparke
Tocatta and Fugue in D Minor - Bach/Hunsberger
Lads of Wamphray March - Grainger
Zion - Welcher
Asphalt Cocktail - Mackey
Sunday, November 12th, 2017, 3:00 PM
​Chris Rivers, conductor
Overture to Candide - Bernstein/Grundman
Children's March - Grainger
Symphony on Themes of Sousa "The Thunderer" - Hearshen
Melodious Thunk - Biedenbender
Star Wars Trilogy - Hunsberger