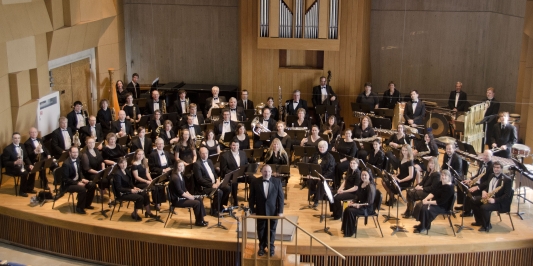 The Vermont Wind Ensemble was founded at the University of Vermont in 1979 by Dr. Herbert Schultz. The membership of the ensemble includes advanced Music Department students, alumni of the university, area music teachers, and dedicated community members, and has performed at two conventions of The Association of Concert Bands, as well as regular performances on campus and in the community. The first concert was in February of 1980, and among the forty-two founding members, five still perform with the group today: James Heininger, Joanne Irwin, Susan O'Daniel, Pamela Miller, and Dean Williams.
Auditions
Auditions take place during the first week of each semester by appointment with the director. You should plan to play a two octave scale of your choice to demonstrate tone quality and range; approximately three minutes of a standard solo work for your instrument; sight reading from standard wind literature. UVM students are given priority over non-UVM people for acceptance into the ensemble (Note: students who perform in the Vermont Wind Ensemble are required to also perform in the UVM Concert Band). While it is hoped that everyone who is qualified will be offered a spot in the group, ensemble balance issues will occasionally make that impossible.
Auditions for new members, Spring 2019
Tuesday 1/15, Green Room, 3:30-7:30
Wednesday 1/16, Green Room, 11-1:30
Thursday 1/17, SW 311 (Band Library), 5:00-6:30
Contact 94lsolt@uvm.edu to schedule an audition or with any questions.
Upcoming Concerts
Sunday, April 14, 2019, 3:00 PM
Gavorkna Fanfare, Jack Stamp
American Salute, Morton Gould
Now Is The Time, Anthony O'Toole
Slava! A Concert Overture, Leonard Bernstein
La Fiesta Mexicana, H. Owen Reed
One Life Beautiful, Julie Giroux
Crown Imperial, William Walton
Past Concerts
Sunday, November 11, 2018, 2:00 PM
Alfred Reed, Festival Prelude
Julie Guiroux, Dragon Sky
John Mackey, Lightning Field
Hiroshi Hoshina, Fu-Mon
John Barnes Chance, Elegy
Shostakovich, Finale from Symphony No. 5
Sunday, April 15th, 2018, 3:00 PM
To A New Dawn, Sparke
Tocatta and Fugue in D Minor, Bach arr. Hunsberger
Lads of Wamphray March, Grainger
Zion, Welcher
Asphalt Cocktail, Mackey
Sunday, November 12th, 2017, 3:00 PM
Overture to Candide, Bernstein/Grundman
Children's March, Grainger
Symphony on Themes of Sousa - "The Thunderer", Hearshen
Melodious Thunk, Biedenbender
Star Wars Trilogy, Hunsberger
Asphalt Cocktail, Mackey