Professor, Associate Provost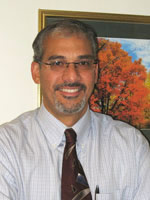 Contact
Office Hours:
By Appointment only via Jennifer.Diaz@uvm.edu
Office Location:
Room 347A Waterman Building
Areas of Expertise and/or Research
Education
Ph.D., University of Oklahoma Health Science Center, 1987
Research Associate (1987-1991) Massachusetts Institute of Technology
Research and/or Creative Works
The Vigoreaux lab is interested in the structural and functional properties of muscles that power oscillatory systems, namely the insect flight muscle and the vertebrate cardiac muscle. We use classical and molecular genetic approaches to study the function of various contractile proteins of the indirect flight muscles (IFM) of Drosophila melanogaster. Our goal is to understand how individual proteins contribute to the structural stability and mechanical properties of the muscle fiber, and to the function of the flight system. This research combines biochemical techniques to analyze protein function, cell imaging techniques to analyze muscle ultrastructure, bioengineering techniques to analyze muscle mechanical properties, and entire flight system measurements.