Why study in the Department of Plant and Soil Science? We are committed to training the next generation of leaders who will help our agricultural systems and living landscapes thrive in an ever-changing and increasingly complex world. With a strong foundation in ecology, our integrative and applied programs provide students of all ages with opportunities dig in and get their hands dirty.
Our research, teaching and outreach serves local, national and international communities by providing research-based answers to agricultural and environmental issues.
Our Graduates are Highly Employable
With our home in UVM's College of Agriculture and Life Sciences, our flexible curriculum and broad range of academic expertise enables students to take advantage of courses and experiences to prepare them for a multifaceted, rewarding career. Our graduates have pursued careers as soil conservationists, environmental consultants, agricultural consultants, soil and water technicians, food security specialists, landscape managers and designers, farm and greenhouse managers, researchers, and educators. Many graduates have started their own businesses, while others have gone on to work for state and federal agencies, nonprofit organizations or public and private companies.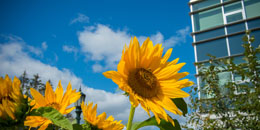 Agroecology offers an alternative approach to agriculture and food systems that centers ecological health, and social justice and equity.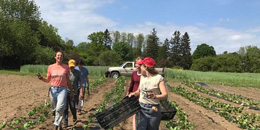 Experiential Learning
Gain real-life experience in agroecology through clubs, internships, research, or on our farm, the UVM Horticultural Research and Education Center.