Coming Soon!
The Horticulture Club will be in Jeffords Parking Lot  giving away African Violets and Peperomia to essential workers.

These plants were originally planned to be given out at the Horticulture Club's First-Year new student welcome event on campus in August, however the club Presidents felt that they would instead like to give them out to thank the "Essential Workers" at the University of Vermont Medical Center during the COVID-19 Pandemic.
Care instructions:
The Horticulture Club brings students who are interested in horticulture together. Our activities are open to all students, from those who have no knowledge of plants to those who are majors in plant and soil science. Club members participate in a number of volunteer activities and fund raisers. We raise bulbs for donation to nursing homes, arrange presentations on varied topics, such as bonsai trees and flower arranging. Our annual trip to the Montreal Botanical Gardens has been a popular activity on campus for many years!
Horticulture Club events posted on Facebook
Club Contact: Horticulture.Club@uvm.edu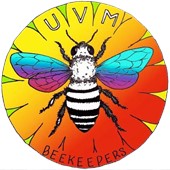 Beekeeping Club
The UVM Beekeepers are establishing a community for those interested in all aspects of bees and beekeeping. The club seeks to educate members of the UVM and Burlington communities on the ecological importance of honeybees. We will be keeping hives on campus, in the meadow across from University Heights Greenhouse, and at the Horticulture Research and Education Center. 
The Beekeeping Club was instrumental in obtaining the Bee Campus designation for UVM in 2018. There are only 18 such campuses nationally, and we are the only one in New England.
Learn more! Read the Annual Report:  Bee Campus USA
Beekeeping Club events posted on Facebook
Club Contact: Mark.Starrett@uvm.edu