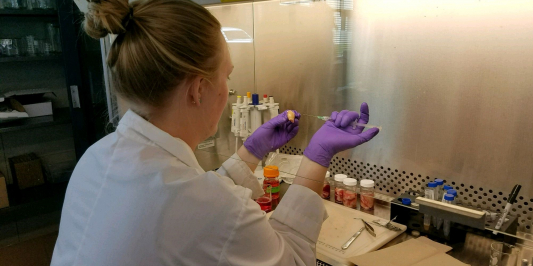 Welcome! These are our current graduate students and what they are working on. 
Bhattarai, Suraj - Working on PhD - McKay Lab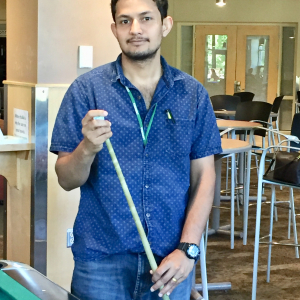 Suraj Bhattarai was born and raised in Jhapa, a part of Nepal where it doesn't snow. He graduated from Jawaharlal Nehru University, New Delhi with a master's in Biotechnology in 2014. There, he studied trans-regulation of nerve growth factor (NGF beta) by tumor suppressor p53 under hypoxia in colon cancer cells. In 2015, he went to Nepal and worked as a lecturer of molecular biology and animal biotechnology in Sunsari technical college, Dharan affiliated to Tribhuvan University. During this time, he completed a research project funded by Nepal Academy of Science and Technology (NAST) as a principle investigator. While he was working in Nepal, he realized that animal genetics would be a field which intersected his skills in molecular biology and passion for livestock improvement especially in developing countries like Nepal. This led him to Dr. Stephanie McKay's laboratory in the spring of 2018 where he is working on various genetic and epigenetic projects.  When Suraj is not working in the lab or generating hypotheses; he enjoys reading books, playing badminton, pool and cooking meals.
Burguard, Dylan - working on MS - Townson
Chakrawarti, Ashma - working on PhD - Barlow Lab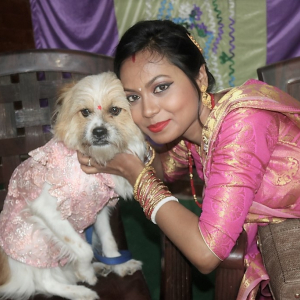 Ashma was born and raised in Dharan, Eastern region of Nepal. Prior to arriving at UVM, she earned a master's degree at Tribhuvan University with a focus on Medical Microbiology. Her previous research mainly dealt with Extended Spectrum Beta-lactamase (ESBL) E. coli and Multiple Antibiotic Resistance (MAR) Indexing. After graduating in 2015, she worked as a lecturer in one of the constituent campuses of Tribhuvan University for three years. During that time, she received research grants from Nepal Academy of Science and Technology (NAST) and University Grants Commission (UGC) Nepal. She has developed a passion for interdisciplinary approaches to address the "One Health" problem of antimicrobial resistance. As a part of her Ph.D. studies under Dr. John Barlow, she will focus on using molecular epidemiological tools and techniques to understand the dynamics of AMR bacteria. Besides study and research, Ashma loves dancing, playing word games and hanging out with her pooch.
Decastro, Lauren - working on MS - Townson Lab
Driemel, Ashley - working on MS - Greenwood Lab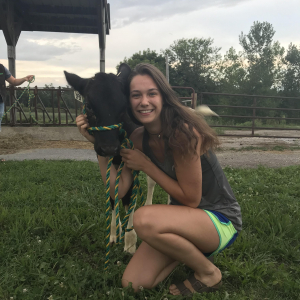 Ashley Driemel was born and raised in Vernon, NJ. She recently graduated from the University of Vermont with a B.S. in Animal Science where she worked as an undergraduate research assistant in Dr. Greenwood's lab and was a member of the 2018 Summer CREAM group. Ashley is continuing as a Master's student in Dr. Greenwood's lab to evaluate the effects of algal supplementation on ruminant methane production. She'll be using continuous culture fermenters to investigate potential methane mitigation along with other animal performance parameters and rumen proteomics. When she's not in the lab, Ashley enjoys hiking, horseback riding, painting, spending time with her cat Circe and eating lots of sweets.
Jeffrey, Caitlin - working on PhD - Barlow Lab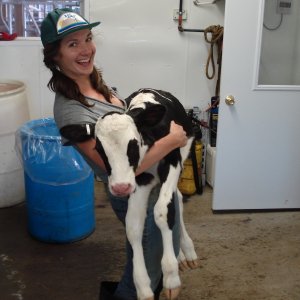 Caitlin Jeffrey grew up in Northfield, Vermont, and graduated from Bowdoin College in 2007 with an A.B. in biology. While at Bowdoin, she completed an honors thesis looking at the effect of weather on foraging behavior of two bird species with different feeding strategies. Caitlin went on to attend Cornell University College of Veterinary Medicine, where she focused on both equine and bovine medicine. After graduating with her D.V.M. in 2013, she practiced veterinary medicine as a large animal ambulatory clinician in New York, New Hampshire, and Vermont. She was excited to transition into a PhD program in the UVM Animal Science Department after hearing about an opportunity to work in Dr. John Barlow's lab. She will be working on a project exploring the microbial community of the mammary gland and bedded packs on organic dairy farms, and how the microbiome of the udder may affect susceptibility to intramammary infection
Flores, Natalie - working on PhD - Kraft Lab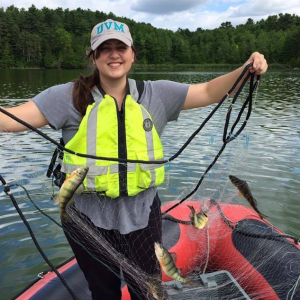 My research interests include aquatic ecology, environmental toxicology, and understanding how chemical substances affect organisms and ecosystems. My doctoral dissertation focuses on enhancing the knowledge on impacts of cyanobacterial blooms on different parts of the environment, including water, fish, and air. I'm using a combination of existing data in a global analysis and new data from field sampling to address these issues. By learning more about the increased presence and effects of cyanobacteria in multiple areas of the environment, I will help characterize potential routes of human exposure to cyanobacteria toxins and identify how blooms may impact the nutritional value of fish through the fatty acid composition and toxins. I aim to broaden the knowledge on ecological impacts of harmful cyanobacteria and environmental patterns in cyanobacteria and their bioactive chemical products.
Killpartrick, Adam - working on PhD - Guo Lab
Affiliated lab, no bio at this time
Kemp, Alyssa - working on PhD - Guo Lab
Affiliated lab, no bio at this time. 
Mulakala, Bharath - working on PhD - Greenwood Lab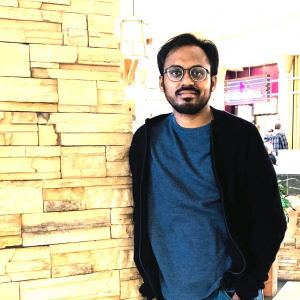 Bharath was born and raised in the southern part of India. He graduated with a bachelor's degree in veterinary medicine (DVM). Bharath completed his master's in Animal Sciences at North Carolina A&T State University. His master's thesis focused on cow innate immunity. He specifically focused on Galectins expression and secretion in cow milk in relation to somatic cell count. In addition, he also looked at the effect of plant phytochemicals on the modulation of galectins expression and secretion in cow whole blood and neutrophils. After graduation with his master's in May 2019, he worked as a Research Associate I at City of Hope in Los Angeles, California, for a couple of months. Bharath will be working on his Ph.D. in Dr. Sabrina Greenwood's lab. His research will be focused on Cow Rumen Meta-Proteomics. Apart from research, Bharath likes to play and watch cricket and love to watch movies.
LaCasse, Michelle - working on MS - Testroet Lab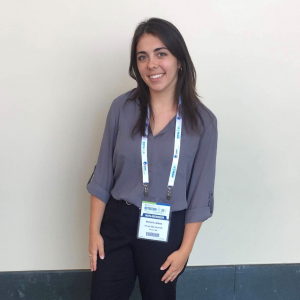 Michelle LaCasse was born and raised in White Bear Lake, Minnesota. She graduated from Winona State University in 2019 with a Bachelor of Science in Cellular and Molecular Biology and a double major in Ecology. Her undergraduate research consisted of a human nutrition study that focused on satiety and the effects of pre-meal snack choices.
During her time in southern Minnesota, Michelle completed two internships with the Minnesota Department of Natural Resources. Her work included trout management in over 600 miles of streams at a fisheries office in the Driftless region.
Michelle is pursuing a Master's degree in Animal Science in Dr. Testroet's Lab with research focusing on Fatty Liver Disease in periparturient dairy cows.
Lalonde, Christian - working on PhD - Zhao Lab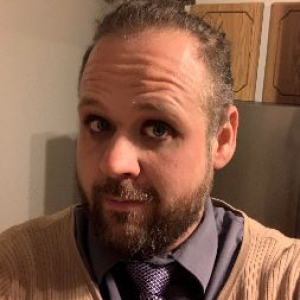 Christian grew up in Montreal just north of the Canadian border. He graduated from the Université de Montréal with a B.S. in microbiology and immunology in 2014 and then spent two years studying psychology before specializing in animal sciences. He obtained a master's in veterinary sciences in 2020. Over the past 4 years, he developed a new pipeline for the sequencing and phylogenetic analysis of RNA viruses in animal herds and also worked on elucidating the impact of mycotoxins in animal feed. His work at UVM will be focused on determining the changes that occur in the mammary glands of cows both during and after mastitis, as well as the pathways implicated in those changes in hope of finding new ways to reduce the negative impact of mastitis on milk production and quality. In his spare time, Christian enjoy dancing, learning new things, playing games, both board and video, as well as lively discussions on most topics.
Matthews, Lily - working on MS - Kraft Lab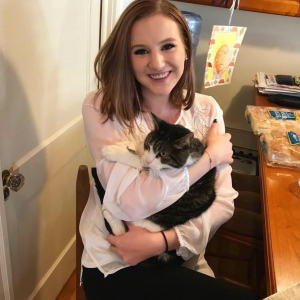 I'm originally from Boston, Massachusetts. I graduated from the University of Massachusetts Amherst with a B.S. in Animal Management. As an undergraduate, I worked as an undergraduate TA for a sheep management class. I also participated in an independent research project looking into antibiotic resistance in the lambs fed milk replacer at our University's farm. I'll be working as a Master's student in Dr. Kraft's lab working to increase bioactive branched-chain fatty acids in milk through analyzing bacteria in an artificial rumen. In my free time, I love to cook, bake, and spend time with my cat Hobbs.
Maucieri, Abigail - working on PhD - Townson Lab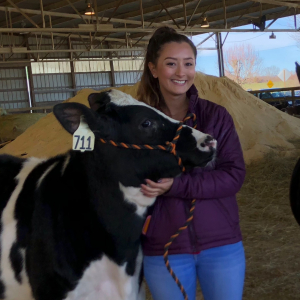 Abby Maucieri is originally from Altoona, Pennsylvania. She graduated with a B.S. in Dairy Science as well as a B.S. in Animal and Poultry Sciences from Virginia Tech in 2018.  During her undergraduate career at Virginia Tech, she worked as an undergraduate research assistant for Dr. Ben Corl helping in research involving fatty acid analysis and milking frequency. She gained interest in bovine reproduction through coursework, working on a dairy, and while assisting graduate students with their reproductive physiology research. She learned of Dr. Townson's lab while interning at Miner Institute. She is pursuing her Master's degree in Animal Science with research focusing on bovine reproduction and infertility. In her spare time, Abby enjoys hiking, kayaking, reading, and swimming.
Reynolds, Cari - working on PhD - Smith and Morrison Labs
Schuettner, Heather - working on MS - Barlow Lab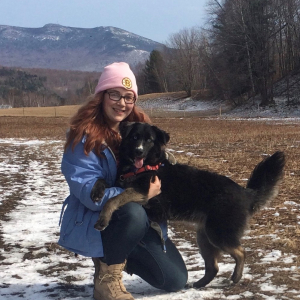 Heather is originally from Massachusetts and came to UVM as an undergraduate in 2015. During her time as an undergraduate she conducted research in Dr. Barlow's laboratory, and she earned a B.S. in Zoology in 2018. She plans to continue her work in the Barlow lab while pursuing an M.S. in Animal Science. Heather's research focuses on the acquisition of antimicrobial resistance in S. aureus, and her goal is to determine whether naturally-occurring antimicrobial compounds found in plant essential oils have the potential to serve as an alternative to traditional antibiotics. Outside of school, Heather enjoys cheering on Boston sports teams, cooking (and eating), and hiking around New England with her dog.
Snider, Miriam - working on PhD - Greenwood Lab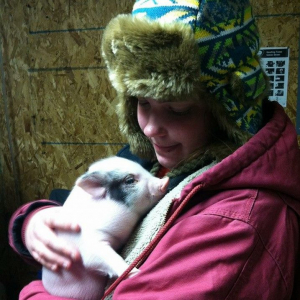 Miriam Snider is originally from Malden, Missouri. She graduated from Southeast Missouri State University in 2015 with dual B.S. degrees in Animal Science and Cellular-Molecular Biology. At SEMO, she conducted research focused on bovine reproductive physiology and telomere breakage in Drosophila melanogaster. Miriam moved on and completed her M.S. in Animal Science at the University of Kentucky in 2017. There she focused on beef nutritional physiology and tall fescue toxicity. She specifically looked at the effects of ergot alkaloids from tall fescue on serotonin receptors in bovine gut vasculature and whether said alkaloids were transported via the small intestine. Miriam will be working on her PhD in Dr. Sabrina Greenwood's lab, collecting and analyzing data from continuous culture fermenters and organic, grass-fed dairy farms in Vermont to develop better nutrition and forage management plans. In her free time, Miriam enjoys reading, trivia, museum hopping, watching Minnesota Vikings and Kansas City Chiefs football, collecting oddities, and being with her husband, Josh, and cat, Louise.
Taormina, Victoria - working on PhD - Kraft Lab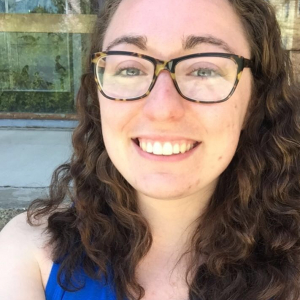 Victoria Taormina was born in New York, raised in New Jersey, and is excited to continue her education in Vermont. She recently graduated from UVM with a B.S. in Dietetics, Nutrition, and Food Science. As an undergraduate, she conducted research with Dr. Jana Kraft, investigating the role of food descriptions in the decision-making process. Drawn to Dr. Kraft's clinical nutrition research, she will begin her Ph.D. research exploring unique dairy fats and their role in human health and disease prevention, specifically type 2 diabetes. Victoria likes to cook, crochet, and walk around Burlington.