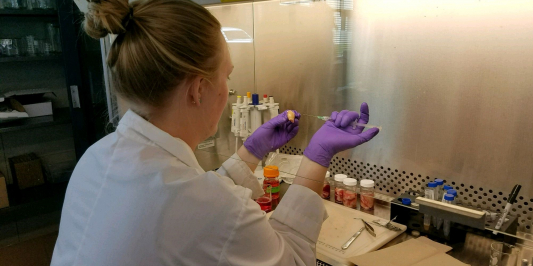 Welcome! These are our current graduate students and what they are working on. 
Bhattarai, Suraj - Working on PhD - McKay Lab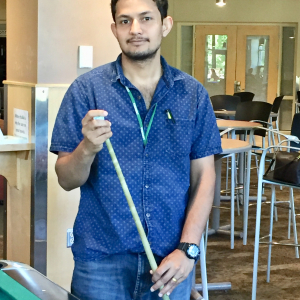 Suraj Bhattarai was born and raised in Jhapa, a part of Nepal where it doesn't snow. He graduated from Jawaharlal Nehru University, New Delhi with a master's in Biotechnology in 2014. There, he studied trans-regulation of nerve growth factor (NGF beta) by tumor suppressor p53 under hypoxia in colon cancer cells. In 2015, he went to Nepal and worked as a lecturer of molecular biology and animal biotechnology in Sunsari technical college, Dharan affiliated to Tribhuvan University. During this time, he completed a research project funded by Nepal Academy of Science and Technology (NAST) as a principle investigator. While he was working in Nepal, he realized that animal genetics would be a field which intersected his skills in molecular biology and passion for livestock improvement especially in developing countries like Nepal. This led him to Dr. Stephanie McKay's laboratory in the spring of 2018 where he is working on various genetic and epigenetic projects.  When Suraj is not working in the lab or generating hypotheses; he enjoys reading books, playing badminton, pool and cooking meals.
Chakrawarti, Ashma - working on PhD - Barlow Lab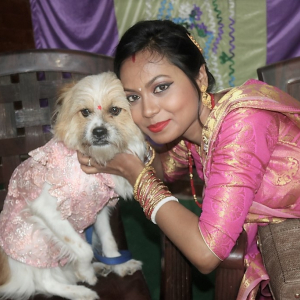 Ashma was born and raised in Dharan, Eastern region of Nepal. Prior to arriving at UVM, she earned a master's degree at Tribhuvan University with a focus on Medical Microbiology. Her previous research mainly dealt with Extended Spectrum Beta-lactamase (ESBL) E. coli and Multiple Antibiotic Resistance (MAR) Indexing. After graduating in 2015, she worked as a lecturer in one of the constituent campuses of Tribhuvan University for three years. During that time, she received research grants from Nepal Academy of Science and Technology (NAST) and University Grants Commission (UGC) Nepal. She has developed a passion for interdisciplinary approaches to address the "One Health" problem of antimicrobial resistance. As a part of her Ph.D. studies under Dr. John Barlow, she will focus on using molecular epidemiological tools and techniques to understand the dynamics of AMR bacteria. Besides study and research, Ashma loves dancing, playing word games and hanging out with her pooch.
Driemel, Ashley - working on MS - Greenwood Lab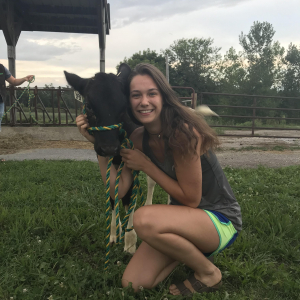 Ashley Driemel was born and raised in Vernon, NJ. She recently graduated from the University of Vermont with a B.S. in Animal Science where she worked as an undergraduate research assistant in Dr. Greenwood's lab and was a member of the 2018 Summer CREAM group. Ashley is continuing as a Master's student in Dr. Greenwood's lab to evaluate the effects of algal supplementation on ruminant methane production. She'll be using continuous culture fermenters to investigate potential methane mitigation along with other animal performance parameters and rumen proteomics. When she's not in the lab, Ashley enjoys hiking, horseback riding, painting, spending time with her cat Circe and eating lots of sweets.
Jeffrey, Caitlin - working on PhD - Barlow Lab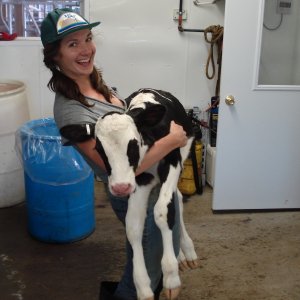 Caitlin Jeffrey grew up in Northfield, Vermont, and graduated from Bowdoin College in 2007 with an A.B. in biology. While at Bowdoin, she completed an honors thesis looking at the effect of weather on foraging behavior of two bird species with different feeding strategies. Caitlin went on to attend Cornell University College of Veterinary Medicine, where she focused on both equine and bovine medicine. After graduating with her D.V.M. in 2013, she practiced veterinary medicine as a large animal ambulatory clinician in New York, New Hampshire, and Vermont. She was excited to transition into a PhD program in the UVM Animal Science Department after hearing about an opportunity to work in Dr. John Barlow's lab. She will be working on a project exploring the microbial community of the mammary gland and bedded packs on organic dairy farms, and how the microbiome of the udder may affect susceptibility to intramammary infection
Flores, Natalie - working on PhD - Kraft Lab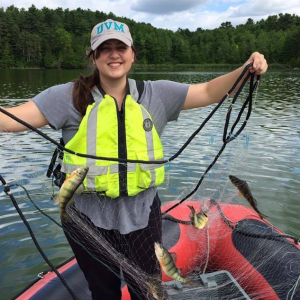 My research interests include aquatic ecology, environmental toxicology, and understanding how chemical substances affect organisms and ecosystems. My doctoral dissertation focuses on enhancing the knowledge on impacts of cyanobacterial blooms on different parts of the environment, including water, fish, and air. I'm using a combination of existing data in a global analysis and new data from field sampling to address these issues. By learning more about the increased presence and effects of cyanobacteria in multiple areas of the environment, I will help characterize potential routes of human exposure to cyanobacteria toxins and identify how blooms may impact the nutritional value of fish through the fatty acid composition and toxins. I aim to broaden the knowledge on ecological impacts of harmful cyanobacteria and environmental patterns in cyanobacteria and their bioactive chemical products.
Killpartrick, Adam - working on PhD - Guo Lab
Affiliated lab, no bio at this time
Kemp, Alyssa - working on PhD - Guo Lab
Affiliated lab, no bio at this time. 
Mulakala, Bharath - working on PhD - Greenwood Lab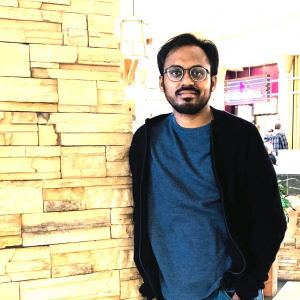 Bharath was born and raised in the southern part of India. He graduated with a bachelor's degree in veterinary medicine (DVM). Bharath completed his master's in Animal Sciences at North Carolina A&T State University. His master's thesis focused on cow innate immunity. He specifically focused on Galectins expression and secretion in cow milk in relation to somatic cell count. In addition, he also looked at the effect of plant phytochemicals on the modulation of galectins expression and secretion in cow whole blood and neutrophils. After graduation with his master's in May 2019, he worked as a Research Associate I at City of Hope in Los Angeles, California, for a couple of months. Bharath will be working on his Ph.D. in Dr. Sabrina Greenwood's lab. His research will be focused on Cow Rumen Meta-Proteomics. Apart from research, Bharath likes to play and watch cricket and love to watch movies.
LaCasse, Michelle - working on MS - Testroet Lab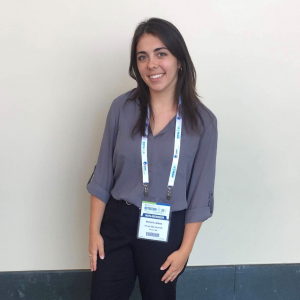 Michelle LaCasse was born and raised in White Bear Lake, Minnesota. She graduated from Winona State University in 2019 with a Bachelor of Science in Cellular and Molecular Biology and a double major in Ecology. Her undergraduate research consisted of a human nutrition study that focused on satiety and the effects of pre-meal snack choices.
During her time in southern Minnesota, Michelle completed two internships with the Minnesota Department of Natural Resources. Her work included trout management in over 600 miles of streams at a fisheries office in the Driftless region.
Michelle is pursuing a Master's degree in Animal Science in Dr. Testroet's Lab with research focusing on Fatty Liver Disease in periparturient dairy cows.
Lalonde, Chrissy - working on PhD - Zhao Lab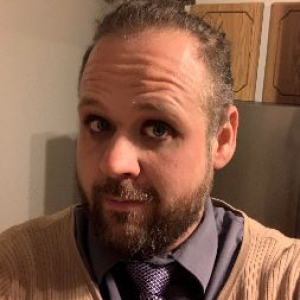 Chrissy grew up in Montreal just north of the Canadian border. They graduated from the Université de Montréal with a B.S. in microbiology and immunology in 2014 and then spent two years studying psychology before specializing in animal sciences. They obtained a master's in veterinary sciences in 2020. Over the past 4 years, They developed a new pipeline for the sequencing and phylogenetic analysis of RNA viruses in animal herds and also worked on elucidating the impact of mycotoxins in animal feed. Their work at UVM will be focused on determining the changes that occur in the mammary glands of cows both during and after mastitis, as well as the pathways implicated in those changes in hope of finding new ways to reduce the negative impact of mastitis on milk production and quality. In his spare time, Chrissy enjoys dancing, learning new things, playing games, both board and video, as well as lively discussions on most topics.
Matthews, Lily - working on MS - Kraft Lab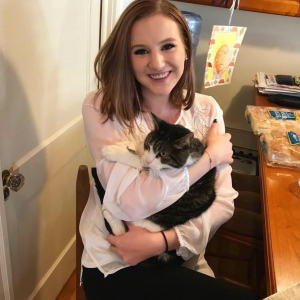 I'm originally from Boston, Massachusetts. I graduated from the University of Massachusetts Amherst with a B.S. in Animal Management. As an undergraduate, I worked as an undergraduate TA for a sheep management class. I also participated in an independent research project looking into antibiotic resistance in the lambs fed milk replacer at our University's farm. I'll be working as a Master's student in Dr. Kraft's lab working to increase bioactive branched-chain fatty acids in milk through analyzing bacteria in an artificial rumen. In my free time, I love to cook, bake, and spend time with my cat Hobbs.
Omoruyi, Gift - working on PhD - Greenwood Lab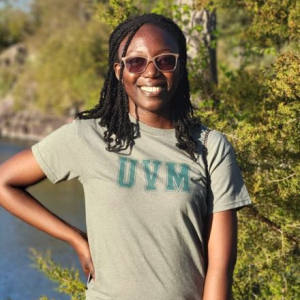 Gift was born and raised in Nigeria, West Africa. She had her bachelor's degree in Animal Science from the University of Benin, and her thesis was on the effect of terrestrial weeds on in-vitro rumen fermentation and methane emissions. She proceeded for her masters at the University of Ibadan, and her research was on the assessment of vegetable wastes as feed supplement for ruminant animals. Her PhD research is on the application of seaweeds in dairy diets to mitigate enteric methane emissions, and she is working with Dr. Sabrina Greenwood. Her non-academic interests are poetry and volunteering.
Pacht, Emory - working in PhD - McKay Lab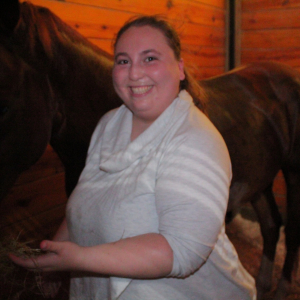 Originally from Glastonbury, Connecticut. Emory graduated from the University of Connecticut in 2016 with a B.S. in Molecular and Cell Biology. At UConn she researched interactions between human proteins and viral decoy RNA in the Department of Molecular Biology and Biophysics. Emory worked on understanding these protein-dsRNA interactions to better understand how viruses evade our natural defenses and replicate their RNA in the host cell.
Emory will be working on her Ph.D. with the Cellular, Molecular, and Biomedical Science program with Dr. Stephanie McKay. Her research here will focus on understanding how DNA methylation interacts with the genome to give rise to phenotypes in cattle. Emory also enjoys spending time with her family in her free time.
Reynolds, Cari - working on PhD - Morrison Labs (WH Miner Institute)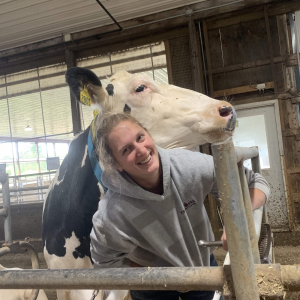 Originally from Lenoxville, Pennsylvania, Cari earned her B.S. in Biology from the University of Scranton in 2008. Her father's family operated a medium-size Holstein dairy, and agriculture was a large part of her formative years. She has held several different roles within the pharmaceutical industry, from vaccine manufacturing to quality assurance, and also was the clinical project manager of the BEST-CLI trial, an NIH-funded clinical trial evaluating two different vascular surgery procedures on the outcome of critical limb ischemia. Cari also tied together her love of microbiology and craft beer by briefly working as the lab manager for two different breweries. While completing her Master of Public Health degree from the University of Massachusetts Amherst, Cari began to recognize the importance of OneHealth's part in agriculture, especially in terms of zoonotic disease prevention. Her chance to return to agriculture came in the winter of 2018, when she joined the William H. Miner Agricultural Research Institute in Chazy, NY as a year-long research intern. Cari found her home at Miner, and in the fall of 2020, under the mentorship of Dr. Sarah Morrison, she began her Ph.D. studies at UVM. Her research interests include exploring preventative measures to disease management in dairy calves, such as optimizing management and biosecurity practices, evaluating alternatives to antimicrobials, and examining the relationships between calf housing environments and health. Outside of research, Cari can be found trying to earn a home-chef Michelin star, making ice cream cakes, looking for a new brewery to try, or adventuring somewhere in the mountains with borrowed dogs.
Taormina, Victoria - working on PhD - Kraft Lab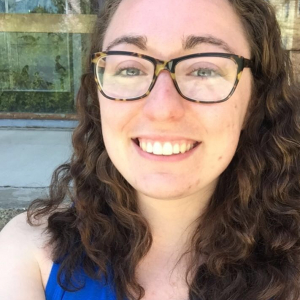 Victoria Taormina was born in New York, raised in New Jersey, and is excited to continue her education in Vermont. She recently graduated from UVM with a B.S. in Dietetics, Nutrition, and Food Science. As an undergraduate, she conducted research with Dr. Jana Kraft, investigating the role of food descriptions in the decision-making process. Drawn to Dr. Kraft's clinical nutrition research, she will begin her Ph.D. research exploring unique dairy fats and their role in human health and disease prevention, specifically type 2 diabetes. Victoria likes to cook, crochet, and walk around Burlington.
Sims, William - working on PhD - Greenwood Lab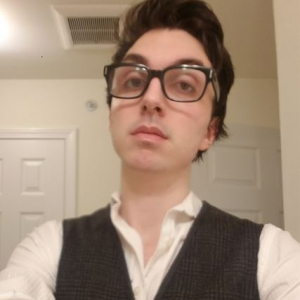 I was born and raised in Chesapeake Virginia. I graduated with a bachelor's degree in Animal and Poultry Science at Virginia Polytechnic Institute and State University. I focused on research in avian neurology, particularly assessing the function of insulin in satiety of broiler chickens. This led to my first publication in the Neuroscience Letters. After graduation I attended the University of Georgia. My master's thesis focused on utilizing heat abatement strategies to mitigate heat stress in a southeastern feedlot system. We assessed the benefits of attenuating heat exposure from the feedlot all the way to what you eat on your dinner plate. After graduation I worked in a small animal vet clinic prior to my acceptance into the University of Vermont. I will be working on my PhD under the guidance of Sabrina Greenwood. My research will focus on immunological benefits of macroalgae in heat stress organic cows. Apart from research, I enjoy anime, videogames and playing the piano.
Youngmark, Emily - working on a Masters - Greenwood Lab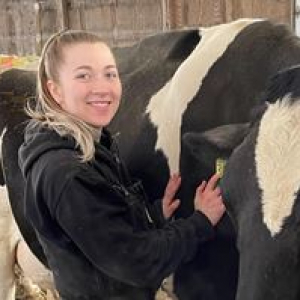 Emily grew up in Dixon, Illinois. She graduated from the University of Missouri in 2020 with a B.S. in Animal Sciences. At Mizzou she conducted undergraduate research with Dr. Amanda Patterson, investigating the role of the immune system on menses-like repair in mice to better understand uterine epithelial repair during the menstrual cycle in humans. After graduating, Emily began a year-long research internship at the Miner Institute, where she researched the effect of dietary supplementation of a commercial product on the health and productivity of Holstein cows during the transition period. She is pursuing a Master's degree in Dr. Sabrina Greenwood's lab. Her research will be focused on enteric methane mitigation and measurement strategies in dairy systems. Outside of research, Emily likes to crochet, draw and paint.
Patch, Chelsey - Etter Lab (NFS)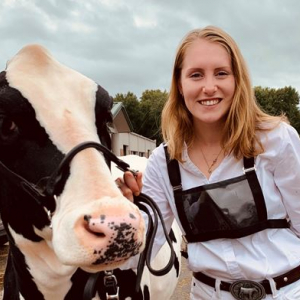 I grew up in New Hampshire, and graduated from UVM in 2022 with a BS in Animal Science and minors in Food Systems and Biology. I am interested in all facets of agriculture, and am excited to be in the Etter lab, to identify and characterize Salmonella enterica and Campylobacter in backyard chickens in Vermont. I enjoy hiking, skiing, running, and biking!