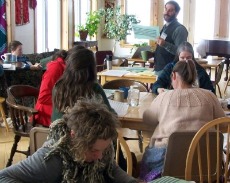 Participants in a whole farm planning class in Hartland, Vt., 2011.
Classes and Courses for Aspiring and Beginning Farmers
No matter what stage your farm business is in, UVM Extension offers educational opportunities to help you reach your full potential. Following are courses offered by the New Farmer Project and other UVM Extension programs that are specifically designed to meet the needs of aspiring and beginning farmers. Check our Calendar for a regional list of events— from field days and workshops to classes and webinars— that may be of interest but do not necessarily specifically target beginning farmers.
Not sure which one is the right class for you? Click on the links for each class to learn more about content.
---
For aspiring farmers and start-ups
Get your enterprise off to the right start. Participants define goals, explore and evaluate opportunities and resources, and become familiar with state and federal agriculture programs. Offered online and in person. Co-sponsored by the Women's Agricultural Network. More Growing Places course information and registration materials.
Upcoming Sessions:
Location: Online.
Dates: January 2 through January 31, 2019
Early Registration through December 20, 2018; Cost: $100.
Standard registration: Beginning December 21, 2018. Cost: $150
---
For start-ups to five years in business
The Building a Sustainable Business course guides participants through developing a business plan for farm businesses. Most useful for people who have completed Growing Places and/or who have at least one year of production/financial records of their own. More Building a Sustainable Business course information.
---
For all farmers interested in farm financial basics.
Through self-paced tutorials and individual consultations with UVM Extension farm business specialist, you will learn the basics of budgeting and skills to anticipate the financial needs of your operation. Offered online and at multiple locations in Vermont. More information.
---
For any farmer working to balance personal and business investments.
Learn to secure your farm's future and protect your family's legacy. This online class gives farm families the information they need to make strategic decisions while weaving together farm and personal investments. Developed by Extension educators across the nation, the 8-lesson course helps farm families plan for a financially stable future that meets long-term needs. More Investing for Farm Families Information.
---
For people with five or more years in business.
Taking Stock addresses issues that tend to arise in businesses that have been up and running for awhile and could benefit from a progress check. More Taking Stock course information.
---
Scholarships & Financial Assistance
Financial assistance is available for qualified applicants, however all students are expected to contribute towards the course fee. Requests for financial assistance can be made as part of registration. Be sure to select "scholarship request" in the payment section, and briefly explain why the course fee represents a financial hardship for you at this time.
Financial assistance is offered on a rolling basis and available while funds last. Requests for financial assistance are reviewed and notifications sent within 10 business days of their submission.
Last modified December 10 2018 12:40 PM