Focusing on Beginning Farmers
The Focusing on Beginning Farmers project is designed to educate agricultural professionals about the challenges that beginning farmers face and to stimulate changes in service delivery to make it more responsive to beginning farmers' needs.
Focusing on Beginning Farmers
Survey and Project Results
We are in the process of conducting a survey of beginning farmers. We want to share the survey results and what we've learned about ways to better meet the needs of beginning farmers. Sign up to receive the report and other project information.
Focusing on Beginning Farmers Project Sponsor
Funding for this project is from the Northeast Region Sustainable Agriculture Research and Education (SARE) Program. To learn more about NE SARE, visit www.sare.org.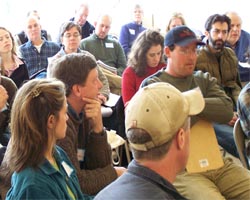 About the Focusing on Beginning Farmers Website
This website was primarily is designed for individuals who participated in the project's focus groups and who were piloting new ways to serve beginning farmers.
The links below and on the navigation bar to the left provide transcripts and notes from the focus groups and follow-up conference calls, and materials participants used to apply for and report on mini-grants.
Project Description
Hardwick documents
Westminster documents
Hyde Park documents
Poultney documents
Mini Grant Application, Directions & Criteria
Last modified March 21 2011 10:38 AM