The Rubenstein School Forestry Program prepares students with the knowledge, experience, and critical thinking skills they need to help solve the complex problems facing forest ecosystems, sustainable forest management, and conservation in the 21st century. The Forestry degree provides an excellent preparation for a variety of professional forestry positions and related careers, and the Forestry faculty provide substantial assistance in creating such job placements.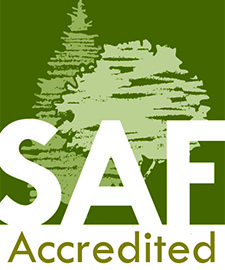 Students completing the Forestry major from UVM should be ready to enter the forestry workforce, be able to analyze and understand forest management problems, and have mastered critical thinking about forestry issues across multiple scales and from multiple perspectives. The Forestry Program is accredited by the Society of American Foresters (SAF), the accrediting body for postsecondary degree programs in forestry in the United States. SAF accreditation assures programs meet quality standards set by the profession, with our B.S. in Forestry satisfying the education requirement for becoming a certified forester and achieving licensure in all states where this is a requirement for practicing forestry.
The Rubenstein School has evolved its Forestry Program to meet the needs of a changing planet, which include managing forests for resilience, adaptation, climate mitigation, and a full range of ecosystem services. The program attracts students who want a career working outdoors, excel at math and science, learn by doing, and can embrace both the fundamentals of traditional forestry and emerging perspectives in the field.
The Forestry major provides students with an education in ecologically responsible forestry, emphasizing the complex landscapes of the northeastern United States, while also stressing global context and change. Students develop the ability to coordinate and manage all aspects of sustainable forestry through an education that combines a strong foundation in natural and social sciences with hands-on field classes, internships, research experience, and forest management projects. To enhance employability, students are required to pursue a forestry internship as part of summer employment or other opportunities.
Research and Beyond the Classroom
The Forestry Program uses Vermont and the northern forest region as a vibrant educational laboratory, while giving students the preparation they need to work anywhere in the world that their lifelong pursuits and interests may take them. We emphasize experiential learning through extensive field instruction on University-owned lands, including our four Research Forests and ten Natural Areas, and other public and private forests throughout Vermont and other northeastern states.
We encourage students to gain career-oriented experience while earning academic credit by assisting with field and laboratory research and through internship opportunities with a wide variety of public and private organizations. Experiential learning is enhanced through student research and training opportunities at the UVM Research Forests.
Learn more about internship, career, service-learning, research, and study abroad opportunities through our Office of Experiential Learning and our in-house Career Counselor & Internship Coordinator.