In her 35 years as a physician assistant in Plainfield VT, Kimberly Pierce has seen a lot.
"When I started working at The Health Center in the '80s, it was a very different world. This was before the opioid crisis. But when that hit, it was clear my patients were really suffering," she says.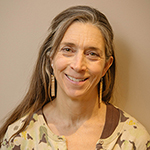 In a tight-knit community, watching your patients – and neighbors – suffer takes an especially hard toll. "There really is no differentiation between my patients and me," Pierce explains. "The health center I work in is also where I get my own healthcare. So it's not an 'us or them;' we are all equally part of this community."
When Pierce learned about trauma-informed care, a healthcare model that looks at Adverse Childhood Experiences (ACEs) like abuse, family mental illness, or a parent's incarceration as a way to predict and manage health outcomes, she was immediately struck. 
"When I learned about the trauma-informed model, I knew that it was going to be the answer to the problems I didn't have a tool to deal with before. I made a pledge to myself that I was going to do whatever I could to try to pursue trauma-informed care to help my patients."
---
Enter the Northern New England Clinical & Translational Research Network (NNE-CTR)
The NNE-CTR was founded five years ago with the goal of eliminating health disparities in Northern New England. To do this, the NNE-CTR connects local practices throughout Vermont, Maine, and New Hampshire to academic and research support at The University of Vermont, Dartmouth PBRN, University of Southern Maine, and MaineHealth.
A focus on translational research means the NNE-CTR supports research that can be put into practice in the community to improve patient health. At the program's outset, Dr. Jan Carney, MD, MPH, the associate dean for public health and health policy and a professor of medicine at Larner College of Medicine at the University of Vermont, believed that by putting rural health and community engagement at its core, the NNE-CTR would be positioned to collaborate with the community – building trust and dialogue, and in turn, better health outcomes.
And she was right. Today, Dr. Gary Stein, VT Director, Northern New England Clinical and Translational Research Network and UVM Professor of Biochemistry and Professor of Surgery, reports that community confidence in NNE-CTR research has been a remarkable success. "When people feel you are engaged with them, partnering with them and building a relationship – not just studying them – then you have a recipe for success," he says.
For Pierce, community engagement means talking openly with patients at The Health Center about trauma-informed care and inviting them to participate in an ACEs score template. As part of a collaboration with UVM public health faculty through NNE-CTR funding, The Health Center is embarking on an organization-wide training of trauma-informed care. UVM public health faculty developed a research study to assess the impact of the trauma-informed care on the staff and health professionals, as well as the patients. "We wanted to measure the effectiveness of what we're doing," says CEO and Medical Director John Matthews, MD, FACP. "But we are not experts at measuring, statistics, or research. So we got their help."
To date, the NNE-CTR has received 725 research design requests and collaborated on research projects ranging from the ACEs survey design at The Health Center to Covid-19 vaccine hesitancy. They've also conducted over 632 community engagement core consultations – which, to Pierce, is a meaningful step toward positive change.
"I hope that this public health, community-inspired approach is going to be the spark that creates change in Vermont," she says.
Learn more about the NNE-CTR's work to understand and improve rural health.