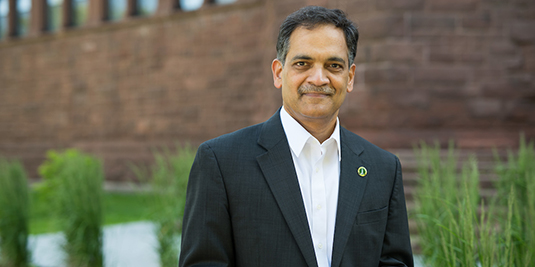 Suresh V. Garimella is the 27th president of the University of Vermont. A strong proponent of the value of public higher education, President Garimella leads UVM with firm emphasis on its status as the land-grant university for Vermont, the home state of Senator Justin Morrill who authored the land grant concept and served as a UVM trustee.
Drawing on his own experience as a product of public universities, Garimella recognizes the transformative power of education and research and the importance of access and service. This is reflected in Amplifying Our Impact, the strategic vision released in the first year of President Garimella's tenure.
The vision prioritizes student success through quality, affordability, accessibility, and opportunity. President Garimella has acted on this priority for students and their families by freezing tuition for four consecutive years and expanding scholarship opportunities for underrepresented and underserved students. The result is an incoming class in 2021 that is the largest and most academically prepared group of new students in UVM's history.
The Amplifying Our Impact vision also promotes UVM's distinctive and collaborative research strengths in healthy societies and a healthy environment. Under Garimella's leadership, the university's external research funding has been on a sharp upward trajectory, growing more than 44% in the last two years. With this momentum, Dr. Garimella has moved to foster a culture of innovation and entrepreneurship at UVM that builds upon the university's intellectual resources and capabilities through meaningful partnerships with organizations, businesses, and communities of scholars.
Working closely with state and local government officials, as well as the university's medical and health policy experts, President Garimella led UVM's effort to offer safe, high-quality, in-person education during the COVID pandemic. The university's operational strategy and execution garnered positive recognition at the national level, achieving 100% compliance with the university's vaccine policy and consistently low levels of infection positivity rates.
A highly cited scholar and researcher and a passionate educator and mentor, Dr. Garimella has made seminal contributions to the field of electronics thermal management and energy efficiency at micro and nano-scales, and in sustainable energy systems technology and policy. He has moved to promote UVM's longstanding commitment to sustainability, a commitment that was underscored in July 2020 when the university's board of trustees voted unanimously to divest UVM's endowment of fossil fuel investments.
A mentor to over 90 graduate students and 50 post-doctoral scholars, 28 of whom are in faculty positions across the world, and co-author of over 600 refereed publications and 15 patents, Garimella is an elected Fellow of the National Academy of Inventors, the American Association for the Advancement of Science and the American Society of Mechanical Engineers. He has applied his expertise to national and international policy issues, having served as a Jefferson Science Fellow at the U.S. Department of State and as Senior Fellow for Energy and Climate Partnership of the Americas.
Garimella is a member of the National Science Board, which oversees the National Science Foundation and also serves as an independent body of advisers to both the President and Congress on policy matters related to science and engineering. He also serves on the seven-person research advisory board of Sandia National Laboratories.
President Garimella came to Vermont from Purdue University, where he was Goodson Distinguished Professor of Mechanical Engineering and Executive Vice President for Research and Partnerships. While he led Purdue's $660 million research enterprise, the university achieved five consecutive record years in sponsored funding and seeded about 50 startups annually. He developed strategic and comprehensive partnerships for Purdue with major corporations, NGOs, and national governments in Colombia, India, and the Middle East, conceived and implemented ambitious campuswide initiatives in life sciences and integrative data science, and oversaw the university's Discovery Park, a unique set of facilities and institutes where the convergence of disciplines helped solve global challenges related to health and life sciences, sustainability, food, energy, and defense and security.
Garimella received his PhD from the University of California, Berkeley, his MS from The Ohio State University, and his bachelor's degree from the Indian Institute of Technology, Madras.