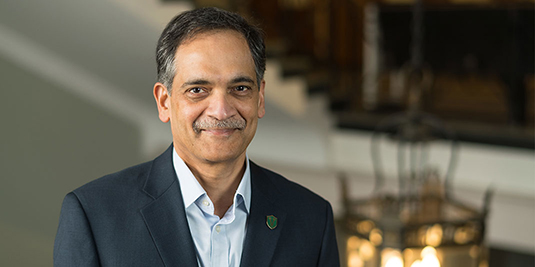 Suresh V. Garimella is the 27th president of the University of Vermont (UVM). Under his leadership, UVM has underscored its reputation as a premier flagship research university dedicated to providing an outstanding student experience and committed to fulfilling its land-grant mission.
As president, Garimella has prioritized access and affordability for UVM students, freezing tuition five consecutive years, attracting record numbers of undergraduate applications, and enrolling the most diverse and talented undergraduate students in the university's history. He has announced a new program called the UVM Promise that makes students from nearly half of Vermont's families eligible for four years full-tuition coverage. Through cross-campus collaboration, he has motivated a significant expansion of experiential learning opportunities, global experiences, career preparation, and academic advising and support resources to ensure student success.
Dr. Garimella is an enthusiastic leader for UVM's research enterprise, which has distinctive strengths in scholarship and innovation that promote healthy societies and a healthy environment. In his years as president, external funding for research has grown over 50%, surpassing a quarter-billion dollars for the first time, increasing UVM's ranking among national research universities by 16 places. This momentum is fostering a culture of innovation and entrepreneurship at UVM that builds upon the university's intellectual resources and capabilities through meaningful corporate and community partnerships.
UVM's success is inextricably tied to the success of Vermont. President Garimella has worked to build partnerships with elected officials and government leaders to identify shared priorities that advance the interests of the state and the university. He champions collaborative programs such as Upskill VT, through which UVM provides cost-free career-building courses and training to Vermonters that complement the university's role as an economic engine that adds more than 1000 graduates to the state's workforce each year.
A professor of mechanical engineering, Dr. Garimella is a highly cited scholar and researcher and a passionate educator and mentor. He has mentored over 90 graduate students and 50 post-doctoral scholars, 29 of whom were placed in prestigious faculty positions across the world, and annually leads an undergraduate seminar class at UVM devoted to engaging students in civil discourse on multifaceted contemporary issues.
He has made seminal contributions to the field of electronics thermal management and energy efficiency at micro and nano scales, and in sustainable energy systems technology and policy. He is co-author of over 625 refereed publications and 16 issued patents, and has been recognized as an elected Fellow of the National Academy of Inventors, the American Association for the Advancement of Science and the American Society of Mechanical Engineers.
Garimella is a member of the National Science Board, which oversees the National Science Foundation and serves as an independent body of advisers to both the President and Congress on policy matters related to science and engineering. He serves on the research advisory board of Sandia National Laboratories and is a member of the board of directors at Modine and the executive committee for the Council on Competitiveness. He has applied his expertise to national and international policy issues, having served as a Jefferson Science Fellow at the U.S. Department of State and as Senior Fellow for Energy and Climate Partnership of the Americas.
President Garimella came to Vermont from Purdue University, where he was Goodson Distinguished Professor of Mechanical Engineering and Executive Vice President for Research and Partnerships. Under his leadership of Purdue's $660 million research enterprise, the university achieved five consecutive record years in sponsored funding and seeded about 50 startups annually. He developed strategic and comprehensive partnerships with major corporations, NGOs, and national governments in Colombia, India, and the Middle East, conceived and implemented ambitious campuswide initiatives in life sciences and integrative data science, and oversaw Purdue's Discovery Park, a unique set of facilities and institutes where the convergence of disciplines helped solve global challenges related to health and life sciences, sustainability, food, energy, and defense and security.
Garimella received his PhD from the University of California, Berkeley, his MS from The Ohio State University, and his bachelor's degree from the Indian Institute of Technology, Madras.