By Judith Tremblay
Extension Master Gardener Intern
University of Vermont
Now that the warmer days of spring are here, it is not uncommon for cabin fever to be replaced with gardening fever. However, it is important to take a step back and consider what can successfully be grown in your vegetable garden.
A good starting point is to identify what the plant hardiness zone is for your location. The U.S. Department of Agriculture (USDA) has divided the country into different zones based on years of data where the extreme minimum temperatures were recorded and then averaged.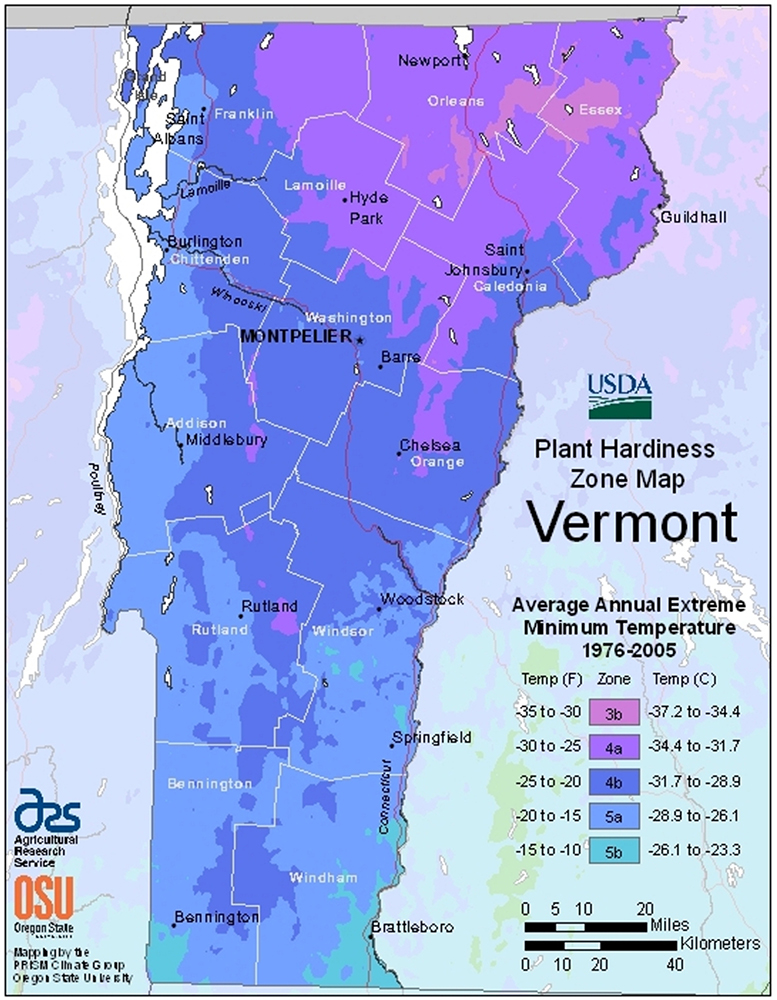 The USDA Plant Hardiness Zone Map is the standard by which you can determine which plants will be more likely to thrive at a given location. Just enter your zip code at https://planthardiness.ars.usda.gov to find your zone. 
Vermont has five different plant hardiness zones: 3b, 4a, 4b, 5a and 5b. The lower the zone number, the colder the temperatures reached in winter. Lower zone numbers also typically mean a shorter growing season since the ground takes longer to warm up.  
I live in northern Vermont, and since I am close to Lake Champlain, my zone is 4b. That's because the lake has a buffering effect, making it a bit warmer than other northern locations farther from the lake or at higher elevations.
Most of the Northeast Kingdom, for example, is zone 4a with pockets of Orleans and Essex Counties in a colder zone 3b. In southern Vermont, the zones will be higher, either 5a or 5b, although a cooler 4b in many mountain towns. 
The growing season is longer for the higher zones, so gardeners in zone 5b will have an easier time growing winter squash compared to gardeners in zone 3b. On the other hand, leafy greens will thrive in the cooler zones 4a and 3b and can be successfully sown well into summer.
Different plants are better adapted for each location, so knowing your plant hardiness zone will allow you to select the best-suited plants and produce rewarding crops.
Happy planting!
*Judith Tremblay is a UVM Extension Master Gardener intern from northwestern Vermont.