Small class sizes, appreciation of diversity, and a spirit of inclusion promote a strong sense of community in the Program in Theatre and Dance.
An extensive production schedule offers students numerous opportunities to practice the creation of theatre and dance while rigorous academic offerings challenge students to learn.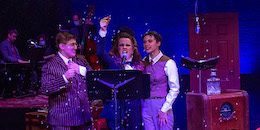 UVM Theatre provides students with a combination of theory and practice in understanding theatre as an art form that reflects the human condition. Students who major or minor in theatre are required to take core courses that provide an historical and critical foundation as well as fundamentals courses in areas of acting and design. A wide offering of additional courses are available that reflect theatre as social practice, personal expression, and creative collaboration.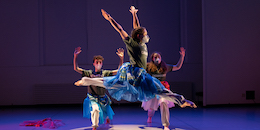 UVM Dance welcomes everyone! We encourage experienced dancers and those who wish to discover dance in college to come into our classrooms and studios, to move with us and to expand your understanding of dance as a performing art form. We aim to facilitate rich and meaningful interaction between students, faculty, and professional guest artists in the field.
Purchase tickets for the UVM School of the Arts Program in Theatre and Dance 2023/2024 presentations HERE.