ABOUT THE PROGRAM
The Agroecology and Livelihoods Collaborative (ALC) is a transdisciplinary community of practice dedicated to the application of agroecology and participatory action research (PAR). The ALC undergraduate fellowship program provides upper division (3rd year +)  students the opportunity to develop skills and gain the necessary knowledge to become integral team members of ALC research projects. ALC fellows are encouraged to engage with project options that fulfill other academic (e.g. capstone projects), professional, or personal goals. Collaborations with ALC fellows are intended to connect and expand the ALC community of faculty, staff and graduate students with UVM's undergraduate student body, while offering a high-impact research and experiential learning experience.
In 2020, the ALC fellows program shifted to start in the spring semester and include at least spring and fall, with summer as an option. The spring semester covers agroecology and participatory action research (PAR) content, as well as important skills such as leadership, communication and facilitation.  In the summer and/or fall, the ALC fellows actively participate in an ALC research program or project and formally join the community of practice. The 2021 cohort will be working on a long-term soil health research project with 5 Vermont farms, which are also educational partners with the PSS/ENVS 212 Advanced Agroecology course. In the future, fellows may potentially choose to join us to work in any one of our local or international projects.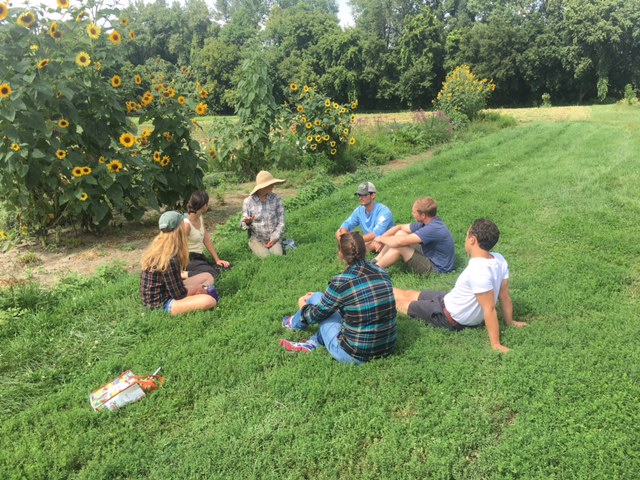 PROGRAM HIGHLIGHTS

Cultivate

a transdisciplinary lens for addressing issues in the current agrifood system

Build

foundational knowledge of agroecological concepts and how they are applied within a collaborative research environment

Develop

communication skills and strategies for conveying knowledge and concepts among multiple audiences and populations

Content

agroecology, participatory action research, transdisciplinarity

Skills

facilitation, research (mixed methods), data collection software, teamwork, administration, and logistics
'I've had a lot of time to think at site and reflect on the steps I took to get to Peace Corps Senegal. My fellowship with the ALC and connections with you all were some of–if not the most–meaningful parts of my time at UVM.'
Emily McCarthy (ENVS major), ALC Undergraduate Research Fellow 2018

APPLICATION PROCESS- Fall of every year
1.Write a cover letter expressing why you would like to work with us and relevant skills (research methods, writing, languages, entomological knowledge, soil ecology/biology knowledge etc.) and experiences that you hope to share with our lab.
2. Prepare a current resume or curriculum vitae.
3. Send your letter of interest and resume to agroecol@uvm.edu, with the "Interest in ALC Undergraduate Research Fellows" in the subject line.
The selection of applicants is a competitive process. Students will be selected by the ALC team, based on their application, and invited for an interview with ALC team members. Application materials and interview results will be used for final selection.