Agency Spotlight: Northeast Sustainable Agriculture Research and Education Program
Supporting On-farm Innovation through Grants and More

As sustainable agriculture continues to take root across Vermont and the U.S., researchers and farmers alike are using their creativity, passion, and hard work to advance farming systems, with a little help from the Northeast Sustainable Agriculture Research and Education Program (NE-SARE).
Since its start in 1988, SARE, a national USDA program, has been supporting farmers, researchers, and educators as they explore practices that improve stewardship, profitability, and the social well-being of farmers and their communities. NE-SARE—made up of the 12 Northeastern states and District of Columbia—offers six different competitive grants programs; for the 2012 season, 81 total projects were funded totaling about $3 million (see chart below).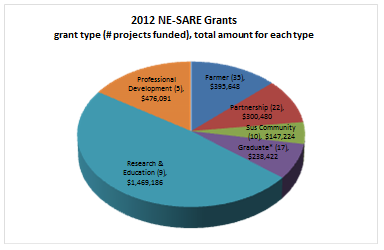 The grants programs can be divided into two broad categories:
Larger programs which fund multiple year projects up to $200,000, and require both a pre-proposal and full proposal. These programs include the Research and Education, and Professional Development grants programs.
The "mini" grant programs, which fund projects capped at $15,000—these include the Farmer, Partnership, Sustainable Community, and Graduate Student grants programs.
Below is a brief description of each, including application deadlines for the 2013 project year:
Research and Education Grants. Pre-proposals due July 31 (full proposals due November 1). These fund research, education, and demonstration projects that benefit farmers and explore new sustainable farm practices.
Professional Development Grants. Pre-proposals due July 31 (full proposals due November 1). These train Cooperative Extension personnel and other agricultural service providers in sustainable techniques and concepts who, in turn, use their newly learned skills and understanding to better assist farmers in their adoption of sustainable practices.

Partnership Grants. Proposals due November 1. These grants are for agricultural service providers who want to partner with farmers to conduct on-farm demonstrations, research, and other projects.
Sustainable Community Grants. Proposals due November 15. These make direct connections between community revitalization and farming. Projects address issues like finance, marketing, land use, water use, enterprise development, value-added activities, and labor.
Farmer Grants. Proposals due November 27. These are for commercial producers who have an innovative idea they want to test using a field trial, on-farm demonstration, or other technique.
Graduate Student Grants. The 2012 awards will be announced in August. Next grant cycle deadline will be in May 2013. These fund graduate students who are researching topics in sustainable agriculture that serve the interests of farmers and others in the agricultural community.
Not interested in grants? SARE also has a treasure trove of resources from research reports of all projects conducted across the country housed in a searchable database, to nationally published books and bulletins including classics like Building Soils for Better Crops and newer works like Managing Alternative Pollinators, as well as locally produced resources like Vern Grubinger's video series and the Guide to Financing the Community Supported Farm.
For more information on any of the grants programs or resources, please visit NE-SARE's website at: www.nesare.org.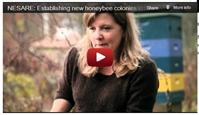 Erin MacGregor-Forbes, a master beekeeper in Portland, ME, describes her NE-SARE project, "A comparison of honeybee colony strength and survivability between nucleus and package-started colonies" in this video at: nesare.org/Dig-Deeper/Pictures-Stories/Winter-hardy-bees
Last modified July 16 2012 10:32 AM