The Davis Center's fourth floor, a popular hub for studying and celebrating at the heart of campus, took on an important new dimension this week with the unveiling of a permanent exhibit space dedicated to celebrating diverse voices at UVM.
The space, designed as a place where stories can be shared and accomplishments can be lauded, opened with a display case that honors the work, and struggles, of ten Black and African American alumni, faculty and honorary degree recipients with photographs, biographies and a range of historical artifacts.
While Black History Month "is a time to applaud what has been achieved, it is also an occasion to reflect on the challenges, injustices and strife encountered by those in the past, and to energize our efforts to build a better future," said President Suresh Garimella in a virtual unveiling event on Feb. 10. He was joined by vice president for Diversity, Equity and Inclusion Wanda Heading-Grant, Provost Patty Prelock and Paul Deslandes, chair of UVM's History Department.
President Garimella then dedicated the space to Heading-Grant for the "meaningful and lasting change" she's created in her 37 years at the University. "The magnitude of this exhibit space is amplified by both its prominence and its permanency," said Heading-Grant. "As time goes on, I can't wait to see the many displays that represent all of us."
This exhibit is one of several university-wide initiatives proposed by President Garimella to combat racism, promote social justice and foster greater civic responsibility in the wake of racial unrest that sparked with the killing of George Floyd in 2020.
Ten Black Experiences
"UVM is an institution with many stories," Professor Deslandes, head of the exhibit committee, said at the unveiling. This space, noted Deslandes, ensures that the voices of people of color are heard loudly and learned from. Read on for several of the featured stories, or explore the entire exhibit virtually.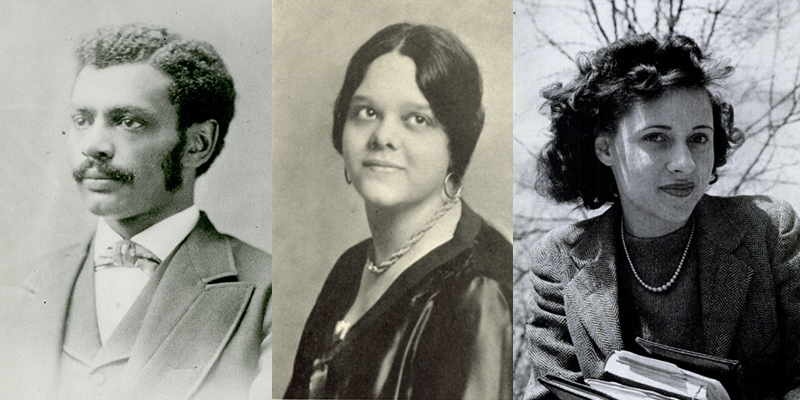 George Washington Henderson, Edna Hall Brown, and Crystal Malone.
George Washington Henderson, Class of 1877. Henderson is celebrated as the first African American to ever be elected to Phi Beta Kappa. Henderson matriculated in 1873. Upon graduation, he worked as a teacher and eventually as a minister and professor. Among others, he held positions at two historically Black universities: Fisk in Tennessee and Wilberforce in Ohio. He retired from Wilberforce in 1932. In addition to his scholarship and teaching, Henderson was highly active in early civil rights initiatives and an active campaigner against the horrific practice of lynching.
Edna Hall Brown, Class of 1930. Edna Hall Brown was likely among the first African American women to graduate from the University of Vermont. Born in Baltimore in 1909 into a prominent family, she attended Frederick Douglas High School before transferring to Vermont's St. Johnsbury Academy. She started at UVM in 1926 and graduated in 1930 with a Bachelor of Science in Education. She also received a master's degree from Columbia University. She worked as a teacher in Baltimore, where she later died in 2000. Material in the university archives provide us with some glimpses into her life. The commencement number of the St. Johnsbury Academy student magazine noted Brown's love of reading and skills in Latin. It also proclaimed: "We know she'll make good."
Crystal Malone, Class of 1947. Crystal Malone arrived at UVM from Washington, D.C. in 1943. One of two Black students at the time, she came to the campus during an era when some in the country were questioning the legacies of Anti-Semitism and what had been referred to as "Anti-Negroism." Following calls by students to do something to counter these pernicious influences, some sororities dispensed with the pervasive traditions of segregation that dominated on many U.S. campuses. In 1945, UVM's Alpha Xi Delta sorority chapter pledged Malone. After the national body found out, they tried to prevent Malone from joining. Malone refused to step aside and her sorority sisters threw their support behind her. The group burned their charter and disbanded the sorority. Malone's pioneering efforts and those of her sisters were chronicled in a Life magazine article in 1946. Following her graduation, Malone pursued a career as a high school teacher.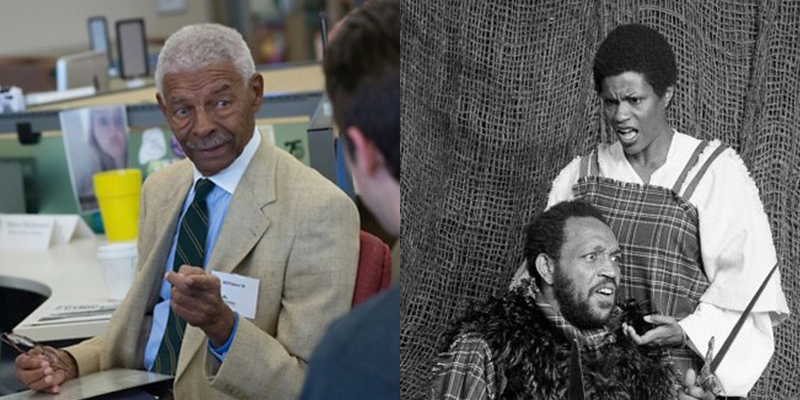 William Pickens and Jennifer Cover.
William Pickens, Class of 1958. William Pickens III came to the University of Vermont in 1954. His grandfather was one the founders of the NAACP and his entire family was highly engaged in American politics and racial activism. At UVM, Pickens continued that tradition by becoming involved in campus causes, protesting the "Kake Walk," and serving, from 1957 until 1958, as the first African American president of the Student Association (now the Student Government Association). Following UVM, where he studied history and political science, Pickens went on to a career as a business executive at Marine Midland Bank and Philip Morris. He has also served on many non-profit boards and received an honorary degree from UVM in 2009. Recently, he donated a major collection of books on African American history, literature, the Civil Rights movement, and Black life to Silver Special Collections in Billings Library. 
Jennifer Cover, Professor. Jennifer Cover, educated at Emerson College, came to UVM as a theater professor in 1972 and was credited with "bringing Black theater to an essentially white university." In 1977, Cover played Lady Macbeth in a Champlain Shakespeare Festival production and she compiled and directed No Mo' Jim Crow, which opened a year-long Harlem Renaissance Symposium on campus. In 1980, she directed a theatrical production of Richard Wright's Native Son. Just before leaving UVM in 1982, Cover presented Still I Rise, a one-woman show that celebrated Black heritage through poetry and music. She then went on to a career in the arts in Washington, D.C. and recently retired as President of the Cultural Alliance of Greater Washington.
The exhibit was shaped by Professor Paul Deslandes and a committee of volunteers with guidance from President Garimella and Vice President Wanda Heading-Grant.