Richard Galbraith, M.D., Ph.D. — Vice President for Research
Dr. Galbraith was appointed as Vice President for Research at UVM in July 2014. His priorities are building an infrastructure that assists faculty investigators in obtaining funding from a variety of sources; promoting disciplinary, translational, and transdisciplinary scholarship and research; partnering with the business community to bring new knowledge to the marketplace; partnering with the community when establishing priorities for research that will affect the community; an on-going focus on the environment and health; and elevating the local and national profile of the scholars and researchers at UVM.
He will work across all disciplines at UVM to support our full range of scholarship, research and creative activities. His office will be open to all faculty, staff and students who are pursuing or who wish to pursue the discovery of knowledge and creative activities at all levels.
Dr. Galbraith is a Professor in the Department of Medicine and also serves as the Director of the University of Vermont's Center for Clinical and Translational Science. The Center is dedicated to the concept of applying interdisciplinary research to translational science both from the bench to the bedside, from the bedside to the community, and from the community to health policy.
Dr. Galbraith received his MD degree from King's College University, London England where he completed an internship and residency in Internal Medicine. He relocated to the United States and completed a fellowship in Endocrinology, Metabolism and Nutrition and earned an interdisciplinary PhD in Molecular and Cellular Physiology from the Medical University of South Carolina. He spent 12 years at the Rockefeller University Hospital in Manhattan, New York where he directed the Rockefeller University Hospital and its attendant translational research programs and was Attending Physician at the New York Hospital. He also served as the Medical Director and Hospital Administrator for six years.
Galbraith is an internist with a long-standing interest in clinical and research aspects of porphyria. He has worked in basic, translational and clinical research and has published numerous papers and review articles. Dr. Galbraith is a Fellow of the Royal College of Physicians, a member of the Vermont Academy of Science and Engineering and a member of the American Society for Clinical Investigation.
For more information, see
Dr. Galbraith's CV (PDF).
Dan Harvey — Director of Operations / Assistant Dean of the Graduate College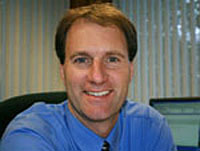 Dan Harvey is the Assistant Dean of the Graduate College and Chief of Staff for the Office of the Vice President for Research. As Assistant Dean, Harvey is responsible for the day-to-day operations of the College, and as Chief of Staff he is responsible for the oversight of and coordination with the administrative units that make up the research enterprise of the University.
Prior to this position, Harvey was the Assistant Dean and Chief of Staff for the College of Engineering and Mathematical Sciences from 2005-2010.
A graduate of the UVM Class of '84, Harvey used his Communication degree to land a position at Vermont Public Television (VPT), Vermont's public television network. He was a director for many years before moving into administration, culminating in his appointment as General Manager from 1999-2005. He helped oversee VPT's transition to digital broadcasting and in his tenure at the station, VPT won dozens of regional and national awards for television production. Harvey received a 2004 New England–region Emmy award for his work on the landmark local comedy series "Windy Acres."
Harvey resides in Georgia Center, Vermont with his family.
Andrea Elledge — Engagement Officer
Andrea (Andi) Elledge is the Engagement Officer for the Office of the Vice President for Research (OVPR) and Associate Director of the Vermont Advanced Computing Core (VACC).
As OVPR Engagement Officer, her priority is to work with UVM faculty and students, the surrounding community, and across the State of Vermont to promote and support entrepreneurship and innovation by engaging in two-way community interactions.
As Associate Director of the VACC, she is responsible for the VACC's operations and management. The VACC facilitates discovery by providing rapid access to large-scale advanced computing infrastructure while offering responsive technical support to our UVM researchers.
Ms. Elledge has worked at UVM for over 10 years in different positions with the OVPR. She graduated from UVM in 2010 with a master's degree in public administration.
Jeralyn Haraldsen, Ph.D. — Grant Proposal Manager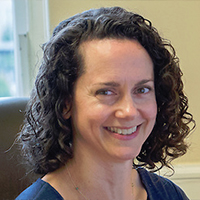 Dr. Jeralyn Haraldsen was trained as a scientist and has broad and extensive experience in scientific communication. She has a B.S. in biotechnology from Worcester Polytechnic Institute and went on to complete Ph.D. training in molecular microbiology at Tufts University in 2003, and postdoctoral training in parasitology and cellular microbiology at the University of Vermont in 2007. She was mentored in providing grant proposal support by working with the Office of Proposal Development at Tufts University. She is an active member of the National Organization of Research Development Professionals (NORDP).
Since 2007, Haraldsen has assisted principal investigators from diverse disciplines in the preparation and submission of over 150 grant and federal contract proposals to a variety of funding agencies. In her role within UVM OVPR, she has assisted in securing nearly $98 million in research funding for UVM researchers. She provides grantsmanship, writing and editing support, with a focus on responsiveness to the funding agency's requirements. In addition, she provides overall project management assistance for large or complex proposal submissions.
Prior to this position, Haraldsen was a grant specialist in the Division of Hematology/Oncology within the UVM College of Medicine (2013-2015), and served as a freelance scientific grant writing consultant and scientific editor (2008-2013).
Anita Lavoie — Executive Assistant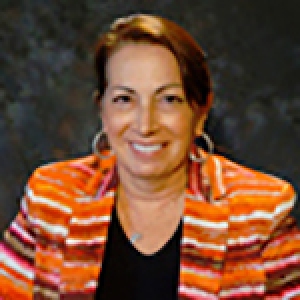 Anita Lavoie is the Executive Assistant to the VP for Research. In this capacity, she supports all the administrative needs of the VP for Research and is the initial point of contact for all inquiries and communications for the Office of the VP for Research. Anita has served on the UVM Staff Council for a number of years in various capacities and is thankful to have the opportunity to support and advocate for the needs of staff and colleagues. She brings to the OVPR office a multitude of past experience including administrative, legal, community outreach, event planning, and facility management.
When not working, her favorite passions are her children, her gardens, and any and all types of renovation and interior decorating.
Kerime Toksu — Senior Web Developer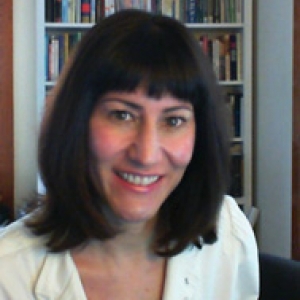 Kerime (Keri) Toksu a full-stack web developer who is responsible for all web development/maintenance as well as the creation and maintenance of administrative tools for the Office of the Vice President for Research and various of its administrative units. She also administrates and trains administrators on OVPR's internal funding software.
Keri enjoys working in higher education and helping to support research at UVM. She also enjoys playing with natural language processing (NLP) and, along with a partner, successfully passed the Turing test with an entry in the Dartmouth College DigiLit contest. She has taught web development in an "immersive" setting, UX at the college level (a course she developed), and is a maker of wearables (Arduino).
An author of non-fiction and fiction, her book on web development for General Assembly, "The Practitioner's Guide to Web Development," was published by Grand Central Publishing in January 2015. Her most recent short story was included in the anthology "Stories That Need to Be Told 2016" and published in December 2016.
She has a Master's degree in Latin American Literature/Translation (Linguistics), has done coursework in software engineering and data science (but didn't see the need for a degree), and is fluent in French and Spanish.