2020-21 Rodney L. Parsons Anatomy and Neurobiology Award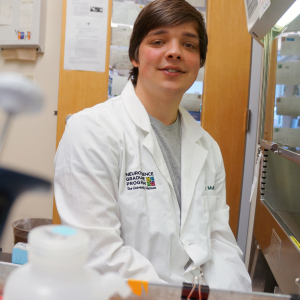 Patrick Mullen, Neuroscience Graduate Program
The University of Vermont Graduate College is pleased to announce that the recipient of the 2020-2021 Rodney L. Parsons Anatomy and Neurobiology Award is Patrick Mullen, a doctoral student in the Neuroscience Graduate Program.
Pat grew up in Potsdam NY and earned a BS in neuroscience from St. Lawrence University, where he worked on a research project investigating a novel treatment for multiple sclerosis. Following graduation, he worked as a research assistant at Boston University Medical School studying the role of amyloid precursor protein phosphorylation in Alzheimer's disease.
To continue studying diseases of the nervous system, Pat joined the Neuroscience Graduate Program at UVM and began thesis work in the labs of Chris Francklyn and Alicia Ebert, where he uses cellular and organismal models to better understand the processes that link specific gene mutations to neurological diseases such as Charcot-Marie-Tooth disease and developmental encephalopathies.
While at UVM, Pat also discovered his passion for teaching. He has taught undergraduate, physical therapy, and medical students at UVM and is currently pursuing teaching positions. Apart from science, Pat spends his time with his fiancée Aliza, loving their cats Didier and Chai, and taking in the world-class food, beer, and natural beauty that Vermont has to offer.
Dr. Rodney L. Parsons joined UVM as Assistant Professor of Physiology in 1967. In 1979, he became chair of the then Department of Anatomy and re-purposed it to establish one of the first Anatomy and Neurobiology departments in the country. He was the founding and only chair of that department, which merged with the Department of Neurology in 2012 to become the Department of Neurological Sciences, integrating basic and clinical science under one department. The goal of the Parsons Award is to support outstanding graduate students who demonstrate excellence in both neuroscience research and teaching in any broadly defined anatomical science, the disciplines which Dr. Parsons played a key role in the growth and evolution of at UVM.
2019-20 Outstanding Doctoral Dissertation Award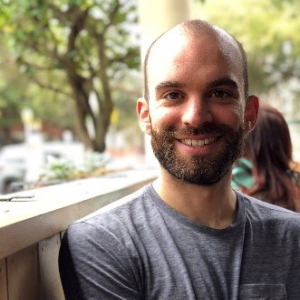 Elias M. Klemperer, Ph.D., G'19
Clinical Psychology Doctoral Program
Eli grew up in a small town in northeast Ohio and attended Lewis and Clark College in Portland, Oregon where he earned a Bachelor of Arts degree in psychology. As an undergraduate student, Eli received training in research by working in laboratories specializing in behavior and health as well as human computer interaction. After graduating, he began work as a research assistant at Oregon Health and Science University researching treatments for opioid use disorder. Eli's work with addiction and behavioral research inspired his goals for graduate school.
At the University of Vermont, Eli was a clinical psychology PhD student with a focus on the treatment of addiction. Eli was mentored by John Hughes, MD in the Vermont Center on Behavior and Health. His research focused primarily on tobacco treatment and regulatory policy. In addition, Eli examined treatments for opioid use disorder with a specific focus on people who are incarcerated.
Eli completed his clinical internship year in community health and forensic drug diversion clinics at Yale University. Currently Eli is a postdoctoral fellow in the Vermont Center on Behavior and Health at the University of Vermont under the mentorship of Andrea Villanti, PhD, MPH and Richard Rawson, PhD. He continues to focus his research on addiction with the goal of improving treatment and reducing harm for people who use tobacco.
The Outstanding Doctoral Dissertation Award recognizes exceptional work on behalf of a doctoral student, as demonstrated by their dissertation, including significant contributions to their field of study.
2019-20 Outstanding Master's Thesis Award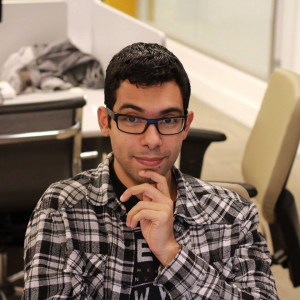 Mauricio Pereira, M.S., G'19
Mechanical Engineering Master's Program
Mauricio earned his BS in Mechanical Engineering at the University of Sao Paulo, in his home country, Brazil. He first came to UVM as an exchange student fully funded by a scholarship through the Brazilian government's Science without Borders program, and enjoyed the academic environment provided by UVM, leading to his decision to further pursue a graduate degree there.
At UVM he was co-advised by Dr. Dryver Huston and Dr. Tian Xia, and with the support of a great laboratory team, he worked on innovative approaches for smart infrastructure. During his graduate studies, Mauricio developed advanced radar imaging algorithms, and integrated smartphones and ground penetrating radar systems to leverage advanced vision-based tracking now available on edge devices. His work contributed to improved localization, visualization, and mapping of underground infrastructure, and has been presented at multiple smart infrastructure conferences in the US and abroad, and led to a published journal article.
Mauricio is now pursuing graduate studies at Princeton University, where he is studying the application of physics-based machine learning methods in structural health monitoring.
The Outstanding Master's Thesis Award recognizes exceptional work on behalf of a Master's student, as demonstrated by their thesis, including significant contributions to their field of study.
2019-20 Graduate Teaching Assistants of the Year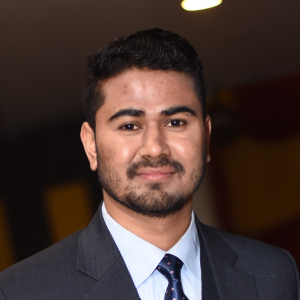 Bijay K C, M.S., Civil and Environmental Engineering Doctoral Program
Laboratory Instruction Category
Bijay was born and raised in Nepal, where he earned his BS in Civil Engineering. After graduating from the college, he worked in a consulting firm in Nepal for two years before joining California State University, Fresno, where he received his Master's degree. He taught the first course of his career at Fresno State and realized his passion for teaching.
Since joining UVM in the fall of 2017 as a PhD student, Bijay has been a teaching assistant for two different senior level course and one freshman course in the department of Civil and Environmental Engineering. He works closely with the faculty and students to give the best hands-on lab experience to the students. Besides helping students to perform experiments for the course, he performs experiments on the geothermal reservoir rocks to understand the thermal-hydrological-mechanical and chemical processes on the permeability of the geothermal field. He uses experiments and data analytics to understand the reservoir processes that impact the energy production from a geothermal field.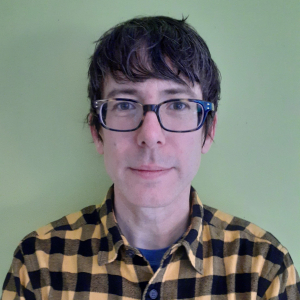 Patrick Mullins, Mathematics Master's Program
Lecture Instruction Category
Patrick came to UVM as an undergraduate, after moving with his family to Vermont from San Francisco, CA where he took courses at City College of San Francisco. Originally a biology major, Patrick developed a latent interest in higher mathematics while taking calculus courses from lecturers Joseph Kudrle and Helen Read at UVM and quickly changed majors, although he maintains an interest in ecology and evolutionary biology. After completing his BA in Mathematics in 2018, Patrick entered the Master's program in Mathematical Sciences, where he had his first teaching experience. His mathematical interests include the history and foundations of mathematics, geometry, and mathematical games. In March of 2020, he successfully defended his thesis, which was written under the supervision of Professor Spencer Backman.
Prior to entering college, Patrick worked a variety of jobs, including but not limited to restaurant dishwasher, bread baker, framing and masonry construction worker, and maintenance man in the sculpture department of a small fine arts college. He believes that his varied background directly contributes to his success as a teacher, but is more than happy to acknowledge that his best teaching techniques are borrowed from his own instructors at UVM.
2019-20 Clean Energy Fund Innovation Research Project Proposal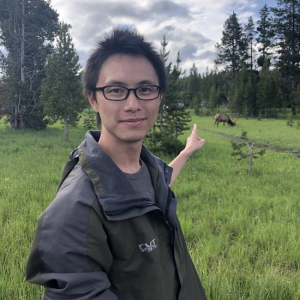 Libin Liang, Materials Science Graduate Program
Libin Liang, a student in the Materials Science Graduate Program, was awarded funding through the Clean Energy Fund for a project proposal supporting students' visions of the University of Vermont running on clean, locally produced renewable energy.
Libin Liang received his master's degree in China, where he became interested in researching nano material and the relationship between material structure and property. After coming to the United States in 2015, he joined Madalina Furis' research group and was pleased to find that they were also conducting fundamental research about the material structure and property for semiconductor application. Liang joined the research group his second semester, where he learned experimental techniques such as open-space photoluminescence setup, pen-writing deposition method and basic optical alignment knowledge. When he moved to the new STEM complex, Discovery Hall, Liang learned to rebuild all of the experiment setups on optical bench. After this experience, Liang felt confident to carry out his own research and began to study the electronic states within small molecule ordered thin film.
Liang studies the electronic states orientation and the effect of applying strain on them within small molecule ordered thin film, where strain-enhanced photoluminescence is observed at room temperature. With the help of the Clean Energy Fund, it will be possible for Liang's group to apply a similar technique under low temperature, and to explore the enhancement mechanism, which would benefit the OLED development. The priority for the grant would be building the novel cryostat stat with build-in stretching unit. After this, he would spend most of his time running low temperature experiments with liquid Helium. If the results are positive, Liang plans to expand his range of projects, while studying derivatives of the small molecule.
Past Student Awards Recipients
Past Clean Energy Fund Innovation Research Project Proposals:
    2018 - Lindsay Barbieri, Natural Resources; Alex Neidermeier, Natural Resources; Robin Rice, Materials Science
Past Outstanding Thesis and Dissertation Award Recipients:
    Dissertation Category
    2019 - Sarah E. Cleary, Chemistry Graduate Program
    2018 - Rajiv Jumani, Cellular, Molecular and Biomedical Sciences
    2017 - Tianxin Miao, Bioengineering
    Thesis Category
    2019 - Lukas Adamowicz, Mechanical Engineering Graduate Program
    2017 - Social Sciences/Humanities - Caitlin Morgan, Food Systems
    2017 - STEM/Health Discipline - Alison Denn, Geology
Past Rodney L. Parsons Anatomy and Neurobiology Award Recipients:
   2019 - Katharine Beca, Neuroscience
   2018 - Megan Perkins, Neuroscience
   2017 - Riley St. Clair, Neuroscience
   2016 - Estelle Spear, Neuroscience
Past Graduate Teaching Assistant Award Recipients:
    2018 - Laboratory Instruction - Lauren Ash, Biology Graduate Program
    2018 - Primary Instruction - Cassie van Stolk-Cooke, Clinical Psychology Graduate Program
    2017 - Primary Instruction - Virginia Peisch, Clinical Developmental Psychology Program
​    2017 - Laboratory Instruction - Emily Mikucki, Biology Graduate Program
    2016 - Lecture Instruction - Abigail Ross, Complex Systems and Data Science
​    2016 - Laboratory Instruction - Nicholas D'Alberto, Neuroscience Graduate Program
​    2015 - Nicole Lafko, Psychology
    2014 - Alice Newman, Geology, and Vincent M. Mugisha, Educational Leadership and Policy Studies
    2013 - Benjamin Green, Animal Science, and Taylor Sacco, English
    2012 - Amy Paysnick, Psychology
    2011 - Julia McQuade , Psychology
    2010 - Kirsten Stor, Mathematical Sciences
    2009 - Victoria Marini, Psychology
    2008 - Derek Strong, Anatomy and Neurobiology
    2007 - Amanda Getsinger, Geology
    2006 - Patricia Connolly, English
    2005 - Krishnan Venkataraman, Microbiology and Molecular Genetics
    2004 - Stevenson Flemer, Jr., Chemistry
Past Roberto Fabri Fialho Awardees:
    2019 - Emily Mikucki, Biology
    2018 - Lauren Ash, Biology
    2017 - Allison Hrycik, Biology
    2016 - Susan Fawcett, Plant Biology
    2015 - Samantha Alger, Biology
    2014 - Michael Herrmann, Biology
    2012 - Ashley Steere, Biochemistry
    2010 - Chun Yang, Biology
    2009 - Laura Bermingham, Biology
Past Thomas J. Votta Scholarship Recipients:
    2019 - Joseph Ament, Gund Graduate Fellow, Rubenstein School of Environment and Natural Resources
    2018 - Bonnie Reese, Rubenstein School of Environment and Natural Resources   
    2017 - Jack Reed, College of Engineering and Mathematical Sciences   
    2016 - Courtney Hammond Wagner, Rubenstein School of Natural Resources
    2015 - Samnuel Parker, Rubenstein School of Natural Resources
    2014 - Chester Harvey, Rubenstein School of Natural Resources
    2014 - Laura Yayac, Field Naturalist and Ecological Planning
    2012 - Julie Nash, Rubenstein School of Natural Resources