2018-19 Thomas J. Votta Scholarship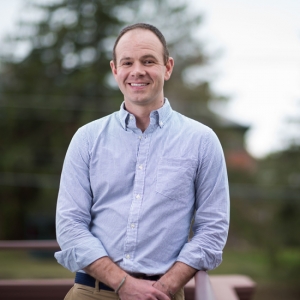 Joseph Ament, Gund Graduate Fellow, Rubenstein School of Environment and Natural Resources
The University of Vermont Graduate College is pleased to announce that the recipient of the 2018-2019 Thomas J. Votta Scholarship is Joe Ament, a Gund Graduate Fellow and PhD student in the Rubenstein School of Environment and Natural Resources.
Joe Ament graduated from The Ross School of Business at The University of Michigan, focusing on economics and finance. After spending seven years in corporate strategy in both the for- and non-profit sectors, he spent three years writing about the ecological and economic problems we now face.
In the Rubenstein School, Joe's research examines monetary theory in the context of socioecological stability. His interests lie in how monetary systems affect social justice and environmental degradation and how a socioecologically-resilient society will use money and distribute wealth. Outside of reading and writing, Joe loves to ski, bike, paint, toss bocce, and listen to Stevie Wonder.
The Thomas J. Votta Memorial Fund is established by the friends and family of Tom Votta to provide annual scholarship assistance a UVM graduate student in the Grossman School of Business, College of Engineering and Mathematics, or Rubenstein School of Environment and Natural Resources who, like Tom, wishes to make a difference in solving environmental problems and using environmental best practices to meet this goal. For more information on the student awards offered through the Graduate College and to read about previous awardees, please visit our website here.
2018-19 Rodney L. Parsons Anatomy and Neurobiology Award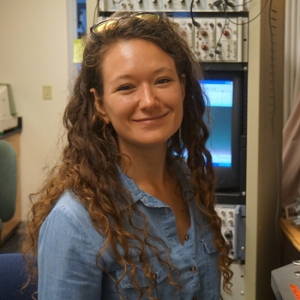 Megan Perkins, Neuroscience Graduate Program
The University of Vermont Graduate College is pleased to announce that the recipient of the 2018-2019 Rodney L. Parsons Anatomy and Neurobiology Award is Megan Perkins, a doctoral candidate in the Neuroscience Graduate Program.
Megan was raised in Georgetown, Texas. She began her higher educational career with initial interests in psychology, yet quickly realized that she was also fascinated by the biology of the nervous system, and the interactions between biology, psychology and the environment that produce one's emotions and behaviors. She received her B.S. in psychology from Texas A&M University – Corpus Christi, taking many additional biology and life science courses.
Currently, Megan is studying as a doctoral student in Dr. Margaret Vizzard's neurourology lab, where she is examining a novel population of bladder cells, known as interstitial cells. Megan uses multiple biochemical approaches to elucidate the potential role of interstitial cells in the sensitization of afferent nerves in bladder disorders, specifically interstitial cystitis/bladder pain syndrome.
Megan plans to use the Parsons Anatomy and Neurobiology Award for professional and career development activities that will enhance her skills and opportunities as a scientist. After graduation, she plans to pursue a post-doctoral fellowship. Additionally, Megan has a passion for science communication and advocacy. She hopes to be actively and professionally involved in scientific communication and outreach in the future. When Megan is not in the lab, you can find her in the air, pursuing her non-research related passions - dancing & performing circus stunts on her aerial silks.
2018-19 Clean Energy Fund Innovation Research Project Proposals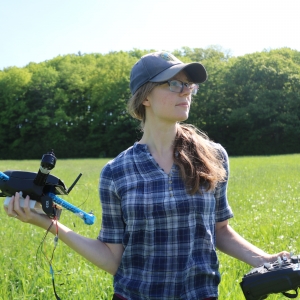 Lindsay Barbieri, Graduate Fellow, Gund Institute for Environment
Natural Resources PhD Program, Rubenstein School of Environment and Natural Resources
Lindsay Barbieri is a PhD student at the University of Vermont working at the interface of agriculture, environment, and technology to deepen our understanding of climate change adaptation and mitigation within agroecosystems. She explores the use of information technologies to enable and support more sustainable production practices, while critically assessing their role in decision-making. Barbieri collaborates with several interdisciplinary and international working groups to address broader information technology challenges and opportunities in social-ecological systems research, resource governance, and environmental justice. Prior to becoming a PhD student at the Rubenstein School of Environment and Natural Resources, and a Graduate Fellow at the Gund Institute in 2014, Barbieri was a professional circus artist, worked on a small dairy farm, and earned her BA at Hampshire College by analyzing satellite images of landscapes on Mars for geomorphological signatures of climate change.
This project endeavors to support clean energy decision-making in agricultural production systems by advancing the development and sharing of sensor technologies and methods for measuring greenhouse gas (GHG) emissions using small unmanned aerial systems (UAS). The transformation of cow manure into an energy source is a promising way to prevent runoff and subsequent nutrient pollution, especially for dairy-heavy states such as Vermont. Indeed, "Cow Power" Renewable Energy Credits from biodigesters across the state are already a part of the University of Vermont's diversified portfolio of clean energy sources in support of the university's Climate Action Plan. Yet many knowledge and action gaps remain, including a deeper understanding of GHG emissions accounting within these production systems. This project will provide the opportunity to comprehensively consider biogas production practices within agricultural systems and improve GHG emissions measurement, all while assessing the role of information technologies in support of 'sustainable' decision-making in Vermont. This work will be carried out in collaboration with key stakeholders and established biogas and UAS working groups at the University of Vermont, across the state, and beyond.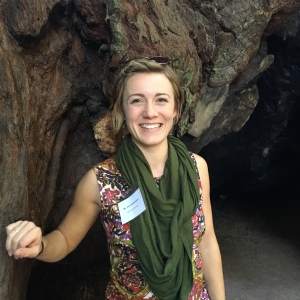 Alex Neidermeier
Natural Resources Master's Program, Rubenstein School of Environment and Natural Resources
Alex grew up near Asheville, North Carolina, and later graduated with a degree in Environmental Studies from UNC-Asheville. While serving in the Peace Corps in Mali and Burkina Faso, she gained an immense appreciation for trees in her new semi-arid homes, planting hundreds of economically valuable moringa, baobab, and acacia trees with a local women's organization. She became interested in the connections between forests and climate change while working as the SilvaCarbon Africa program manager for the US Forest Service International Programs, supporting countries in the implementation of their climate change mitigation strategies. Her interest in forest health brought her to Dr. Kimberly Wallin's lab, where she has been researching a biological control for the exotic invasive insect, the Hemlock Wooly Adelgid (HWA).
The grant from the Clean Energy Fund will be used to support her research investigating the risks and opportunities for using diseased wood in the wood pellet industry. The research focuses on the northeastern US, an area likely to be at high-risk for forest pests in a changing climate and highly motivated in its use of renewable energies.
2017-18 Outstanding Doctoral Dissertation Award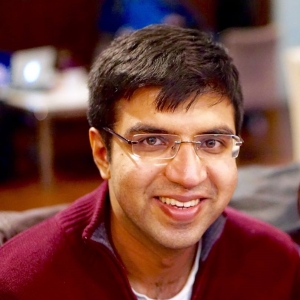 Rajiv Jumani, Ph.D., Cellular, Molecular and Biomedical Sciences
The University of Vermont Graduate College is pleased to announce that the recipient of the 2017-2018 Outstanding Doctoral Dissertation Award is Rajiv Jumani, Ph.D. G'18.
Dr. Rajiv Jumani grew up in Bangalore, India and became interested in biomedical research when he watched the helplessness of doctors to effectively treat diseases due to the lack of scientific understanding. With the intention to harness technological improvements for scientific advancement, he attained an engineering degree in biotechnology. Prior to joining the Cellular, Molecular and Biomedical Sciences graduate program at UVM, Rajiv developed a passion for infectious diseases while working on vaccines at the Indian Institute of Science followed by phage therapy at GangaGen Biotechnologies Pvt. Ltd.
Under the supervision of Dr. Christopher Huston, Rajiv pursued his Ph.D., working toward fighting child mortality and growth defects. Rajiv developed innovative tools and collaborated with experts around the world to guide identification and development of drugs against the neglected diarrheal disease cryptosporidiosis. His work led to a promising anti-cryptosporidiosis lead candidate with a patent application. He has been invited to give talks and participate in discussions among experts in the field, given several conference presentations, and co-authored journal articles. After receiving his Ph.D. degree, Rajiv joined the Novartis Institute for Tropical Diseases as an Investigator I to continue working towards his long-term goal of striving for scientific progress to reduce human suffering.
2017-18 Graduate Teaching Assistants of the Year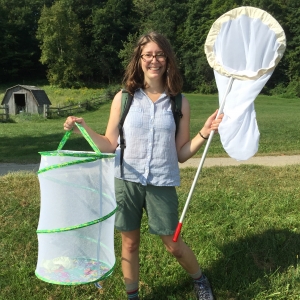 Emily Mikucki, Biology Graduate Program
Laboratory Instruction
The University of Vermont Graduate College is pleased to announce that the 2017-2018 GTA of the Year in Laboratory Instruction is Emily Mikucki, a doctoral candidate in the Biology Program.
Emily Mikucki is from the Hudson Valley of New York where a childhood obsession with insects transformed into a lifelong passion for butterflies and their conservation. She earned a bachelor's degree in Biology and Spanish from Bennington College where she first started researching the ecological physiology of butterflies, or how climate change affects a butterfly's ability to metamorphose. In college, her passion for education and research took her all over the world from Peru and Ecuador, to Costa Rica and Tanzania. After graduating, she interned as a conservation educator at Disney World's Animal Kingdom, and as a teaching and research assistant at the School for Field Studies Center for Sustainability in Costa Rica. Her love of Vermont, teaching, and butterflies brought her back to UVM to pursue a PhD in Biology.
She is currently a third year PhD candidate in the Biology Department working with Dr. Brent Lockwood and Dr. Alison Brody. Her research focuses on the physiological consequences of winter warming on overwintering butterflies. Through her research, Emily hopes to better understand how butterflies and other insects adapt to changes in their environment which can inform targeted conservation actions. In addition to her research, she loves teaching biology lab courses at UVM and mentoring undergraduate research students. When not in the lab or classroom, she enjoys cooking, baking, knitting, and hiking.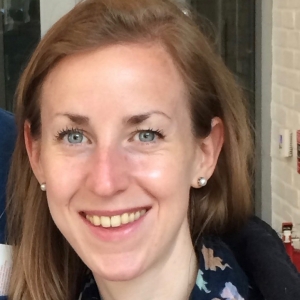 Virginia Peisch, Clinical Developmental Psychology Program
Primary Instruction
The University of Vermont Graduate College is pleased to announce that the 2017-2018 GTA of the Year in Primary Instruction is Virginia Peisch, a doctoral candidate in the Clinical Developmental Psychology Program
Virginia (Gini) Peisch is originally from Koenigstein, Germany, and received her B.A. in Psychology and Government from Dartmouth College in 2011. Virginia completed a Master's Degree in Developmental Neuroscience and Psychopathology from University College London/Yale University in 2013 and started the Ph.D. Program in Developmental and Clinical Psychology at UVM in the summer of 2014. Virginia works with Dr. Keith Burt and Dr. Rex Forehand and focuses her research on adolescent/emerging adult development. Specifically, Virginia is interested in how coping behaviors in emerging adults are linked to risk and adaptation. Virginia is also interested in studying parenting behaviors and linking those to youth outcomes.
During her time as a graduate student, Virginia has shown a particular interest in teaching. She has taught various undergraduate courses at UVM and at other local colleges, including Johnson State College and Middlebury College, and has greatly enjoyed curriculum development, use of various teaching skills, and mentoring of undergraduate students. After completing her degree, Virginia plans to pursue a career in higher education.
2017-2018 Dr. Roberto Fabri Fialho Research Award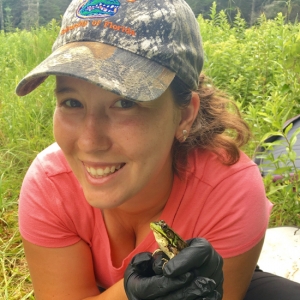 Lauren Ash, College of Arts and Sciences
The University of Vermont Graduate College is pleased to announce that the recipient of the 2017-2018 Dr. Roberto Fabri Fialho Research Award is Lauren Ash, a doctoral candidate in the Department of Biology.

Lauren grew up in Tampa, FL, and she grew interested in the field of ecology through an introductory biology class in her sophomore year at the University of Florida. While obtaining a B.S. in Wildlife Ecology and Conservation, she gained valuable knowledge in ecological concepts and field techniques and had the opportunity to travel to and conduct research in Belize and Africa. She then attended University College London and received a Master of Research degree in Biodiversity, Evolution, and Conservation. One of her research projects focused on predicting the distribution of anthrax across Africa, and through that project, she discovered her passion for computational modeling and disease ecology.

Lauren is now a third year Biology Ph.D. candidate in Dr. Nicholas Gotelli's lab at the University of Vermont. Her research integrates field, computational, and genetic approaches to answer questions on the distribution, ecological drivers, and host-pathogen dynamics of ranavirus, the emerging infectious disease in amphibian communities. She hopes her work can add to the further understanding of disease ecology and inform local and global conservation efforts of amphibian populations.
Past Student Awards Recipients
Past Outstanding Thesis and Dissertation Award Recipients:
Dissertation Category
2017 - Tianxin Miao, Bioengineering
Thesis Category
2017 - Social Sciences/Humanities - Caitlin Morgan, Food Systems
2017 - STEM/Health Discipline - Alison Denn, Geology
Rodney L. Parsons Anatomy and Neurobiology Award Recipients:
2016 - Estelle Spear, Neuroscience
2017 - Riley St. Clair, Neuroscience
Past Graduate Teaching Assistant Award Recipients:
2016 - Lecture Instruction - Abigail Ross, Complex Systems and Data Science
​ 2016 - Laboratory Instruction - Nicholas D'Alberto, Neuroscience Graduate Program
​ 2015 - Nicole Lafko, Psychology
2014 - Alice Newman, Geology, and Vincent M. Mugisha, Educational Leadership and Policy Studies
2013 - Benjamin Green, Animal Science, and Taylor Sacco, English
2012 - Amy Paysnick, Psychology
2011 - Julia McQuade , Psychology
2010 - Kirsten Stor, Mathematical Sciences
2009 - Victoria Marini, Psychology
2008 - Derek Strong, Anatomy and Neurobiology
2007 - Amanda Getsinger, Geology
2006 - Patricia Connolly, English
2005 - Krishnan Venkataraman, Microbiology and Molecular Genetics
2004 - Stevenson Flemer, Jr., Chemistry
Past Roberto Fabri Fialho Awardees:
2017 - Allison Hrycik, Biology
2016 - Susan Fawcett, Plant Biology
2015 - Samantha Alger, Biology
2014 - Michael Herrmann, Biology
2012 - Ashley Steere, Biochemistry
2010 - Chun Yang, Biology
2009 - Laura Bermingham, Biology
Past Thomas J. Votta Scholarship Recipients:
2018 - Bonnie Reese, Rubenstein School of Environment and Natural Resources
2017 - Jack Reed, College of Engineering and Mathematical Sciences
2016 - Courtney Hammond Wagner, Rubenstein School of Natural Resources
2015 - Samnuel Parker, Rubenstein School of Natural Resources
2014 - Chester Harvey, Rubenstein School of Natural Resources
2014 - Laura Yayac, Field Naturalist and Ecological Planning
2012 - Julie Nash, Rubenstein School of Natural Resources