UVM HAS IMPLEMENTED USE OF THE LIVESAFE APP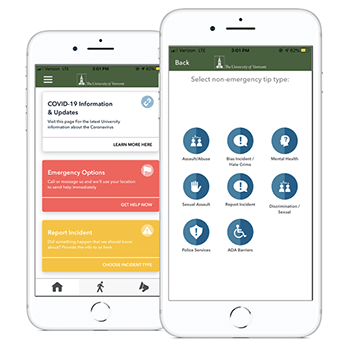 The University of Vermont has implemented use of the LiveSafe app which "is a mobile two-way safety communications platform and risk mitigation tool. It provides campus community members the ability to share information about emerging safety and security risks before they escalate into emergencies" (LiveSafe, 2020). View Feature Flyer with more details (PDF) and please download and print the LiveSafe Poster (PDF) to post in your work area.
The UVM LiveSafe app has three communities (aka versions); Student, Employee, and Visitor. Each version provides safety resources tailored to that population.
Download and use the UVM LiveSafe app today!
It can be downloaded from your app store, UVM LiveSafe Download Instructions (PDF) or directly from your phone by selecting one of the following options:
UVM Student | UVM Employee | UVM Visitor
For app questions, feedback, or tech help, email emergency@uvm.edu. When registering the app with UVM, please use your full UVM email address.