UVM HAS IMPLEMENTED USE OF THE CATSAFE APP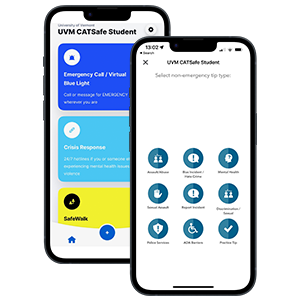 The University of Vermont has implemented use of the CATSafe app (powered by LiveSafe) which is a versatile mobile two-way safety communications platform and safety tool. It provides campus community members the ability to share information with campus safety partners, including calling or messaging Police for emergency help from anywhere.  It's like having a Blue Light in your pocket!  The SafeWalk feature provides a 24/7 virtual escort tool for walking, biking, or riding. Watch a short video to learn how SafeWalk works!
CATSafe also allows anonymous reporting and sharing of photos or videos, and one place to connect with departments other than Police, including Campus Victim's Advocate, mental health resources, bias and harassment reporting, and reporting concern for another student.  View Feature Flyer with more details (PDF) and please download and print the CATSafe Poster (PDF) to post in your work area.
The UVM CATSafe app has three communities (aka versions); Student, Employee, and Visitor. Each version provides safety resources tailored to that population.
Download and use the UVM CATSafe app today!
It can be downloaded from your app store, UVM CATSafe Download Instructions (PDF) or directly from your phone by selecting one of the following options:
UVM Student | UVM Employee | UVM Visitor
For app questions, feedback, or tech help, email emergency@uvm.edu. When registering the app with UVM, please use your full UVM email address.
For a list of Frequently Asked Questions please visit the CATSafe and Blue Light FAQ Page