Michael Abbott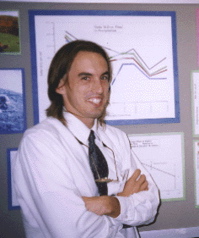 Mike came to UVM in 1994 to combine his interests in groundwater flow and hiking. He hiked and skied Mount Mansfield nearly 50 times to collect samples of snow and precipitation and mapped out, both spatially and over time, the distribution of oxygen isotopes in water on the mountain. Mike's research was focused on characterizing the nature and timing of flow through an upland fractured bedrock aquifer (specifically, Mt. Mansfield and the Browns River Watershed). He used analysis of stable oxygen and hydrogen isotopes as well as tritium analysis of samples collected from rain, snowmelt and groundwater throughout the study basin. Through this investigation, he uncovered interesting relationships within the groundwater system, and how it is differentially recharged seasonally and spatially in the watershed. The conclusion of the research confirmed that the higher elevations are very important in terms of replenishing the aquifer for the entire watershed.
MS Thesis, Geology (University of Vermont, 1997)
Isotopic characterization of groundwater recharge and flow in an upland bedrock aquifer, Vermont
download pdf of MS thesis proposal
download pdf of MS thesis progress report
download pdf of MS thesis
Undergraduate Degree
Worcester Polytechnic Institute, B.S. Civil Engineering, 1991
Related Links
How to get to Tuberville, Vermont, and Tuberville, Maine!
Email Address
mikeabbott@suscom-maine.net
Current Position and Contact Information (3/2008)
Project Manager
Abbott Engineering
51 Gerrish Lane
Durham, Maine 04222
Refereed Papers
Abbott, M., Lini, A. and Bierman, P. R. (2000) δ
18
O, δD and
3
H measurements constrain groundwater recharge mechanisms in an upland fractured bedrock aquifer, Vermont, USA. Journal of Hydrology. v. 228(1-2), p. 101-112.
doi:10.1016/S0022-1694(00)00149-9
Abstracts
Abbott, M. D., Stanley, R., Lini, A. and Bierman, P. R. (1996) Application of a system dynamics model to understand processes affecting spatial and temporal changes in the isotopic composition of groundwater: EOS, AGU Fall meeting, San Francisco, CA. v. 77, p. F-201. (
download pdf
)
Abbott, M. D., Lini, A., Bierman, P. R. and Wright, S. (1996) Determination of recharge source areas and groundwater residence times in fractured bedrock using stable isotopes: GSA Abstracts with Programs, Annual meeting, Denver, CO. v. 27, p. A-197. (download pdf)
Abbott, M. D., Bierman, P. R., Lini, A. and Wright, S. (1995) Using stable oxygen isotopes to develop a conceptual model of groundwater flow in a Vermont upland basin. GSA Abstracts with Programs, Annual meeting, New Orleans, LA. v. 27, p. A-98. (download pdf)