Why are students excited about UVM's Art Education Program?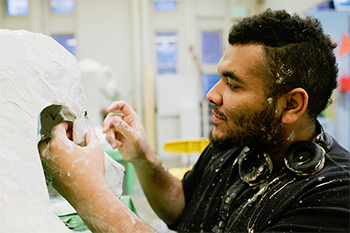 "Switching to Art Education as my major not only changed the course of my future, but it also kept me in school. If not for the passion I found here, I would have dropped out of college by now. I also found a group of beautiful humans who share that same passion and commitment to our collective future." - Kia'Rae Hanron '20
Designed to serve students with a passion for art and education, the Art Education program occupies a unique place among programs at UVM. Typically the Art Education courses are small and geared toward individual attention.
Students grow into accomplished artists and experienced teachers, fulfilling requirements in general education, professional art education, professional education, studio art, art history, and electives in related subjects. Graduates satisfy requirements for teacher licensure in art for grades Pre-K through 12.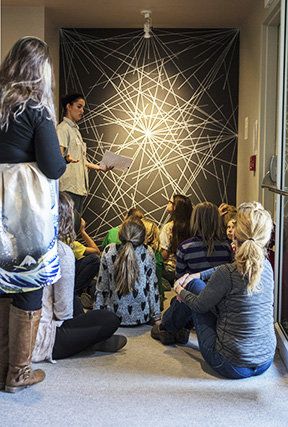 While the professional education courses come from the College of Education and Social Services, the bulk of the coursework (Studio Art, Art History, Art Education, and general education requirements) comes from the College of Arts and Sciences. 
With the belief that experience in the classroom is the backbone of a strong program, most art education courses have a fieldwork component known as a practicum. The culminating Art Education experience is a 12-credit full-time student teaching practicum in a local public school, and an accompanying 3-credit seminar to help compile the licensure portfolio.
Want to learn more?
Visit the full Art Education website.
---
Major Requirements
Sample 4-Year Plan
FIRST YEAR
Fall
Credits
Spring
Credits
ARTS 001: Drawing (Studio Art Foundation)
3
ARTS 012: Perspectives on Art Making
3
ARTH 005: Western Art: Ancient- Medieval (Art History)
3
ARTH 006: Western Art: Renaissance- Modern (Art History)
3
HDFS 005: Human Development
3
EDSP 005: D2: Issues Affecting Persons with Disabilities
3
ENGS 001: Written Expressions
3
D1: Race and Racism
3
HST 011: US History to 1865
3
Science Course
3
Learning Community Course (LC)
1 - 3
 
 
Semester Total:
16 - 18
Semester Total:
15
SECOND YEAR
Fall
Credits
Spring
Credits
Digital Media
3
Studio Art
6
SU: Sustainability Course
3
Art History Elective
3
Studio Art
3
QR: Quantitative Reasoning
3
English Elective
3
Humanities
3
POLS 021: American Political System
3
 
 
Semester Total:
15
Semester Total:
15
THIRD YEAR
Fall
Credits
Spring
Credits
EDAR 177: Curriculum and Practice in Elementary Art
4
EDAR 283: Current Issues in Art and Education
3
EDAR 178: Curriculum and Practice in Middle and Highschool Art
4
EDAR 284: Current Issues in Art and Education
3
3-D Art
3
Art History Elective
3
PSYS 001: Intro to Psychological Science
3
Studio Art
6
Semester Total:
14
Semester Total:
15
FOURTH YEAR
Fall
Credits
Spring
Credits
EDFS 203: Sociology, History and Philosophy Foundations of Education
3
EDSC 226: Teaching Internship
12
Studio Art
6
EDSC 230: Teaching for Results
3
Electives
6
 
 
Semester Total:
15
Semester Total:
15