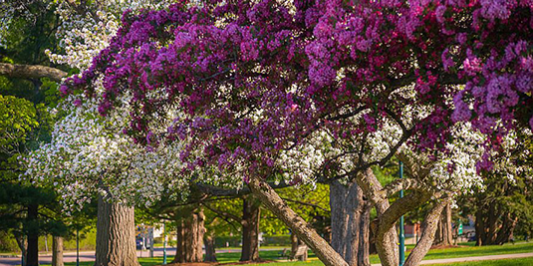 Department Award:
The department annually presents the Peter Seybolt Academic Award of Asian Languages and Literatures, given to the top graduating seniors who major in an Asian language based on academic performance. This award was named after the founder of the department, Professor Peter Seybolt, in August 2012, to commemorate his dedication and contribution to Asian language education at UVM.
Peter Seybolt Academic Award of Asian Languages and Literatures
2022
Aidan Seipke  (Japanese Majors)
Alexander Insoft  (Japanese Majors)
Honors
CHINESE:
The Chinese Program recommends its best students to be inducted into the National Collegiate Chinese Honor Society, sponsored by the Chinese Language Teachers Association, USA.
JAPANESE:
The Japanese National Honor Society – College Chapter (JNHS–CC) recognizes and encourages scholastic achievement and excellence in the study of the Japanese language. The Association of Teachers of Japanese (ATJ) is pleased to assist teachers with a way to recognize their outstanding students, to maintain high standards in Japanese language education, and to promote activities that give students ways to use their language skills on their campuses and in their communities. UVM students who are nominated for membership receive certificates of excellence and red-and-white cords to wear at graduation, and are recognized on the ATJ website and in its newsletter.
The National Collegiate Chinese Honor Society
2022
Anitra Conover
Claire Fagan
Francis Vigoreaux
The Japanese National Honor Society - College Chapter (JNHS-CC)
2022
Paige Carruthers
Yanni Dai
Kyra N. Diehl
Carrie L. Edson
Aliza A. George
Alex T. Insoft
Miya S. Scully
Aidan W. Seipke
Molly M. Swiencki
Grace Y. Williams
Honggang Xu
Past Seybolt Award Winners
Peter Seybolt Department Academic Award
2021
Nathan Philip Basch (Double Major in Chinese and Environmental Studies)
Margaret E. Coppes (Double Major in Chinese and Political Science)
Mallory Xiaohe McFarland (Chinese Major and Writing Minor)
Anna Campbell Smith (Double Major in Chinese and Linguistics)

2020
Sophia Webb (Chinese Major)
2019
Marty McDonald (Chinese Major)
John Sawyer Shaw (Chinese Major)
Eric Hendel (Japanese Majors)
Andrew Lambert (Japanese Major) 
2018
Adam Barson (Chinese Major)                   
Michaela Hooper (Chinese Major)                   
Claire LeVier (Japanese Major)                  
Danielle Tom ((Japanese Major)           
2017
Bryant D. O'Connor (Chinese Major)
Chiara Sylvia (Chinese Major)
Morgan Dorothy Velba (Japanese Major)
2016
Jason N. Garland (Chinese Major)
Kerey K. Hamilton (Japanese Major)
Aaron J. Kane (Japanese major)  
2015                
Alisa Holm (Japanese Major)
Christopher Zepf (Japanese Major)
2014
Hanna Miyake (Chinese Major)
Maurenn Pavlik (Japanese Major)
Pedro Teixeira (Japanese Major)
2013
Michael H. Hoffman (Chinese Major) 
Christine A. Meagher (Chinese Major)
Danielle M. DePasquale (Japanese Major)
Charlotte Z. Ross  (Japanese Major)
2012
William C. Roman (Chinese Major)
Annalouise V. Stone (Japanese Major)
Past National Collegiate Chinese Honor Society Honorees
2021
Gabrielle Atab Alexandrescu
Nathan Philip Basch
Katherine Ning Baum
Francesca Jingjing
Carasi-Schwartz
Judy Hoang
Charlotte Lau
Mallory Xiaohe McFarland
Anna Campbell Smith
Arron Jack Slocum
Shan Shan Zheng

2020
Joel Chapin Cheney       
Rebecca Irene Moser     
Sophia Webb 
2019
Marty McDonald
Annie Ryan
Emily Mei Snow
Colleen Walsh
2018
Adam T. Barson
Julia Yunli Beatty
Zoey Yue-Yue Christensen
Heather N. Day
Emily Susan Harney
Michaela Lee Hooper
Aimee L. Johnston
Kevin S. Neville
Gabriel Doran Trotz
Claire E. Wilcox
2017
Bryant Douglas O'Connor
Past Japanese National Honor Society-College Chapter (JNHS-CC) Honorees
2020-2021
Nicolas R. Drennon Grey C. Fahrner
Alice Pelletier
Vanessa White

2019-2020
Nancy Bernhardt
Keshan Deng  
Shiyan Hong    
Kaye Gallant Scheidler 
2018-2019
Jang Changgyun
Qingyin Cheng
Drake Evans
Yijia Gao
Eric Hendel
Ian Ross Lake
Andrew Lambert
Qihong Li
Julia Murphy Moore
Colin Villarin
2017-2018
Devon Boy
Jeremy Chen
Yan Kwan
Aaron Kane
Andrew Lamoureux
Claire LeVier
Amber McAllister
Zoe Nugent
Monica Petras
Stephanie Sheehan
Danielle Tom

 
2016-2017
Jessica Adler
Olivia Ambo
Lisa Chen
Yi Chen
Xi Chen
Michelle Galecki
Alexandra Sebastiano
Emanuella Schinazi
Kimberly Spacapan
Yutao Su
McKenna Todd
Morgan Velba
Eric Warshawsky
2015-2016
Alexander Berube
Emmett Caruso
Zhenhui Chen
Kerey Hamilton
Aaron Kane
Andrew Lamoureux
Alisha Lewis
Nathan Tessmann
Christopher Torossian
Yin Yefko
2014-2015
Berthel Brett
Holm  Alisa
Pike Hannah
Stanton Shawnae
Zepf Christopher
2013-2014
Pavlik Maureen
Teixeira Pedro M.
Yin Ruoyi
2012-2013
Danielle Depasquale
Annemarie Nicholson
Charlotte Ross
Kyle Ruske
Grace Stanford
Molly Thurlow
Jessica Titterton