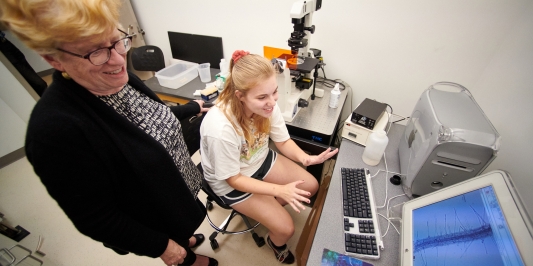 Students pursuing the Biological Science major are assigned an academic advisor from the college through which they are enrolled: the College of Arts and Sciences (CAS) or the College of Agriculture and Life Sciences (CALS).  Although the courses required for the major are identical regardless of which college a student is enrolled in, the different colleges have different distribution requirements intended to round out a student's education.  Faculty advisors for Biological Science majors are housed in either the Biology (CAS) or Plant Biology (CALS) Department.
First-Year Advising
First-year students in the Biological Science major in CAS, as well as those in the Biology and Zoology majors, are assigned a specialized first-year advisor within the Biology Department - Kinsey Hallinger (email).  This exclusive first-year advisor is well poised to help beginning students navigate the many options before them while staying on track for their major.  Biological Science majors in CALS will be assigned a CALS faculty advisor upon arriving on campus who will guide them through their four years and beyond. Advisors provide essential guidance, will assist with course selection each semester, offer valuable career information and help students obtain useful practical experiences preparing them for life after college. 
BIOLOGY 10: First-Year Life Science Seminar
First-year students in the Biological Science, Biology, and Zoology majors from any college are invited and encouraged to take this one-credit course aimed at maximizing student success in these life science majors.  This seminar supports students in the transition to a college-level science curriculum through exposure to relevant opportunities, promotion of beneficial academic habits, and the establishment of a classroom community.   
Switching to Biological Science
Considering joining the Biological Science major?  Meet with one of our program directors!  
Need to talk to someone?
If you are having trouble in your courses, thinking about switching majors or colleges, or are having personal difficulties that are preventing you from attending class or completing work, here is a list of resources that are all here to help you: 
Your academic advisor(s) or any advisor (faculty advisors are listed on their Department's website).
The Dean's office for the College you are in: CAS Student Services, or CALS Student Services.  In addition to academic advising, these offices will also have a procedure for documenting student illnesses and other emergencies and will review your situation and inform course faculty via email as to whether any accomodations should be made.
Counseling & Psychiatric Services at the student Center for Health & Wellbeing.