Focal Places in Burlington
The Intervale
In Vermont today, the word "Intervale" is closely associated with the Intervale Center in Burlington. The word has a much wider and older history, however, used by European colonists to describe the rich, narrow floodplain valleys that weave across the New England landscape. Abenaki Indians had two words for these landforms: Pasahana described an intervale running east to west (such as the Winooski River), and Wolhana described a north-south running intervale (such as the Connecticut River). These river valleys are rich for exploring both the ecological and social history of the region.
Intervales weave through the mountains of Vermont, visible on the map below in yellow. The Champlain Valley's flatter topography also appears yellow in this map, but contains the western extension of four major intervales – running south to north, Otter Creek and the Winooski, Lamoille, Mississquoi river valleys – which originate in the Green Mountains to the east.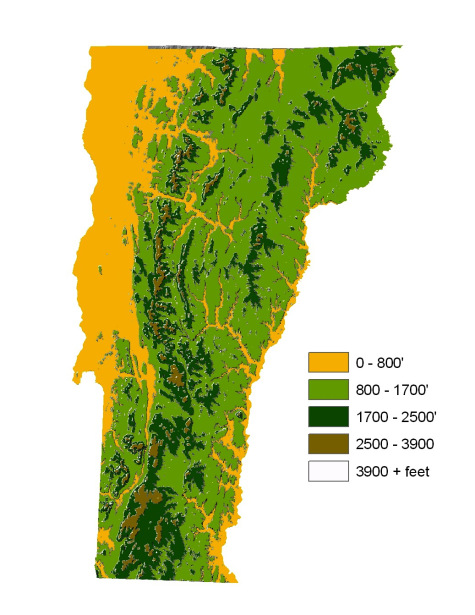 Over time, intervales have shaped the people who've inhabited and used them, and human land use has in turn changed the intervales. The focus of the following pages is on the stories of one intervale landscape - the section of the Winooski River floodplain known as the Burlington Intervale.
Special thanks to Judy Dow for her contributions of information about Abenaki history and language.