Focal Places in Burlington
Englesby Brook : Natural History & Ecology
Crescent Woods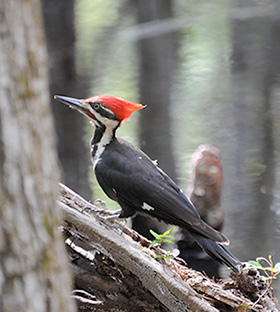 Pileated Woodpecker
Crescent Woods is a public natural area that lies between Shelburne Road to the West and Crescent Road to the East. A diverse collection of trees and animals within the woods each tell a story. The woods are composed of a smattering of tree species that are found throughout Burlington, such as the familiar maples (Red, Sugar, Boxelder, and Norway) to the trees typically found in more enriched soils, like American Basswood alongside oaks and hickories. There have been auditory signs of Barred owls and Pileated woodpeckers, as well as prints of a few small mammal species. If you look closely on the enormous sugar maples in Crescent Woods, you can see tap scars from when these trees were tapped for maple syrup. In the brook itself you can find Green frogs and Dace fish, and if you look a bit more carefully you may even see some aquatic invertebrates. This unique area is explored by many Englesby Brook Watershed residents, and has a substantial network of paths.
Englesby Magnetism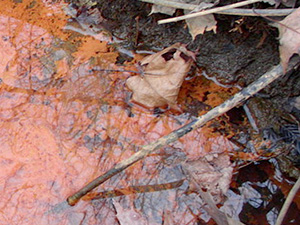 Ferric oxide in stream
Iron bacteria is a group of about 18 different types of aerobic bacteria that derive their energy from feeding on dissolved ferrous iron. In the process, they excrete insoluble ferric oxide - a reddish-orange, gelatinous slime that appears at the surface of groundwater seeps, in streams, and also in domestic water wells and plumbing. Englesby Brook features some notable colonies of these iron bacteria, and one neighbor of the brook shared stories of using magnets to collect the iron deposits generated by the naturally-occurring micro-residents of the Englesby.