---
Hopland Research and Extension Center
40 70 University Road
Hopland, California 95449
(707) 744-1424
http://danrrec.ucdavis.edu/hopland/resources.html

The Hopland field station is a 2,169 ha (about 8 square miles) tract in southern Mendocino county, California, near the small town of Hopland. The site has an excellent infrastructure to aid researchers, including a bunkhouse, lab and office building, shops for fabrication of various kinds of equipment, and well-maintained dirt roads (the road from town to the bunkhouse and office/lab complex is paved). A professional and helpful staff is on the station, with experts in botany, wildlife, soils, etc. to aid visitors. The overall atmosphere is professional, helpful, and friendly. Our long-term studies there would not have been possible without the continuing assistance from the staff (our studies there began in 1978!).

The field station was established as a site for agricultural research, and still has an active program in range management for sheep, soil chemistry and conservation, forestry, and grape cultivation. A substantial variety of other research projects have taken place on the station including studies of coyote behavior, tick distribution and behavior (in relation to vectoring Lyme disease), and avian community structure. A list of publications that have emerged from these studies has recently been published and is available on-line (see the website given above) or in paper version at nominal cost.

The staff at Hopland has assembled lists of species of birds, other vertebrates, and plants on the station. A fine herbarium aids in identifying plant species. The bunkhouse is comfortable but small, with a men's and women's bedroom with multiple bunk bends, separate bathrooms, and a common kitchen, dining, and gathering area. Charges for staying are nominal.

The habitat is coastal woodland/grassland in lower elevations. Oaks and Pacific Madrone are the common trees, with an understory of grass and various hebaceous species. At higher elevation, chaparral is mixed with oaks, then pure chaparral at highest elevations. Striking common species include the green rattlesnake, coyote, black-tail deer, and the acorn woodpecker which maintain numerous acorn-storage trees.

The climate is cool and rainy in the winter (November to late April), then dry and warm in May and June, then dry and very hot in July and August.

Photos of the site as well as long-term weather data are available on the station's website.

The field site is reached by driving north from San Francisco. We rent a car in San Francisco (cheapest), or take a bus directly from the San Francisco airport to the Sonoma County airport where car rentals are available (but more expensive). The drive from San Francisco to Hopland may take from 2 to 3+ hours depending on traffic in the city. The field station is about 100 miles north of San Francisco and 15 miles south of Ukiah.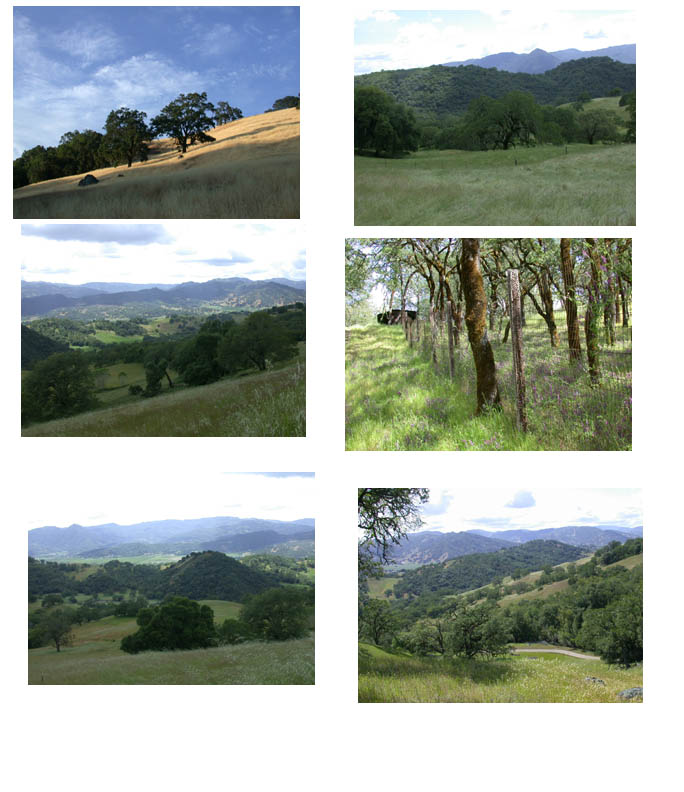 ---
El Verde Field Station
HC-05 Box 8974
Luquillo, PR 00773
(787) 380-3220

Scientific Director: Alonso Ramirez

http://ites.upr.edu/EVFS/index.htm

The field station is approximately 150 ha (400 acres) contained within the 11,332 ha Luquillo Experimental Forest that is itself within the Caribbean National Forest. It is the only tropical rainforest within the USA National Forest System. The research station is managed by the University of Puerto Rico, and was established in 1963 as part of a large ecology project designed by Howard Odum.

The research area ranges from 250 to 500 m elevation (the highest elevation in the forest is 1,073 m) and receives about 138 inches of rain a year. Temperatures are cool to warm, and is cool at night. Puerto Rico has 547 native tree species, 13 bats, 249 birds, 41 reptiles, and 22 amphibians. At El Verde, 8 amphibians, 11 reptiles, 34 birds, 8 mammals have been found.

The station has been the site of a very large-scale long-term study of the dynamics of a tropical forest. Numerous publications have emerged from these studies on the ecology of tropical trees, insects, spiders, fresh water shrimp, lizards, etc. Indeed, the El Verde is the site is one of the premier field studies in tropical biology.

The station is very busy, so reservations to stay and arrangements (including both permission for specific studies and permits from the Commonwealth of Puerto Rico and US Forest Service) should be made well in advance of any planned project. Preliminary visits are advisable. The station includes several bunkrooms for men and women (for 30 visitors), with bathrooms. A small kitchen is available, so meals must be prepared in shifts when the station is busy. Lab rooms, a library with computers, and offices are in a separate building. Trails are very well maintained, and cross the river and streams (an exciting swinginig bridge is installed over one steep crossing).

Visitors should be aware of the hurricane season in late summer and fall. Hurricanes plan an important role in the ecology of the forest, and every tropical ecologist should experience a major storm to appreciate the impact of the winds and rain on the environment.

Finding the field station from San Juan Airport: Turn out of the airport area on toward Carolina. Left onto Rt3 East toward Rio Grande. Follow Rt 3 until see Rt 186 to El Verde (about 30 minutes). Go through town of El Verde, see sign for entering National Forest. Past Job Corps camp. Over Rio Sanadora (see falls on left). See first driveway on left with orange stripes painted on metal pole gate at markers 19.3 and 19.4 on highway. Go up driveway to parking lot near buildings. Note that there is no sign for the field station.

Photographs, detailed information, long-term weather data, etc. are available on the station's website.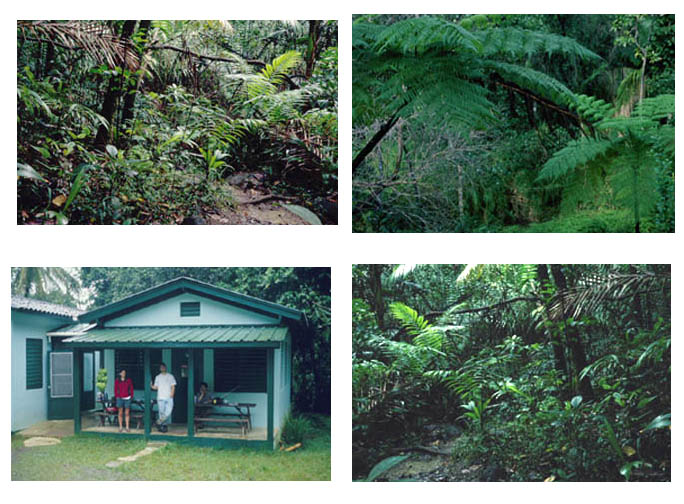 ---
Saba, Netherlands Antilles

Saba, just a few miles from popular tourist destination of St. Martin, is one of the gems of the Caribbean. Schall has traveled throughout the Caribbean since 1968, and former grad students Staats and Perkins have also visited most of the Lesser Antilles, and all agree that Saba is wonderful. The island is tiny, only 5 square miles, and the tip of an underwater volcano. The terraine is very steep, and thus the "5 square miles" area doesn't give a real feel for the complexity of the landscape.

There are very few flat areas on the island, and the only "large" flat area has been converted into the airport. Small planes fly several times a day from St. Martin. The landing is one of the more exciting experiences one can have in commercial flying (no injuries have resulted from accidents over the past decades of flying!). From the airport, the road rises and switches back and forth to the populated areas of Windwardside and the Bottom. Roads are spectacular, but not for the wimpy driver. Foot paths go almost everywhere, some of them well over a century old. The stonework on these trails is amazing and demonstrates the work ethic of the population over many generations. Be prepared to walk over very steep and often slippery trails, but the changing views make every step worth the effort.

As expected, the species diversity is low (small island effect), but there are a number of endemic species, including a snake (rear fanged predator on lizards), and the anole (Anolis sabanus), one of the more pretty anoles in the Caribbean. Birdlife includes the pearly-eyed thrasher (common here), and the Antillian Bullfinch (bullfinches are found on several islands and appear to be the closest relatives of the Galapagos finches--go figure!).

No permits are required to work on the island, but it is a good idea to check in with Tom vant Hof, who heads up the local conservation foundation. Tom is one of the world's most distinguished conservationists, and has set up marine parks throughout the Caribbean and around the globe. Tom is a great supporter of research on the island, and has a vast knowledge of the ecology fauna and flora of the island, both land and sea. He can be contacted through the Ecolodge described below. We have been working on the island since the late 1980's and the success of the research owes a great debt to Tom and his family.

The people on Saba are very friendly. English is the island's language (although the island is part of the Netherlands), but spoken in the style long lost elsewhere. Automobiles, radio, TV, electricity, etc. came to the island only in the 1960's, and the atmosphere is still characteristic of the wonderful Old Caribbean. Many homes are at least a century old, and retain their traditional style. The tiny churches are not to be missed by anyone interested in Caribbean history.

Staying on Saba can be expensive. Most food must be brought over from other islands, and the pier is tiny, so imported food is expensive. All fresh water is either from the roof or bottled. Electricity is also very expensive. We like two lodge-type guesthouses that are very pretty, in nice areas, and run by friendly inn-keepers.

The EcoLodge is a series of little cottages perched high on the mountain. Our favorite, of course, is the Anolis Cottage. The lodge is an eco-friendly place, using solar energy, and solar-heated bags for showers. It was built only a few years ago using much recycled materials, such as trex "wood". A small restaurant is connected. The EcoLodge is run by Tom van't Hoff, and his family, Heleen Cornet (an artist with an international reputation for her paintings of Saba natural areas, homes, and underwater life), and their children Bernt (a chef trained in Holland who runs the Lodge restaurant) and Jojan who is a hotel management specialist who also runs a hotel in Windwardside. Meals at the restaurant are world-class, amazing for a tiny island in the Caribbean. Much of the food used is grown in the garden attached to the Lodge. Prices are moderate by Saba standards ($45-$65 for a single and $65-$85 for double or triple).

The website is: http://www.ecolodge-saba.com/

El Momo is another very nice place that is moderate in price (for Saba). The cottages vary in price, but prices are year-round ($40 - $80 for single, and $50 - 90 for double). Again, these are a series of cottages scattered on a hill overlooking Windwardside. Most cottages use a general shower and toilet building that is very clean, and a tiny walk from the cottages. Walking about at night can be a bit scary because of the steep stone stairs. El Momo is reached from a street in Wildwardside, then a very steep long set of stone stairs climbing into the sky. At the top is a surprise: a little pool, with a bridge crossing over to the main building and cottages! El Momo is owned by Angelika and Oliver Hartleib, who are very friendly and welcoming. Breakfast and dinner are served at the lodges, and are nice. A walk-away lunch can be prepared and bottled water and other beverages are available at a moderate price.

El Momo website is: http://www.elmomo.com/index_en.html

There is no field station on Saba, so we work in our rooms. Several nice small restaurants dot the island, but prices can be steep. Car rentals can be arranged by either guesthouse. Rent a car with automatic transmission!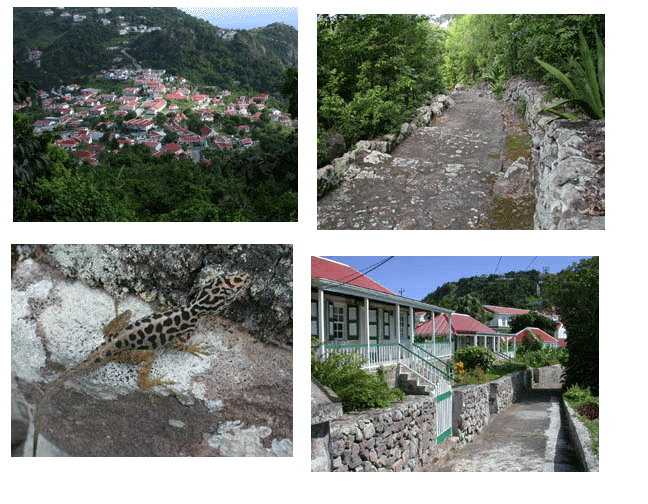 ---