UVM Sports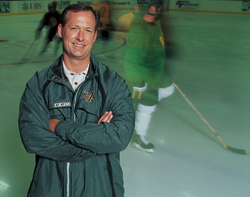 photo by WIlliam DiLillo
In a new league
Coach Kevin Sneddon's philosophy took hold last season,
now the Cats look to make their mark in Hockey East
by Jon Reidel
There's a conversation that occurs prior to the start of every hockey season between Kevin Sneddon and his team. The players state their goals for the upcoming season and the coach tells them what it will take to reach them. At the surface, it sounds like a corporate goal-setting session to kick off the new fiscal year — long on lip service, short on substance.

But here's the hitch: Kevin Sneddon is serious — real serious. In fact, he will be there every trip down the ice to make sure his players don't veer from their stated goals and are giving maximum effort. If, for example, his players say they want to win Hockey East, arguably the nation's toughest conference, in which the Cats will play for the first time this season, and post a team 3.0 grade point average, they'd better be prepared to put in as much work as Sneddon did in both areas as captain of a national championship team at Harvard in the early 1990s.

"I want to know what's going on in their minds. It's easy for us as a staff to say we're going to do this, this, and this," Sneddon says. "But I think it's important for our guys to have a specific direction that they are aiming for — something that, if they put all their blood, sweat, and tears into it, they can achieve. Our job is to keep them on track. When they start falling off, that's when maybe I would become a lot more passionate, because they've told me that's what they want to do."

ROUGH START, TOUGH DECISION
Winning didn't come right away when Sneddon arrived two years ago from Union College. The Cats, who hadn't posted a winning season since 1996-97, were winless after Sneddon' first 14 games. Despite his credentials as a successful college athlete and an impressive coaching run with non-scholarship players at Union, Sneddon still had some convincing to do at UVM. With his players feeling down and lacking confidence, Sneddon had to make a philosophical coaching decision that would set the tone for years to come.

"The easy thing would have been to let up and say 'Ok, we knew this was going to happen.' But we decided to not accept it and just keep pushing them as hard as possible," Sneddon says. "We knew that eventually the culture we wanted to institute would emerge, and that's what's going to carry you for the long run. When they are really down, you don't want to kick them down further. But you don't sway from certain core principles at times like that. The only time I really get on our guys a little bit is if I don't feel they're putting everything in their minds and in their hearts together."

That strategy helped the team build to one of college hockey's most impressive turnarounds last season. The Cats went from winning just seven games in 2003-2004 to posting a 21-14-4 record in 2004-05.

WHEELING AROUND THE RINK
Hard work and a love of hockey started early for Sneddon. He recalls his father, Robert, who played for several NHL and American Hockey League teams, taking him to practice and putting him on skates before he was three years old. "I'd have my equipment on and I'd go out there and wheel around for a couple of laps before they started practice. Then my dad would put me up in the stands and I'd watch for two hours," Sneddon recalls. "I loved it. I just loved being around the rink. I still do."

When it came time for college, Sneddon's father thought the best route to the pros was to play major-junior hockey, but his mother insisted he continue his education. He considered Cornell and almost committed to Michigan, but decided to wait and sign with Harvard. Crimson Coach Billy Cleary made an impression on Sneddon that he strives to carry into his own coaching. "Cleary cared about the lives of every single player," Sneddon says. "It didn't matter if he was the top scorer or the kid who never played. He cared about everyone the same."

HEADING TO HOCKEY EAST
Sneddon says he took the job at UVM because he saw unlimited potential and a strong commitment from the administration. In the end, however, Sneddon knew his success would depend on the level of players he could bring to the campus.

"We feel like we have a good shot at some of the best players in the country, especially now that we had a decent season," says Sneddon. "The challenge is that there's an elite group of recruits that tend to lean toward the really, really established programs. We've got to go head-to-head with those programs and not be afraid to lose those battles." The coach adds that the change in conference promises to help UVM in recruiting, as Vermont assumes the rank of arguably the top academic school in Hockey East.

With Sneddon's third season rapidly approaching, it's getting close to goal-setting time again. Captain Jaime Sifers says a trip to Boston for the Hockey East playoffs is definitely a priority and the team's commitment to Sneddon's system is key to making it a possibility.

"The best word to describe coach is passionate," says Sifers. "He's real passionate about the way he coaches, how he teaches us, and the way we perform. It didn't take long to get to know him because he spent a lot of time with us and made us feel like part of a family."

Proving themselves in the tough Hockey East conference is certainly a first priority for Sneddon and the Catamounts, but the coach will admit to looking a little beyond that. "I was fortunate enough to win a national championship and I'd love to be able to share that with our student athletes one day — hopefully in the near future. But it doesn't have to be a national championship as long as they enjoy achieving the goals they set for themselves. I enjoy that journey with these guys because they put their hearts and souls into it. That's all I ask."