UVMNotebook
The Latest from Burlington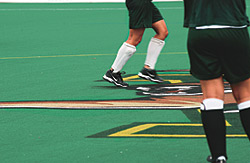 photo by Sally McCay
You are here
Glimpses of UVM past, present, and future
Home field advantage has been a foreign concept to the UVM women's field hockey team in recent years. As the sport has evolved into a nearly exclusively artificial turf game, the Catamounts traveled regularly down to Middlebury College to practice on the plastic grass and often hosted "home" games on fields at Dartmouth, Yale, Harvard, and Holy Cross.
So, the morning of August 11 is a milestone for the program as the UVM athletes step onto Astroturf of their very own, the V-Cat logo airbrushed at midfield, for their first practice. "It's huge," says Coach Nikki Houghton as her players warm up with stick and ball drills on the fast surface. "It's huge for morale; it's something they take real pride in."

Beyond what the new field means to the field hockey and lacrosse teams that will play on it, Athletic Director Robert Corran points out the wider impact of the Technicolor swath of green along Spear Street. "It's a very visible sign for the whole department, the whole community," Corran says. "It's the first important indicator of the progress we are making."

More subtle signs of progress buzz along inside the adjacent Gutterson Fieldhouse, where crews are installing new boards and seamless glass around the rink, a new scoreboard, improved lighting, not to mention the banners of the Catamounts' new top-flight conference, Hockey East.

The changes promise to keep coming at this end of campus, Corran says, as he looks over the playing fields south of Gutterson. Pending final permitting, work is likely to get underway on a new outdoor track next spring. Further down the road, but into the planning stages, are a new women's softball field, and a synthetic turf field and small stadium (seating approximately 6,000) for soccer.

Corran points up at the large windows of the fitness center that overlook the playing fields and considers the day when the view might be into a soccer stadium and a game between, say, Vermont and Dartmouth. He smiles and says, "The best seat in the house will be right up there on a treadmill."

NEW HEIGHTS
Forget the relative calm of a college campus in summer. Things have been moving fast all summer at UVM, particularly in the on-campus residential centers between Main Street and Patrick Gym. At Living/Learning more than 100 workers are in the final push to have another phase of renovation completed in time for the fall semester. Next door, at the brand-new University Heights Residential Learning Complex, 180 construction workers keep the progress rolling on the north part of the complex, due to open in January 2006. (The south part of the complex, which will add another 400 beds to UVM's campus housing options, is slated to open in August 2006.)

As they've done at earlier points in the building process, Bob Taylor, dean of the Honors College, and Patty Redmond, administrative coordinator for the HC, don hard hats and safety glasses to tour the north complex with project manager Todd Merchant. They have good reason to be especially interested in the project and its progress — it will become the home to the Honors College in just a matter of months.

Merchant leads the way into what will be the complex's "living room" area, a space that isn't quite cozy at this point. Concrete floors, exposed steel girders, plastic taped over the window openings — it takes a little imagination to picture the building that will be. But clearly that's an exercise Redmond and Taylor are well practiced in. Redmond steps over to a window bay and notes where the baby grand piano will go. Throughout the building, they point out features — a seminar room with a vaulted ceiling and Green Mountain views, a living room fireplace, bedrooms with lofts — that promise to make University Heights a prime campus address.

Taylor, Redmond, and Merchant walk outside into a sheltered courtyard (a "microclimate" to landscape architects, "a nice sunny spot out of the wind" to the rest of us) that would be an ideal place to hold a small class or just hang out on a warm April day.

Taylor says, "There are just so many spaces here — interior and exterior — that are going to be fun to work with." But even with a hard hat on, the dean is reluctant to get too caught up in bricks and mortar. As much as he expresses his appreciation for the new building, Taylor notes that the point isn't the structure but the way it enables the Honors College to create a closer knit between students' academic and residential experience.

CAMPUS CROSSROADS
The tunnel under Main Street — you know, that dim passage that felt suspiciously like a culvert — is no more. A safe haven for pedestrians perhaps, but the tunnel never was much for aesthetics. Shutting down the tunnel was one of the first steps in getting work underway this summer on the new Dudley H. Davis Center, and when it re-emerges as an entrance hallway to UVM's striking new student center in 2007, it promises to be a transformation of sow's ear to silk purse
proportions.

This summer, Ray Lavigne '67 set up shop at the north end of the tunnel in the space that was most recently home to a fast food stop. Lavigne — alumnus, former UVM vice president, project manager during construction of Burlington's waterfront ECHO Center, and one of those people who has a hard time staying retired — is the University's project manager for the Davis Center, UVM's long-dreamt student center that is envisioned as a crossroads for the entire campus community.

Few know the campus as well as Lavigne, who oversaw facilities and grounds operations at UVM for years. He's seen building booms before — in the 60s when the athletic facilities, Marsh Life Science, the bookstore, Bailey/Howe Library, and numerous residence halls broke ground. Still, as he spreads out large construction plans on a table and points out features of the Davis Center, Lavigne says it's the most exciting era he's seen at UVM in the past 40 years.

Considering the Davis Center, Lavigne says, "The building is just going to dramatically change the entrance to campus as you come in from the east." He pages through the plans to point out favorite features — the design's echo of architectural elements from the historic buildings along the Green, the landscaped oval fronting the building at the top of the hill on Main Street, the way the west exterior face of Terrill Hall will become an east interior wall of the Davis Center, part of the bright, four-story atrium/entrance.

"I just think it's going to be magnificent," Lavigne says. "There's going to be a 'wow' factor to this."
3 Questions
Susan Wallace, professor of microbiology and molecular genetics, leads a team of UVM researchers who were recently awarded a five-year, $7.5 million program project grant from the National Cancer Institute. The funding will support a study using biomechanical, computational, and structural biology methodologies to determine how three families of DNA enzymes repair damage caused by ionizing radiation. Wallace and her research colleagues — Jeff Bond, research associate professor of microbiology and molecular genetics; Sylvie Doublié, associate professor of microbiology and molecular genetics; Scott Morrical, professor of biochemistry; and Mark Rould, research assistant professor of molecular physiology and biophysics — are all affiliated with the Vermont Cancer Center.
Q. I understand that the team of scientists on this grant is bringing an unusual approach to the study that especially attracted the interest of the National Cancer Institute. Could you tell me a little bit about that?
A. I believe ours is the only biochemistry-crystallography project in the country that is based on a computational approach. We're ahead of the curve from that perspective, and we have Jeff Bond to thank for it. He is a computational biologist with a degree in biochemistry, so he truly understands what the rest of us are trying to do. These days, you have to rely on people with specialized talents to push the envelope.

Q. Looking far down the line, how could this sort of research have an impact on the prevention or treatment of cancer?
A. What we would hope to be a payoff down the line would be to understand how the most frequent damages that are encountered by our cells every day are repaired by these DNA enzymes. This group of enzymes was highly selected for in the primordial soup to take care of our DNA. Because they do the job so well, there has been selective pressure to maintain these enzymes over the course of evolution and the human proteins are very similar to the bacterial proteins. So, we're actually using this fact to drive our studies to understand how the enzymes recognize the DNA damage. If we can increase this repair, we should be able to decrease the ultimate end product of the damage that is cancer.
There is a corollary to this. Since we use ionizing radiation as a cancer treatment, we want to be able to optimize the amount of DNA damage that the radiation inflicts upon the cancer cell during the treatment process. So, if we could figure out some way to decrease the repair system for this radiation damage duringradiation therapy this could actually enhance the therapeutic gain.

Q. As a research scientist, what are the particular rewards of being involved with a team study that brings together individuals from diverse areas of expertise?
A. The principal reward is to be able to interact with a number of different laboratories on a routine basis. Not only do the principal investigators, but the graduate students and post-doctoral fellows each have their own ideas. So, every time we get together as a group, which we do monthly (over pizza, another reward), it is a wonderful interchange of ideas, and new directions always come out of these meetings. The exciting thing about science, in general, is the newness. So this is just an additional layer of newness, where you're meeting with more than your own laboratory and getting feedback from the members of all of the individual laboratories, each of which is adding a brick to the wall we're trying to build to understand these DNA repair processes.
photo by William DiLillo
Getting into the field
Undergraduate summer engineering research is about being on a first-name basis with professors, struggling a little before having questions answered for you and — most of all — constantly adapting to make do with what you have. In that, the preparation reflects the profession.

Which is exactly what the Barrett Foundation intended when the family nonprofit, led by 1966 UVM graduate Richard Barrett, a successful entrepreneur whose career was boosted by early internship experiences, decided to provide summer research scholarships for four top students in the College of Engineering and Mathematical Sciences. Tracy Owen, Jennifer Gagnon, Alaina Dickason, and Brendan Kennedy were this summer's first Barrett Scholars.

Senior Tracy Owen, left, is pictured conducting fieldwork with doctoral student Maeve McBride. Owen spent her summer focused on furthering her study of stream dynamics by recreating aspects of one particular waterway in the Votey Building's six-meter flume. Owen spent weeks scaling the survey data from forested and unforested stretches of the actual stream so that she could build the scale model that would allow her to conduct experiments and take measurements on how the surrounding land affects the water's turbulence and velocity and how that, in turn, affects the width of the stream. Such information is essential to have, she notes, on a forest or stream restoration project.

All of the Barrett Scholars hope to see their work through to publication, but Owen notes that challenges overcome getting there may be the greatest reward of the summer's work. "You run into problems, and you have to think of a solution quickly in that engineering spirit of solving issues with the materials you have," she says.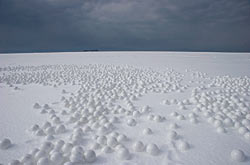 Artist McKendree Key placed white plastic balls on the frozen surface of the lake for Lake Champlain, 2005, a project commissioned by the Fleming Museum. Key's color print is part of New Turf, the first major contemporary exhibition organized by the Fleming's new curator, Evelyn Hankins.
Photo by McKendree Key
Telling it straight
It was an intense summer for the 32 students fortunate enough to slip in under the enrollment cap for the debut session of UVM's Summer Integrated Media Studies Institute. They spent the five-week course immersing themselves in creating their own documentary films, which examined a range of social issues including alcoholism and youth homelessness; alternative fuel sources; urban sprawl; sustainable agriculture; and how media influences the perception of America abroad. The diversity of topics is due in part to the majors of the students, which include political science, business, environmental studies, community development and applied economics, the University's new film major, and others.

"We're interested in showing students how to get useful information out to people in a meaningful way that can make a difference," says Tom Streeter, associate professor of sociology and the institute's co-director.

"No matter what you're passionate about, communicating in an audiovisual way is critical in today's climate. I think we're unique because of our interdisciplinary approach," adds co-director Andrea Grayson, an adjunct professor with more than 20 years of writing, producing, and documentary filmmaking experience.

A line-up of guest speakers that included industry insiders and well-established filmmakers proved to be a powerful element of the course. The three owners of Earth Network, an informational web and video channel that recently established its headquarters in Burlington, were among those who shared their expertise with the UVM students.

Earth Network's Seth Zimmerman came away impressed with the potential of the UVM students and the fledgling summer institute. "The new media is starting to change how people get information," he says. "It's the new FM. Some of these kids who are inspired could create new forms of communication. This course is being taught by some of the best on the planet, so these kids are getting a big jump. We don't need more right spin or left spin, we need truth spin, and some of these students are good enough to create it."
It must be Baraka!
The hepcats of UVM's JazzLit.com Collective got their boots on this summer for a righteous tribute to Duke of the Cat's Meow, poet Amiri Baraka. With the noodling of John Gennari, skin-beater and director of ALANA Studies; Major Jackson, wordcat and associate professor of English; and Alex Stewart, saxman and associate professor of jazz, "BebopBaraka: A Celebration of the Life & Works of Poet Amiri Baraka" blew a wailing clambake of Baraka's jazz-influenced poems put to smooth riffs and licks of Bebop greats. Nothing off the cob, if you dig my jive.

OK, so it was nearly impossible to sit in on the evening, part of Burlington's 2005 Discover Jazz Festival, and not want to join in the groove. The highlight of the night was Gennari's exuberant "Rope-A-Dope," a self-composed tribute to the troubadour of cool, set to the music of Thelonius Monk. Introducing his piece, Gennari said, "We'd like to thank Amiri Baraka for his inspiration, his hipness, his humor, his revolutionary zeal, his jazz, his craziness, his bullshit, his ugly, ugly beauty," then the band swung into a melodious romp punctuated by the exhortation "It must be Baraka!"

Late in the evening, when the musicians were packing up their instruments, Jackson explained why the tribute struck a more personal chord. "Nobody really celebrates the mosaic of Baraka," he said in a raspy, post-performance voice. "It gets lost in the static surrounding him." When it comes to Baraka, there is a lot of static. Most recently, he was stripped of his honorary position of Poet Laureate of the State of New Jersey for his incendiary comments about where responsibility rests for the 9/11 terrorist attacks.

The refrain "It Must Be Baraka!" however rang out high above the buzz. In addition to Gennari, Jackson, and Stewart, the evening's Beatific octet was composed of Rob Duguay '05 on bass, UVM senior Alex Toth on trumpet, UVM alum Geoff Kim G'04 on guitar, Brennan Mangan '05 on drums, and poet-performance artist Kim Jordan reading Baraka's poems.

In addition to their two Firehouse Gallery performances, the JazzLit.com Collective served up an encore
performance of "BebopBaraka" at Nectar's the following week. If you missed out, don't despair. The collective has promised to gather next spring for a new program of jazz-infused poetry. Something every "Clyde" and "Wren" will want to groove.
—Laban Carrick Hill
UVM lands leadership role in transportation research
U.S. Senator Jim Jeffords, I-Vt., announced in August that UVM will receive $16 million in federal funding for transportation research and development. Jeffords secured the funding as part of the federal highway bill.

As the ranking member of the Senate Environment and Public Works Committee, Jeffords has worked for more than three years to pass the highway legislation, which will bring over $1 billion to Vermont through 2009. The legislation provides funding to UVM to establish one of 10 National University Transportation Centers to study transportation issues in an effort to promote and develop more efficient transportation policies and study related environmental issues. The highway bill also includes $1 million for research at UVM on hydrogen and renewable fuels.

"We must develop more efficient and environmentally friendly transportation policies at a state and federal level," said Jeffords. "I cannot think of a better place than the University of Vermont to study these critically important issues. UVM's reputation for academic excellence and cutting- edge research directly contributed to its designation as a National University Transportation Center."

UVM President Daniel Mark Fogel said, "This designation and the funding associated with it create a tremendous opportunity to expand our research capacity to identify environmentally and economically sustainable strategies for the nation's critical transportation issues."

Fogel continued, "Equally exciting is the opportunity to direct funds to nurture the engineers, planners, and other professionals who will become our nation's transportation leaders, through the hands-on research involving undergraduate and graduate students that the transportation center will sponsor. We are extremely grateful for Senator Jeffords's vision."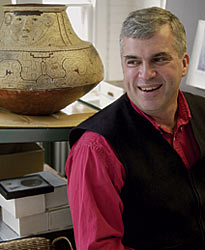 photo by Sally McCay
University mourns death of James Petersen
On August 13, while on a research trip with colleagues in Brazil, Professor James Petersen was shot and killed during a robbery in Iranduba, a small town near the Amazon River.

The tragic news touched many at the University of Vermont, where Petersen had distinguished himself as student, teacher, and scholar. Professor Petersen, quoted in an article in the Spring 2005 issue of Vermont Quarterly, referred to himself as "a child of UVM." His parents, James E. Petersen and Ella Chamer Noack, met on the campus and were graduates of the Class of 1949. Professor Petersen received his bachelor's degree from the University of Vermont in 1979 and joined the faculty at his alma mater in 1997.

Michael Heckenberger, UVM Class of 1988, an anthropology professor at the University of Florida, was among the many students Petersen inspired during his career. He worked with him when Petersen was a visiting professor at UVM, prior to joining the faculty full-time. The two would later collaborate on ground-breaking work in the Amazon that questioned the long-held belief that the Amazon was a "counterfeit paradise" lacking the rich soils and protein sources needed to sustain significant human populations.

"To get the story right, that's my motive," Petersen told Vermont Quarterly. "I work in the Amazon as part of a broader effort like I do here in North America, in New England, the Caribbean and wherever else I work, to see the correct story told. That we don't underestimate the degree of sophistication, the degree of elaboration, the degree of complexity of the native people."

"Jim is an infectious person and teacher," colleague and former student Heckenberger said in the Vermont Quarterly article. "He attracts so many people to anthropology. He is without a doubt one of the most powerful and influential teachers I had."

The family and friends of Professor Petersen have established a scholarship in his memory to support undergraduate students within the College of Arts and Sciences. Contributions may be sent to the attention of Natalie J. Fleischman, senior development officer, University of Vermont, 411 Main Street, Grasse Mount, Burlington, VT 05401.
Digging Burlington's history
During the painstaking process of scraping away dirt from a rotted wooden coffin in which a soldier from the War of 1812 was presumably buried, researchers from the University's Consulting Archaeology Program discovered something they hadn't planned on: another solider.

The state-funded dig, located just off Burlington's North Street near Battery Park, involved the removal of the remains of two 19th-century soldiers. About 5,000 troops were stationed in the area during the War of 1812, and about 700 died there of war-related injuries and disease.

The discovery of a third soldier wasn't a complete shock given the number of soldiers who died there, but its location within the confines of the established dig site — an area researchers can't venture beyond due to funding and regulatory restrictions — was extremely fortuitous. Had it been located even an inch outside the funded site, University archaeologists would not have been able to touch it until more grant money was secured.

"We're lucky that the third solider was just 75 centimeters from the other one, which indicates that this was a military-style cemetery," says Kathleen Kenney, CAP historian. "There could be as many as 25-30 soldiers buried in this backyard alone."

Kenney described the condition of the remains of the first soldier as "pretty intact" and expected at least one other to be in better condition. Dozens of neighborhood residents watched the week-long excavation and seemed particularly intrigued with the dusting off of a skull by CAP archaeologist Cullen Black. A small, gold earring was found on one of the skeletons, indicating that the man may have been a sailor. Seamen of the era were known for wearing similar earrings to cover the cost of a Christian burial if they died at sea and washed up on shore.

The remains were taken back to the lab on campus, catalogued, cleaned, analyzed and, if possible, identified by name. Charles Knight, assistant director of the consulting archaeology program, says the odds of identifying the soldiers are slim, but newer identification processes such as mitochondrial DNA testing and the creation of such agencies as the Joint POW/MIA Accounting Command have increased the chances for a match. If a soldier is identified, surviving relations could decide to re-inter them with
full military honors, possibly even at Arlington National Cemetery.
Two Deans named
The College of Arts and Sciences and the College of Education and Social Services both entered new leadership eras this summer with the announcement of dean appointments. Eleanor Miller is the new dean of Arts and Sciences, and Fayneese Miller leads Education and Social Services as dean. (Editor's Note: No mistake. Indeed, there are now two Dean Millers on campus.)
Eleanor Miller is a nationally distinguished academic in the sociology and criminology fields. Prior to joining UVM, she was professor of sociology and associate dean for the social sciences in the College of Letters & Science at the University of Wisconsin, Milwaukee.

Fayneese Miller is former director of the Center for the Study of Race and Ethnicity in America, and was an ACE Fellow in the President's Office at Brown University before accepting the dean's post at UVM. Prior to Brown, Miller held faculty positions at the University of North Florida and the University of Cape Town.
UVM Shelflife
Backyard memories
Alumna's memoir explores
trials of youth, strength of family
With a resumé that includes positions as a senior editor at Simon & Schuster; launch editor for O, The Oprah Magazine; senior story producer at "Good Morning America"; and now a reporter for Vanity Fair, Sue Carswell '83 is no stranger to media and publishing. Still, writing is a long, hard road for anyone. It took Carswell seven years to write and publish her deeply personal memoir Faded Pictures from My Backyard with Ballantine Books. "I've had three editors and several revisions. But," she says, "I like my book. And I'm glad I wrote it."

Carswell's family is, too. Her father, John Carswell '53, has bought "like 30 copies" of the book, a brother-in-law gave copies to all of his co-workers, and a sister-in-law keeps emptying the local bookstore's shelves in Saratoga Springs, N.Y. Even Carswell's 11- and 12-year-old nieces, who, along with their cousins, helped the author reconstruct the youthful voice employed throughout the first half of the book, proudly brought the memoir to show-and-tell.

Faded Pictures from My Backyard begins in the summer of 1968, when Carswell's father, an administrator at the Albany Home for Children, moved his family to a house on the orphanage's grounds. Although her father kept Sue and her four siblings segregated from the orphanage residents, Carswell felt increasingly close to the troubled children living in the cottages in her backyard as she herself dealt with anxiety, insomnia, and depression. The memoir, which explores the intense fears of the author's young mind, culminates in Carswell coping as an adult with the realization of her life's biggest fear: the death of her mother.

The memoir is, first and foremost, a tribute to the extraordinary bond between Carswell and her mother, Elaine. "Ever since I could remember, she was my greatest love," Carswell writes. Elaine emerges as a kind, compassionate figure, a friend to her children, who, upon her death from breast cancer on Easter Eve in 1997, leaves a deep void in the author's life.

The book began as the eulogy Carswell wrote for her mother's funeral. "I had the best mother and miss her like her last day was yesterday," she explains. "I wanted to keep my mother's memory alive and hoped that people would learn to love their children more, or perhaps appreciate their parents."

—Amanda Waite '02 G'04
The Sunshine on My Face
by Lydia Burdick '69, Health Professions Press
When a loved-one suffers from Alzheimer's disease, finding ways to continue to connect can be a challenge. That drove alumna Lydia Burdick, who cared for her mother after she was diagnosed with Alzheimer's, to create what she calls the "Two-Lap Book," a read-aloud story that helps adults coping with dementia, stroke, multiple sclerosis, and related disorders rebuild relationships with family, friends, and caregivers. Sunshine, winner of a Bronze Award in the 14th Annual National Mature Media Awards, presents opportunities to reminisce about day-to-day activities. From watching children play to going for a ride in the country, each brightly-colored page provides the instant activity of discussing and remembering happy times and comforting experiences.

Swinging for the Fences:
Black Baseball in Minnesota
by Steven Hoffbeck G'89,
Minnesota Historical Society Press
Alumnus Steve Hoffbeck, professor of history at Minnesota State University, documents the civil rights struggles on the fields of the North Star State — baseball fields, that is. Swinging for the Fences is the first book to explore the echoes of the civil rights movement in the realm of Minnesota baseball. Each chapter focuses on the experiences of a different key player — Willie Mays, Roy Campanella, Kirby Puckett, to name a few — which together reveal the black experience in the history of America's national pastime and the fight that led to the desegregation of the diamond.

University of Vermont
by John D. Thomas '98 G'04, Arcadia Publishing
This illustrated history of the University of Vermont provides surprises for even the most seasoned UVMer. The author tracks in photographs and drawings the increasing growth and specialization of campus, changes in religious and political landscape, and the continuity and termination of University rituals and customs over the course of UVM's 200-year history.