Campaign Update
Campaign approaches 80 percent of goal
The Campaign for the University of Vermont completed the fourth year of its six-year timeline on June 30, 2005, with $197,187,557 in commitments toward its $250 million goal.

With two years remaining, the comprehensive Campaign was 66 percent of the way through its timeline as of June 30, with almost 80 percent of its overall goal accomplished. Two of the priorities — faculty support and unrestricted gifts — have already exceeded their goal. Of the remaining priorities, the most significant challenge during the final two years is to address a so-called "scholarship gap" in funding for the Campaign's top priority, student scholarship support.

As of the end of fiscal 2004-2005, $57,801,070 had been committed toward the $105,000,000 goal for scholarships, or 55 percent.

"It's going to take all of our best efforts over the next two years to bring that scholarship number up where we need it to be," said Ian deGroot '79, special assistant to the president. "I remain confident we can get there with the broad support of the entire UVM community."

Approximately 70 percent of Vermont students and 56 percent of out-of-state students receive some form of financial aid at UVM. The renewed emphasis on scholarships during the final phases of the Campaign will include efforts to build scholarship endowments through initiatives such as the Lintilhac Scholarship Challenge as well as current operating support for scholarships that is critical to meeting the University's enrollment objectives.
CAMPAIGN PRIORITIES
as of June 30, 2005
GOAL
$ RAISED
%
SCHOLARSHIPS
105,000,000
57,801,070
55%
FACULTY
90,000,000
103,589,403
115%
FACILITIES
24,000,000
12,629,571
53%
LIBRARIES
5,000,000
2,338,055
47%
ATHLETICS
5,000,000
3,443,692
69%
FLEMING
5,000,000
738,209
15%
VISITING SCHOLARS
2,500,000
1,205,785
48%
UNRESTRICTED
13,500,000
15,441,771
114%
250,000,000
197,187,557
79%
UVM Fund boosts Campaign results
Gifts to the annual UVM Fund added more than $6 million to the Campaign total during fiscal 2004-2005, with nearly 20,000 donors directing their annual giving toward Campaign priorities.

Of special note is a new record of more than $2 million in unrestricted giving to the UVM Fund, which adds significantly to the University's capacity to meet its most urgent needs, including scholarship support for students.

"Our greatest challenge remains increasing the percentage of alumni making annual contributions to the University" said Alan Ryea'90, director of alumni and parent programs. UVM's alumni participation rate is currently at 18 percent. "But overall, we're pleased with the year's results and are especially encouraged by the upward trend in unrestricted giving."

All gifts to the UVM Fund are included in the totals for the $250 million Campaign for the University of Vermont.
Charting Our Progress
through June 2005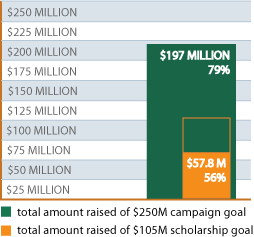 As of the end of 2004 – 2005, The Campaign for The University of Vermont
was nearing its goal, but still in need of scholarship support.
Boston campaign
exceeds its goal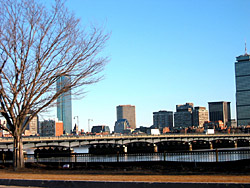 photo by Joe Speidel

Boston was the regional focus of The Campaign for the University of Vermont during 2004-2005, and the UVM community in greater Boston exceeded their $5 million goal with $5,554,445 raised in commitments (cash, pledges and planned gifts) as of June 30, 2005.

"We're very pleased with the strong support from Boston and surrounding communities," said Ian deGroot '79, special assistant to the president. "Our thanks go out to all of our donors in Greater Boston and to the members of the Boston Regional Campaign Committee for their tireless efforts on UVM's behalf."

Members of the committee are: James Atwood '83, Co-Chair; Pamela McDermott '73, Co-Chair; Ellen Plapinger '78, Co-Chair; Bill '79, Co-Chair, and Laurie '80 Shean; Chuck Black '82; Eric Burt '80; Tim Cohen '91; David Godkin '77; Grant Gund '91; Ron Hertel '65; Mark '78, P'07 and Julie P'07 Kaufman; John Marino, '60; Deborah McAneny '81; Jeffrey Newton '79; and Jeffrey Sagalyn '67.

The Boston Campaign kicked off on May 4, 2004, with a celebratory evening at the Boston Athenaeum. Other Campaign events in the Boston area included golf tournaments, small dinners hosted by alumni and friends, a UVM-Fidelity Networking Reception, the "Greentown to Beantown" evening hosted by Jim '83 and Kristen Atwood last October, and "The Balancing Act," a women's get-together at Brae Burn Country Club with keynote speaker Dr. Miriam Nelson '83.

In all, the Boston Regional Board coordinated a dozen events for the Boston area in fiscal year 2005, and nearly 2,000 alumni, parents and friends attended events in Boston last year. The Boston Regional Board will continue to build on the momentum of the past year under the leadership of chair Eric Burt '80.