Extra Credit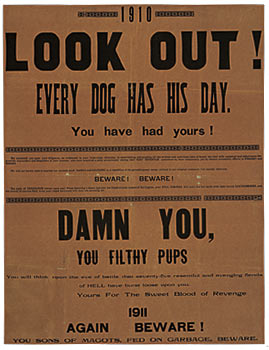 photo by William DiLillo
Handling homesickness, coping with a difficult roommate match, or juggling a heavy course-load are among the growth experiences that can challenge first-year students, circa 2005. But those hurdles pale compared to the rites of passage of a century ago when the infamous Proc Night activities pitted freshman against sophomore in class-on-class battles.

A Proc Night poster, such as the edition above, was fortunate to survive. The game went like this: Sophomores would paste the insulting posters around Burlington with the freshmen in hot pursuit. "The freshmen would tear down the proclamations, invariably resulting in a 'scrap.'" writes Jeffrey Marshall '78 G'82 in his book Universitas Viridis Montis, 1791-1991. And, with just a bit of editorial bafflement peeking through, the University archivist adds, "In this manner members of the classes apparently developed a sense of identity."

As Proc Night grew rowdier and more dangerous, the University worked to draw activities back to campus. Tragically, it would take the death of a freshman in a supervised boxing match in 1920 to bring an end to Proc Night. At the urging of the Boulder Society, among others, the University scrapped the scrapping for good.

Thanks to Prudence Doherty, staff member at Special Collections, who curated a recent display of UVM posters in the Bailey/Howe Library.