TREK is made up of two themed programs that cater specific student interests: Wilderness and Service - each with a variety of specific trips students can register for. TREK also offers identity and transfer specific trips meant to provide space for more intentional community development prior to the start of the fall semester.  During the registration process, interested students will select ONE trip under these banners and complete specific activities around that trip throughout their week on TREK.
Trips are led by experienced and trained student leaders who support small groups of 6-10 new students during their week of service, connection, or wilderness adventures throughout Vermont and just over the lake in upstate New York.  In a typical year more than 300 TREKKIES will join us on an adventure across all of these trips.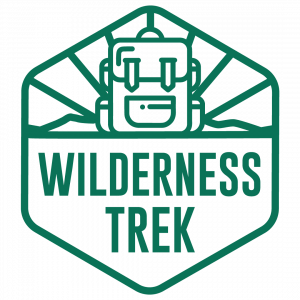 Wilderness TREK
Wilderness TREK provides students the opportunity to build lasting friendships, initiate self-discovery, and explore the people and landscapes that are in our corner of New England. For more than 40 years Wilderness TREK has been creating adventurous beginnings for student development at UVM.
As a TREKKIE, you will spend fives days with your future classmates, hiking the rugged footpaths of our Green Mountain Long Trail, biking from the Canadian border to Burlington, canoeing the rivers and lakes of the Adirondacks, sea kayaking the islands and shoreline of Lake Champlain, and climbing in Vermont and New York.
What Will I Learn?
Students on Wilderness TREK are immersed in the beauty of Northern New England's diverse wilderness environments. TREKKIES develop a number of group and independent living skills including: meal preparation, stove operation and maintenance, shelter construction, navigation with map and compass, problem-solving, low impact camping ethics and cooperative learning. Traveling in small groups you will subsist on a daily diet of wondrous surroundings, engaging peers and lots of trail mix! 
A Typical Day on Wilderness TREK
Available Trips:
BACKPACKING
BASE CAMP
BIKE TOURING
CANOEING
LAKE CHAMPLAIN ROWING EXPEDITION
MOUNTAIN BIKING
ROCK CLIMBING
SEA KAYAKING
TRANSFER TREK
Transfer TREK is a great opportunity for students who are transferring to UVM to meet other transfer students prior to the start of their new semester at the University.  This trip is part of the Wilderness TREK program, but is designed specifically for transfer students to help you familiarize yourself with the unique challenges you might face matriculating into UVM. Each transfer student comes to UVM with valuable educational and professional life experiences: TREK creates a wilderness-based community where those experiences can be shared with other transfer students also about to begin their UVM journey.

Transfer TREK will be led by a student leader who recently transferred to UVM, and who can share their own UVM experiences - from academics to social, residential, athletic, and extracurricular life at UVM. Trip attendees will hike on Vermont's Long Trail or the Adirondack High Peaks and experience the wonder of the Green Mountains. Your group of 8 students and 2 leaders will celebrate both the many opportunities available at UVM and the diversity you contribute to the larger UVM community. NOTE: All trips are open to Transfer Students as well. 

Number of Total Spots Available: 8
Packing List: View Transfer Trek Packing List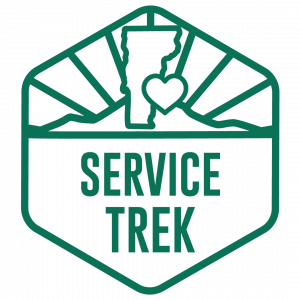 Service TREK
Working in small groups of 8 TREKKIES and 2 TREK Leader Interns (experienced students), Service TREK participants engage in direct service in Vermont while learning about the value of community involvement, leadership skills, developing great friendships, and living and working as a team. 
You don't need any special skills to participate in Service TREK, just an open mind and a sense of adventure. TREK Leaders and site hosts provide all necessary training and special equipment.
Service TREK groups will enjoy sleeping and cooking in the great outdoors at some of our local campgrounds or State Parks! 
What Will I Learn?
Designed as a service and leadership learning experience, Service TREK gives you the opportunity to enhance self-awareness and further develop your understanding of service, leadership, social justice, and civic-mindedness. Working as an integral member of a group, you will develop important skills, including teamwork, leadership, and communication.

You will also meet and talk with the people who benefit from your service so that you understand the context in which your service occurs. Group journals, local trips, and evening discussions around the dinner table or under the stars give TREKKIES a chance to process their experiences. You will also learn about what it means to become part of the UVM community.
A Typical Day on Service TREK
Early breakfast (by 8 a.m.) and departure for the service site.
Full work day with a lunch break for relaxation and re-energizing.
Depending on the day and site, TREKKIES will be joined by other volunteers not affiliated with the TREK program.
Evenings include preparing dinner together, reflecting on the day, exploring Vermont and hanging out around the fire at your campsite. 
Evening activities help you get to know one another, learn about the local community, and understand the impact of your service on your host agency.
Available Trips:
BETTER BURLINGTON
Better Burlington allows the newest members of the UVM Community to explore and serve a variety of community service agencies in Burlington, Vermont. Past projects have included help with food distribution and storage, gardening, and building beautification at the Chittenden Emergency Food Shelf, the UVM Campus Kitchen, ReSource, the Nature Conservatory, the Intervale Center, CEDO, and other agencies.

Number of Total Spots Available: 8
Cost: $750
Packing List: View Better Burlington Packing List
CATAMOUNT TRAIL
TREKKIES work with the Catamount Trail Association (CTA) on projects such as bridge construction, trail maintenance, or clearing a new section of the Catamount Trail, a 300-mile, cross-country ski trail that spans the state of Vermont. Students should have at least some outdoor experience in hiking and have a basic level of fitness. A usual day on the trail includes hiking 1-2 miles into the woods with gear for the day. 
The Catamount Trail Association (CTA) was incorporated in 1984 and is a member-supported, non-profit organization with the purpose of building, maintaining and protecting the Catamount Trail as a public resource, and furthering cross-country skiing in the state. The trail now starts in Readsboro on the Massachusetts border, winds its way through the heart of the Green Mountains, and ends in North Troy on the Canadian border.
Along the way, it offers a unique opportunity to ski or snowshoe in Vermont's backwoods during the winter. TREKKIES will camp in the natural beauty of the Green Mountains where they will learn about the valuable natural resources and environmental concerns of Vermont's wilderness.

Number of Total Spots Available: 8
Cost: $750
Packing List: View Catamount Trail Packing List
CONSERVATION 
TREKkies will work with local community partners to understand the importance of conservation projects. Previous projects have focused on learning about the value of public land, valuable natural resources, and the environmental concerns and access to Vermont's wilderness.  

Number of Total Spots Available: 8
Cost: $750
Packing List: View Conservation Packing List
FARM & FOOD SECURITY
TREKKIES will work with a variety of agencies throughout Central Vermont dedicated to promoting food security and feeding folks in need. This trip explores all aspects of the "food safety net" including work at feeding and food distribution sites, and at farms gleaning produce to serve folks in need. Past service sites have included the Vermont Food Bank and Salvation Farms.

Number of Total Spots Available: 8
Cost: $750
Packing List: View Farm and Food Packing List
HABITAT FOR HUMANITY
Habitat TREKKIES will help build a home for a family and work in the Habitat ReStore with Burlington's local Habitat for Humanity affiliate, the Green Mountain chapter. Habitat for Humanity is an international organization dedicated to eliminating poverty housing from the world and building decent shelter as a matter of conscience and action. TREKKIES will work as a team with other students, community members, and a family to help construct a Habitat for Humanity house. Training will be provided, and an on-site construction manager will supervise the volunteers. Prior construction experience is not necessary.

Number of Total Spots Available: 8
Cost: $750
Packing List: View Habitat for Humanity Packing List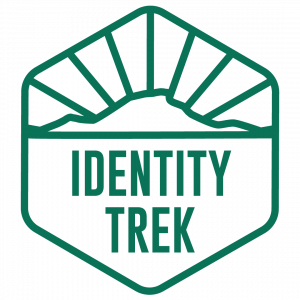 Identity-Based TREK
Currently we hold one TREK trip for students wanting an affinity space to connect over their shared identities as LGTBQ+ students and one TREK trip for the same purpose for Black, Indigenous and Students of Color.  Our identity-based TREK programs are structured to allow a group of incoming students to aid in building community at UVM around common values, challenges, and experiences derived from the identities they hold.
Note: Students not interested in an identity specific TREK experience are welcome to apply to other programs available to all. Identity TREK was established based on the requests from LGBTQ+ students (Pride TREK) and Black, Indigenous and Students of Color (Mosaic TREK) for an affinity space option, in addition to the other trips available for anyone to enroll in.
Identity-based TREK trips are all multi-activity basecamp trips you'll, go hiking, explore Lake Champlain, tour the Burlington Bike Path and even do a little service work. On these Basecamp trips you have even more of the creature comforts, with the option of staying in a cabin with showers and bathrooms.
This trip is great for anyone of any ability!
Available Trips:
Mosaic TREK (Room still Available!) NOW OPEN TO TRANSFERS AND RISING SOPHOMORES
Mosaic TREK is for students wanting an affinity space to connect over their shared identities as Black, Indigenous and Students of Color as they enter the UVM community. It is structured to allow a group of incoming students to build community at UVM around common values, challenges, and experiences derived from their shared social identities.

So, what will you being doing on Mosaic TREK, you ask?
Mosaic TREK is a 5 day, 4 night, multi-activity basecamp trip. You'll, go hiking, explore Lake Champlain, tour the Burlington Bike Path and even do a little service work during the days. At night you'll stay in rustic Cabins located at Lone Rock Point, with showers and bathrooms available. Though if you're keen on sleeping in a tent, that is also an option!
But wait, who's leading Mosaic TREK?
Sophie Tom & Jonah Stern, both BIPOC identifying UVM students. Here's a pre-recorded video of Jonah, who's also a leader for the student club: People of Color Outdoors (POCO), and Bev Colston, the Director of the Mosaic Center.
OK OK, that all sounds good, but...what does it cost?
Well, like any TREK trip we ask student to pay for the trip expenses AND we're excited to able to say that for Mosaic TREK specifically, we're asking you to pay only what you can. If you're excited about this experience but just can't make the finances work, just tell us what you can manage, even if that number is $0! The total cost for Mosaic TREK is $650, but when you register you can select financial aid and then you can let us know how much you'll need in our financial aid request form.
Still unsure?
 If you have any questions, please feel free to reach out to Devin Farkas (Devin.Farkas@uvm.edu), the Assistant Director of Student Life for Outdoor Programs, or Megan Meinen (Megan.Meinen@uvm.edu), the Coordinator for Outdoor Programs in Student Life. We both identify as white, and are happy to connect you with folks who identify as BIPOC that are involved with Outdoor Programs and TREK, if you'd prefer.
Packing List: View Mosaic Packing List
Pride TREK
Pride TREK provides incoming UVM students who identify in the LGBTQ+ community a supportive and affirming space to explore both the natural landscape and service in Vermont. Pride TREK is an excellent opportunity for incoming students to build relationships with current UVM students and incoming UVM students in an affinity space. As a PRIDE TREKKIE, you'll spend each day enjoying a different activity - a hike, a service project, a canoe trip, etc - and return to your "basecamp" at a local state park each night to enjoy a meal together, campfire chats and even a nice warm shower!

Number of Total Spots Available: 8
Cost: $650
Packing List: View Pride Packing List