Beginning in 2022, registration for TREK will shift from "first-come, first-serve" to a lottery system. Given the overwhelming popularity and limited capacity of TREK, this new approach will create a more equitable process for all interested participants.
The lottery form for TREK 2022 will be open from April 1 – May 8, 2022 (extended from May 6). During this period, any incoming student can sign up for the lottery to participate in TREK. As part of the lottery process, you will be asked to rank your preferred trips. 
Following the lottery deadline, participants will be selected and matched to each of our available trips. Please note that entering the lottery does not guarantee that you will be selected for registration. Those who are not selected will be placed on the TREK Waitlist.
All applicants will be notified in early June as to whether they have been selected or waitlisted. If you are selected for TREK, you must formally accept your spot and pay the registration fee within one week.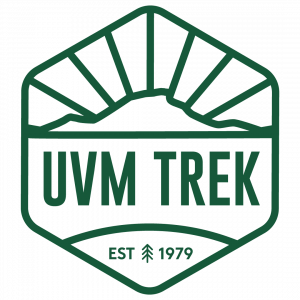 Lottery Access
Beginning on April 1, the TREK Lottery will open to incoming students who have paid their deposit to enroll at UVM. You will need your netID and password to access the lottery form. If you do not have this account set up or need to reset your password you must do so by contacting account services. We do not have access to netID information and cannot assist with this part of the registration process. Click the link below to submit your lottery form by May 8 at 11:59 PM!
Trip Ranking
When completing your lottery form, you will be asked to rank up to 6 trips in order of preference, with 1 being the trip you would most want to participate in. You should ONLY rank trips that you would want to attend.
Waitlists
If you are not selected for TREK in the initial lottery, you will be placed on the waitlist. If a spot becomes available on one of your preferred TREKs, we will contact you via email to verify that you would like to be added to the trip. You will have 24 hours to respond. To help our administrative process, we ask that you respond to this email even if you are declining the available spot.
Formal Registration & Payment
If you are selected to participate in TREK, you will be required to complete a formal registration form and pay the registration fee within one week. Failure to do so will forfeit your spot. 
In the registration form you will be asked to fill out detailed medical information, emergency contacts, information about your personal needs or accommodations, and waivers. 
Please note that the costs for TREK vary depending on program type. For more information about specific trips and fees, as well as information on financial support, please see our Costs page. If you request financial assistance in your application, you will be notified of any financial support with your trip assignment and contacted if any additional information is needed.
After Registration
Once you've formally registered and paid the registration fee, you will receive a confirmation email containing information with your trip's packing list, details about arrival and check-in, and other summer to-dos. This information is also available online on our Preparing for TREK page.
We'll stay in touch over the summer with tips to prepare for your upcoming trip. We encourage you to check your email frequently.  Now is a great time to get used to checking your UVM email as well - or maybe consider adding it to your mobile device to get updates throughout the summer!