Introducing the Career Path Development Project
UVM's Career Path Development project is designed to align with our desire to recruit and retain top employees and reflects the university's commitment to our Common Ground. The project is rooted in UVM's commitment to connecting its core values with the evolving needs of a diverse workforce. UVM is fully immersed in this work and has partnered with worldwide Human Resources Consulting expert, Mercer, and internal leaders, to redesign HR processes and strategies that will enable talent development, foster equitable pay, and allow for greater efficiencies of necessary HR transactions. 
ABOUT THE CAREER PATH DEVELOPMENT PROJECT
OBJECTIVES
For the university to attract, retain, and develop the best talent, we need to develop and align our positions with a consistent job architecture that allows for transparency and career growth. Job architectures are the foundation of how we hire, pay, develop, and advance our workforce through clear career paths and competitive and equitable compensation practices.
The main objectives include:
Design a job architecture/classification framework to provide a clear and transparent structure that facilitates career advancement, aligns with competitive market practices, supports internal consistency and equity, and reduces administrative burdens to enable consistent and efficient hiring practices.
Conduct a competitive market pay assessment to ensure UVM salary ranges are strategically aligned with the external labor market.
Create a clear compensation philosophy, career paths, salary ranges, and administrative guidelines that strategically align with the external labor market and ensure internal consistency, transparency, equity, and efficiency.
Develop trainings and materials to educate managers and employees regarding the principles and concepts of the new job architecture to establish and sustain clarity and trust.
Integrate the new job architecture into existing systems and processes for use by managers, HR professionals, and senior leaders for recruitment, hiring, and reporting needs.
PROJECT PHASES & TIMELINE
UVM launched the Career Path Development project in Fall 2022. The scope of the project is to develop a new job architecture (classification system) for all classified staff positions.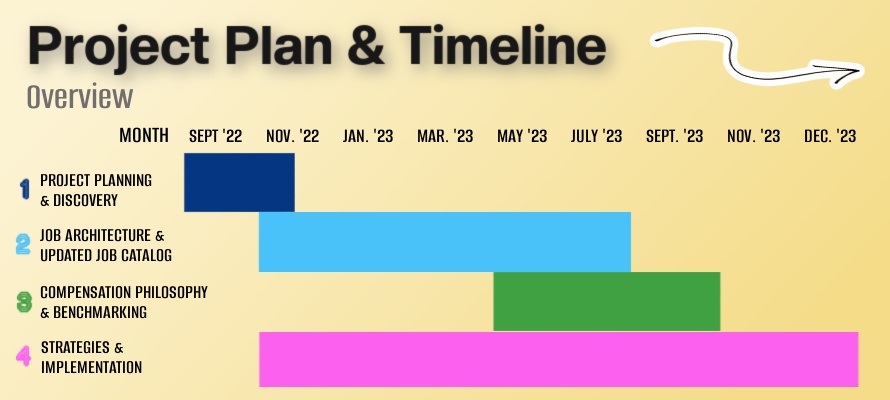 Phase 1: Project Planning and Discovery - COMPLETED ✓
This phase finalized and validated project scope and objectives, developed a project timeline and initial communication and engagement strategy, and conducted stakeholder sessions and current state analysis.
Phase 2: Job Architecture and Updated Job Catalog - IN PROCESS (with target completion in August 2023)
This phase includes designing key components of our new job architecture (job families, sub-families, career streams, level guides), mapping of current positions to the new job architecture, and proposing titling.
Phase 3: Compensation Philosophy and Benchmarking - TO BEGIN IN MAY 2023 (with taget completion in September 2023)
This phase includes reviewing and updating UVM's compensation philosophy, determining market benchmarking methodology, analyzing market data and developing salary structure, and developing compensation administration guidelines.
Phase 4: Communication Strategy & Implementation - IN PROCESS (runs through entire project timeline)
This phase includes creating a roadmap for communicating the new architecture and coordinating a communication timeline with the phases and milestones of UVM's Career Path Development Project. Also includes developing roll-out strategy and training materials for implementation of new job architecture.
* For a fully accessible PDF of this content, click here.
PROJECT OBJECTIVES & DELIVERABLES
We have crafted a detailed approach to UVM's Career Path Development project that will carefully create a job architecture to establish job families, sub-families, career streams, level guides, and mapping of current positions to the new job structure.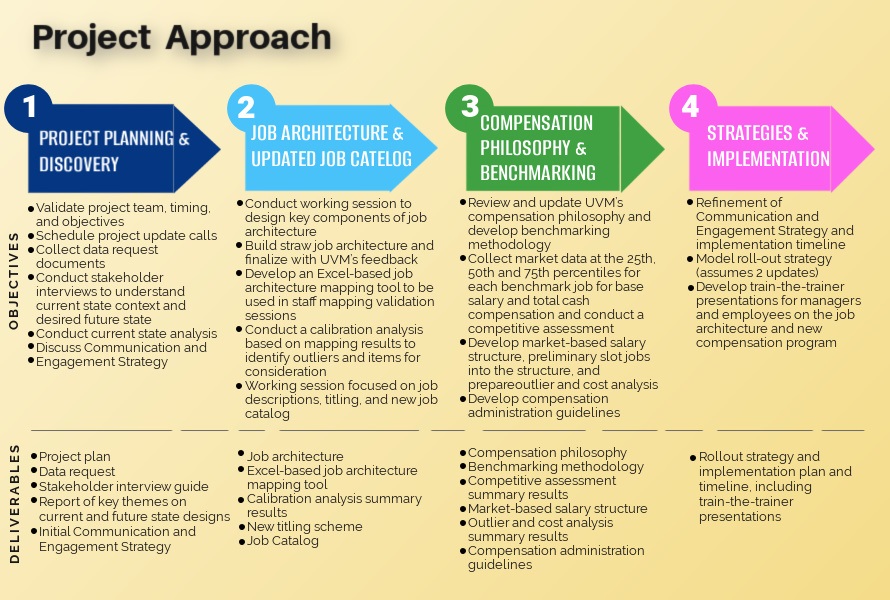 * For an accessible PDF document of the above Project Approach chart, please click here.
WHAT THE PROJECT WILL NOT DO
The Career Path Development Project will not:
Reorganize organizational units.
Change salary or benefits of existing employees.
Change working titles of existing positions.
Change duties or responsibilities of existing positions.
Change reporting lines or supervisors of existing positions. 
FAQs
RECENT UPDATES
September 2022 - November 2022
Held formal project kickoff meeting with Mercer Consulting and UVM Steering Committee.

Conducted 5 Stakeholder Sessions. Reviewed and analyzed Stakeholder Session feedback.
December 2022 - January 2023
Held communication and change management strategy sessions with Mercer and UVM Steering Committee.

Developed communication strategy and frequency targets for target audiences.
February - March 2023
Develop initial job architecture with job families, sub-families, career tracks and level guides.

Began preliminary mapping of current positions to new job architecture:

Assign Job Family: Based on job family definitions
Assign-Sub Family: Based on sub-family definitions within the job family
Assign Career Track: Based on career track definitions
Assign Job Level: Based on detailed descriptions for each level within the assigned career track
Next Steps (March - April 2023)
Mapping validation with Key Directors and Managers.
Check back for more updates soon!
ABOUT THE PROJECT TEAM
About Mercer
Mercer is a worldwide leader in helping organizations transform HR functions to deliver exceptional employee experiences rooted in flexible, efficient operations that foster interaction. Much like UVM, they too are deeply committed to diversity of thought and experience. That core human-centered approach, along with global expertise and innovative solutions for HR systems, make Mercer an ideal partner for the university as we move to improve our own processes and systems.
Learn more about Mercer on the Mercer website.
Steering Committee Members
The members of the Career Path Development Steering Committee are:
Amer Ahmed, Vice Provost for Diversity, Equity, and Inclusion
Kari Brayden, Classification & Compensation Analyst
Claire Burlingham, University Controller
Britten Chase, Budget Analyst
Stephanie Dion, Assistant Dean, College of Agriculture & Life Sciences/Extension
Kirk Dombrowski, Vice President for Research
Jennifer Greaves, Administrative Operations Manager for Division of Finance & Administration
Trent Klingerman, Vice President for Legal Affairs and General Counsel
Jacob Leopold, Human Resource Manager, College of Engineering & Mathematical Sciences
Andrea Mast, Associate Chief Human Resource Officer, Total Rewards
Allison New, Classification & Compensation Analyst
Karmen Swim, Human Resource Manager, Larner College of Medicine
* For a fully accessible PDF list of the Career Path Development Steering Committee, click here (pdf).