Sharon Reich Paulsen, Vice President for Legal Affairs and General Counsel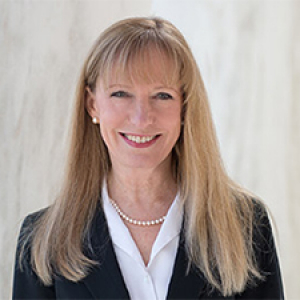 Sharon Reich Paulsen earned her B.A. from Yale University and her J.D. from Stanford Law School, where she was Note Editor on the Stanford Law Review.  After clerking for the Honorable Harlington Wood Jr. on the U.S. Court of Appeals for the Seventh Circuit in Chicago, she went to the U.S. Department of Justice in Washington, D.C., where she served as a trial attorney primarily engaged in constitutional litigation.  She later joined the Business Litigation Department of Faegre & Benson (now Faegre Baker Daniels) in Minneapolis, where she handled a wide range of business and employment disputes until she entered academia at the University of Minnesota Law School, where she served as Associate Dean.  At Minnesota, Ms. Paulsen revamped the legal writing program and the trial practice program, created a new moot court program, a new civil litigation concentration, a Master of Science in Patent Law program, and a summer mock trial institute.  She advised the dean on innovation, strategic planning, and experiential learning.  Teaching responsibilities included Conflict of Laws, Trial Practice, Judicial Externship, and a variety of litigation-related courses.  She has written texts on pretrial case development and discovery, deposition practice, and appellate advocacy.  Ms. Paulsen has taught in Sweden and China, and has traveled several times during the past four years to Uzbekistan to run training sessions for lawyers and law students on the hallmarks of an adversarial legal system, trial techniques, criminal procedure and the rights of the accused, and fundamentals of legal ethics.  Other service activities include appointment by the Minnesota Supreme Court to two three-year terms on the Lawyers Professional Responsibility Board, where she also served as a hearing panel chair and on the Board's Opinion Committee.  In January 2016, she became Chief of Staff and Senior Counsel to the President at the University of Vermont, and in August 2017 was appointed Vice President for Legal Affairs and General Counsel.
John J. Collins, Deputy General Counsel
John J. Collins joined the UVM General Counsel's Office in October 2016. He holds a bachelor's degree in economics from Rutgers University and a Juris Doctorate from Loyola Law School in Los Angeles, where he was a member of the Loyola Law Review. Mr. Collins has been practicing law in the State of Vermont since 1983, advising a broad clientele, including the University of Vermont and other Vermont Colleges. Mr. Collins chaired the State of Vermont District #4, Act 250 Commission for several years and has been a highly active volunteer member of several not-for-profit boards and committees. He served as chair of the Vermont Heart Association Board of Directors and as a member of the American Heart Association's Board of Directors. Mr. Collins has taught law related courses at the college level and is a nationally certified snowboard instructor.
Jennifer Papillo, Associate General Counsel
Jennifer L. Papillo, a native Vermonter, joined the Office of the General Counsel in August 2010 in the position of Assistant General Counsel. She was promoted to Associate General Counsel in August of 2015. She holds a Bachelor's Degree from Elon University, a Juris Doctor degree from Stetson University College of Law, as well as a Master of Laws (LL.M.) in Taxation from Georgetown University Law Center, with a focus on tax exempt organizations and estate planning. Before coming to UVM, Ms. Papillo served as a law clerk for the American Cancer Society, Inc.'s Office of Corporation Counsel in Washington, DC, and a research assistant to Peter F. Lake in the writing of Beyond Discipline: Managing the Modern Higher Education Environment (Hierophant Enterprises, Inc., 2009). Ms. Papillo also worked with Mr. Lake in planning and executing the National Conference on Law and Higher Education in 2008, 2009 and 2010, jointly sponsored by the Center for Excellence in Higher Education Law and Policy at Stetson University College of Law and NASPA.
Meghan E. Siket, Associate General Counsel
Meghan E. Siket joined the UVM General Counsel's Office in June 2018 and currently serves as Associate General Counsel. She holds a bachelor's degree in economics and international relations from Connecticut College and a Juris Doctorate from Columbia University.  Ms. Siket was born and raised across Lake Champlain in Clinton County, NY.  Before coming to UVM, Ms. Siket was a partner at Whelan, Corrente, Flanders, Kinder & Siket, LLP, a law firm in Providence, Rhode Island specializing in labor and employment law, education law and related litigation.  Ms. Siket also taught employment law and employment discrimination as an adjunct professor at Roger Williams University School of Law, and served on the Executive Board of the Roger Williams University School of Law Pro Bono Collaborative.
Administrative Staff
Katie Beneke, Paralegal
Katie Beneke joined the Office of the General Counsel in January of 2018. Ms. Beneke began her career as a staff assistant at Dinse, Knapp & McAndrew, P.C. in Burlington, before being promoted to legal assistant then paralegal in the Real Estate department. In 2014, Ms. Beneke shifted her area of concentration to Family Law, where she worked as the head paralegal at a top law firm in Old Greenwich, Connecticut. Upon moving back to Vermont, Ms. Beneke worked as a litigation paralegal at Sheehey, Furlong & Behm, P.C., another Burlington law firm.
Ms. Beneke received her Bachelor's Degree from the University of Vermont in 2009 and her Paralegal Certification from Champlain College in 2012.
Jen Dooley, Office Manager
Jen Dooley joined the Office of the General Counsel in May of 2019. She came to the office from the First Congregational Church of Essex Junction where she was the Administrator for seven years. Previous to that, she worked as a Librarian, Public and School in Essex and Milton. Ms. Dooley received her Bachelor's Degree from St. Michael's College in 1990 and her Librarian Certificate in 2008. She loves to read, camp and watch soccer with her husband and has three sons who have provided many adventures over the years.
All materials provided on this website, including the contents of linked pages, are provided for general informational purposes only. While we seek to provide links to current and authoritative information, neither UVM nor this office guarantees the accuracy of information accessible online; therefore, this information must not be relied upon as substitute for legal advice from a qualified attorney. Please contact a UVM Office of the General Counsel attorney to obtain current legal advice specifically responsive to your questions.