Are you a UVM student group, department or University of Vermont affiliate? Get the word out about your organization or event through a number of the Davis Center's information and marketing outlets.
If you're an outside group or non-UVM affiliate, please contact University Event Services - Davis Center Operations about marketing opportunities available to you in the building.
Current Marketing Opportunities —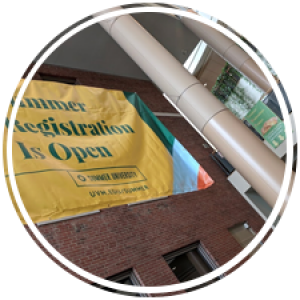 Banners & Other Displays
Located around the perimeter of the atrium, these first-come, first-serve banner/display locations are a popular way to publicize events. 
Things to Know: Banners or Displays to be hung between the atrium pillars are granted on a case-by-case basis. Finished materials should be delivered to the University Event Services - Davis Center Operations office (across from the Bookstore on the 3rd floor). DC staff members will hang your banner for you.
How to Reserve Banner/Display Space:
Banner space needs to be reserved in advance by contacting University Event Services - Davis Center Operations (e–mail: dcevents@uvm.edu; call: (802) 656-1204). We'll walk you through the steps!
Tips: 
SGA-Recognized Clubs and Organizations have free access to paper, paints, and letter-cut stencils in the SGA office on the third floor.
Think about your message. Keep it short and actionable. Avoid writing too much text — most people will only read materials in passing.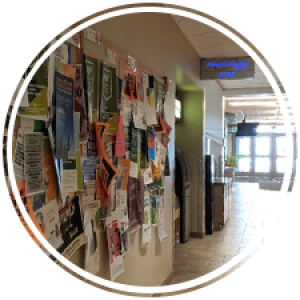 Bulletin Boards
We have public bulletin boards on the 1st, 2nd and 3rd floors of the DC. Please use the tacks provided (no staples). NOTE: Bulletin boards are cleared every Sunday — flyers are collected, brought to print and mail and recycled into Eco Notepads (look for these at the info desk).
Things to Know: Bulletin Boards are cleared every Sunday. Please limit your postering to no more than 5 posters per bulletin board. Postering is prohibited on non-bulletin board spaces (i.e. on walls, doors, bathroom mirrors) and will be cleared immediately. The Davis Center reserves the right to clear any poster at any time.
How to Submit:
Find open space on a bulletin board and put up your poster, flyer, or note. We are not staffed to put posters on bulleting boards for individuals.
Tips: 
Bulletin Boards fill up quickly. It's best to poster at the start of the week, then swing back through later in the week to bring your posters 'to the top' of the pile — otherwise they'll be covered up for most of the week. 
Think critically about your poster design and how it can stand out from the rest.  If you're postering for an SGA recognized club or organization, consider submitting a Marketing Request to have a student Graphic Designer design a poster for you - for FREE.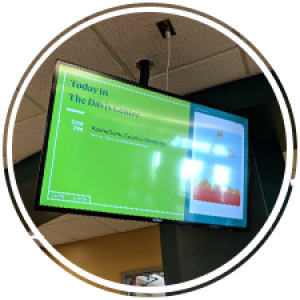 Digital Signage / Flatscreens
We've got seven digital screens throughout all four floors of the DC — each playing content (everything from posters to videos) continuously throughout the day.  
Things to Know: At this time, only UVM affiliates (e.g. clubs and departments) are eligible to submit flat screen content.
How to Submit:
E-mail your content to dcscreen@uvm.edu with the attached file or a link to the file. Be sure to include the dates from which you would prefer your content to start and end. Accepted file types are: JPG, pdf, ppt (Power Point — no animations or transitions), doc (Microsoft Word), and video files (no sound).
Please check out the Davis Center flatscreen guidelines page for templates and more information on what is and isn't accepted on our screens.
Tips:
Read through the Flatscreen Guideline Page - it has a lot of helpful notes for how digital signage works.
Keep your message quick, actionable, and easy to understand.  It's hard to read a lot of text on digital signs - the screens are mounted on celings and walls that make it difficult to read small text from afar.
Condense your message to the basics - title, date/time, and website for more info. Your content should be able to visually convey your event without a lengthy amount of reading.
Consider submitting your event to UVM BORED. A number of our flatscreens pull from UVM BORED feeds automatically to display upcoming events from this student-run events calendar.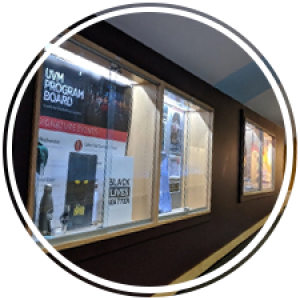 Display Cases
The Davis Center has a limited number of display cases available each month for UVM affiliates.
Things to Know: Display cases are open to any UVM Department, Club, or Organization.  They are not available to outside organizations or businesses.
How to Reserve a Display Case:
Please fill out the following form to request a reservation. We recommend requesting a reservation at least one month in advance - display cases fill up fast!
Tips:
Make your display case current and interesting.  Nothing dissuades eyeballs faster than a display case that looks neglected.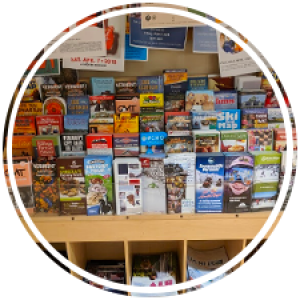 Handouts & Brochures
Have a stack of information that you would like to distribute? The Davis Center has a limited amount of space where you can leave materials for people to take home with them.
Things to Know: Handouts can be left at the 3rd floor information desk. Due to limited space, only Davis Center and UVM-related information will appear on the tabletop directly in front of the Hoffman Information and Resource Center on the 1st floor.
How to Submit Materials:
UVM affiliates (Clubs, organizations, departments, etc) can call (802.656.1204) or e-mail (dcevents@uvm.edu) University Event Services - Davis Center Operations to see if space is available to leave materials on the 1st and 3rd floor infodesks. External groups are welcome to place fliers in the information center located adjacent to the Chittenden Bank ATM on the third floor.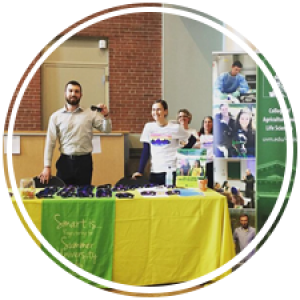 Vendor Tables
We've got table spaces in the atrium (and out on the green when the weather is nice) — so you can chat with folks, give away swag, and inform students about your organization in a more personal, face-to-face, way.
Things to Know: Tables must be reserved in advance. The DC will supply the table and the space, but your organization is responsible for the rest.  If you are supplying food, it must adhere to the policies in place by UVM.
How to Reserve a Table:
If you're a UVM club, organization, or department - vendor tables can be reserved through through UVM's Virtual Events Managment System (EMS). If you are an outside organization, or don't have access to EMS, please call University Event Services - Davis Center Operations at (802) 656-1204 and we'll walk you through the process of reserving space.
Tips:
Have good presentation.  The Davis Center does not provide tablecloths or materials - and folks are more likely to approach you and your table if it looks professional.
Be engaging — make eye contact with people walking by.  Say hello. Introduce yourself and start up a legitimate conversation.
Think about class change times.  The atrium and outside walkways are much busier inbetween classes.
If you have questions about marketing opportunities not listed on this page, please contact the Assistant Director of Marketing for the Davis Center at DavisCenterMarketing@uvm.edu. All other inquries should be directed to the University Event Services - Davis Center Operations staff at (802) 656-1204 or dcevents@uvm.edu.