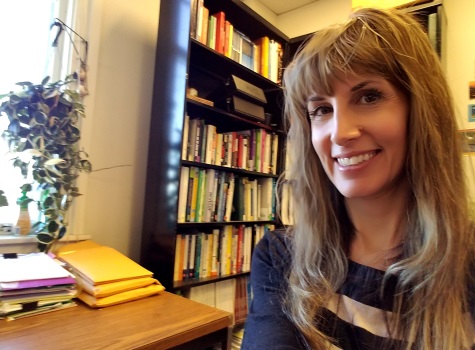 Contact
Office Hours:
Monday 12:00 -2:00 p.m. or by appointment via email
Office Location:
334 Dewey Hall
Education
B.S. Pennsylvania State University, 1996
M.A. Boston University, 2000
Ph.D. Boston University, 2009
Curriculum vitae
Sue Fenstermacher's CV.pdf
Research and/or Creative Works
My primary research interests are in social cognition and observational learning, and I approach these interests from both a social and developmental perspective.  My research to date has explored factors contributing to individual and group differences in observational learning and processing of social stimuli, and the interaction of these mechanisms across development.
Some specific areas of interest include:
Examining associations between various modes of early observational learning (spontaneous and elicited imitation/emulation) and how variability in these behaviors relates to broader sociocognitive development.
Identifying aspects of children's environments that may contribute to how efficiently they learn, process, and retain new behaviors and skills, for example contextual influences such as social referencing, social interactions, and methods of framing and presenting new information.
Investigating the relative contributions of genetic and environmental factors to individual differences in learning and social cognition, and how these influences change or remain stable across development.
Exploring the varied impacts of screen media on early cognitive and social development and behaviors, design of media products marketed to children, and ways in which media may be employed as an effective tool to facilitate learning.
Publications
Linebarger, D. N., Brey, E., Fenstermacher, S., & Barr, R. (2017). What makes preschool educational television educational? A content analysis of literacy, language-promoting, and prosocial preschool programming. In Media Exposure During Infancy and Early Childhood (pp. 97-133). Springer International Publishing.
Fenstermacher, S. K. & Saudino, K. J. (2016). Exploring links among imitation, mental development, and temperament. Infancy: the official journal of the International Society on Infant Studies, 21(5), 536.
Schroeder, K.B., Asherson, P., Blake, P.R., Fenstermacher, S.K., & Saudino, K.J.  (2016). Variant at serotonin transporter gene predicts increased imitation in toddlers: relevance to the human capacity for cumulative culture.  Biology Letters, 12(4), 20160106.
Fenstermacher, S.K., Barr, R., Brey, E., Pempek, T.A., Ryan, M., Calvert, S.L., Shwery, C., & Linebarger, D. (2010).  Interactional quality depicted in infant-directed videos:  Where are the interactions? Infant and Child Development, 19, 594-612.
Fenstermacher, S.K., Barr, R., Garcia, A., Salerno, K., Calvert, S.L., Shwery, C., & Linebarger, D.L. (2010). Infant-directed media: An analysis of product information and claims.  Infant and Child Development, 19, 557-576.
Vaala, S.E., Barr, R., Fenstermacher, S.K., Tedone, A., Shwery, C., & Linebarger, D. (2010).  Language development and joint attention strategies in infant media.  Infant and Child Development, 19, 628-648.
Fenstermacher, S.K. & Saudino, K.J. (2007).  Toddler see, toddler do?  Genetic and environmental influences on laboratory-assessed elicited imitation.  Behavior Genetics, 37, 639-647.
 Fenstermacher, S.K. & Saudino, K.J. (2006).  Understanding individual differences in young children's imitative behavior.  Developmental Review, 26, 346-364.