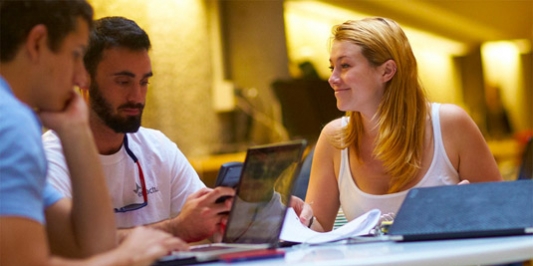 Navigating one's college years can be difficult without the help of academic advisors. An academic advisor can help you to sort through your graduation requirements, decide on which courses to take and when, identify potential career paths and routes to getting there, and generally help you throughout your undergraduate journey.
What can one-on-one advising appointments offer me?
Faculty advisors can help you with any number of issues pertaining to your college experience. These include:

• Navigating the requirements of the College of Arts and Sciences and the Department of Psychological Science.
• Identifying opportunities for undergraduate honors, research, and internships.
• Developing strategies for navigating challenges in the classroom.
• Determining how to reach your academic goals.
• Developing strategies to improve your grade point average.
• Identifying student services on campus that may be particularly appropriate for your needs and interests.
Other advising resources
Academic advisors in the Department of Psychological Science have expertise in scholarly issues, especially as they pertain to psychological science. If you seek advice and support for other issues, such health, legal matters, writing and learning skills, general career planning, lifestyle/residential issues, or academic accommodations, you may want to check out some of the other free professional advising that UVM offers. The College of Arts & Sciences Student Services can help you to identify the resources most likely to meet your needs.