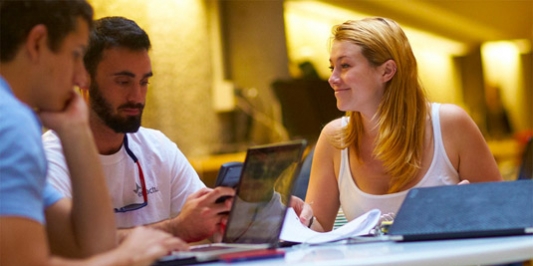 Navigating one's college years can be difficult without the help of academic advisors.  An academic advisor can help you to sort through your graduation requirements, decide on which courses to take and when, identify potential career paths and routes to getting there, and generally help you throughout your undergraduate journey. 
What can one-on-one advising appointments offer me?
Faculty advisors can help you with any number of issues pertaining to your college experience.  These include:

• Navigating the requirements of the College of Arts and Sciences and the Department of Psychological Science.
• Identifying opportunities for undergraduate honors, research, and internships.
• Developing strategies for navigating challenges in the classroom.
• Determining how to reach your academic goals.
• Developing strategies to improve your grade point average.
• Identifying student services on campus that may be particularly appropriate for your needs and interests.
What courses are offered every semester vs. only fall or spring?
Most of our foundational courses, including PSYS 001 (Introduction to Psychological Science), PSYS 053 (Research Methods), PSYS 130 (Social Psychology), PSYS 150 (Developmental Psychology: Childhood), and PSYS 170 (Abnormal Psychology), are offered every semester. 
A few of our foundational courses are offered only in the fall or spring semester, and not both semesters.  These include PSYS 054 (Statistics for Psychological Science), offered only in spring semesters, PSYS 111 (Learning, Cognition and Behavior), offered only in fall semesters, and PSYS 115 (Biopsychology), offered only in spring semesters.
NOTE: We recommend that Psychological Science majors take PSYS 053 (Research Methods) in the fall and Psychological Science minors take it in the spring.  Typically, the fall version of PSYS 053 includes recitation/lab sections, facilitated by graduate teaching assistants.  These recitation/lab sections help Psychological Science majors get a bit more out of PSYS 053 and provides better preparation for PSYS 054 (Statistics in Psychological Science).
We offer approximately 12-15 200-level PSYS courses every semester.  Particular offerings vary semester-to-semester.  Your faculty advisor can provide guidance and advice about how often and when a particular 200-level PSYS course is offered.
Other advising resources
Academic advisors in the Department of Psychological Science have expertise in scholarly issues, especially as they pertain to psychological science.  If you seek advice and support for other issues, such health, legal matters, writing and learning skills, general career planning, lifestyle/residential issues, or academic accommodations, you may want to check out some of the other free professional advising that UVM offers. The College of Arts & Sciences Student Services can help you to identify the resources most likely to meet your needs.