Professor of Psychology, Professor of Psychiatry, Director of Vermont Center on Behavior and Health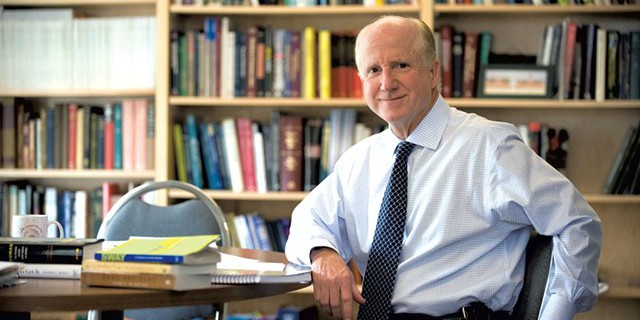 Contact
Office Location:
FAHC-UHC Room 3100
Education
B.A. Shippensburg University, 1975
M.S. Shippensburg University, 1978
M.A. University of Kansas, 1982
Ph.D. University of Kansas, 1983
Curriculum vitae
Stephen Higgins CV.pdf
Research and/or Creative Works
My research uses the concepts and methods of behavioral economics and behavioral pharmacology to investigate tobacco, illicit drugs, and other health-related risk behaviors in vulnerable populations. Projects focus on examining mechanisms underpinning vulnerability to tobacco and other risk behaviors, treatment interventions to reduce them and improve health outcomes, and regulatory science. These projects are supported by P20 and P50 center grants from the NIH's National Institute on General Medical Sciences, the Food and Drug Administration, and the National Institute on Drug Abuse, respectively, and an R01 research grant from the National Institute of Child Health and Human Development.
Associations and Affiliations
Publications
Vurbic, D., Higgins, S.T., McDonough, S.R., Skelly, J.M,, Bernstein, I.M. (2013). Maternal body mass index moderates the influence of smoking cessation on breast feeding. Nicotine Tob Res. 2013 Nov 7 . [Epub ahead of print. PMID: 24203932
Higgins, S.T., Washio, Y., Heil, S.H., Solomon, L.J., Gaalema, D.E., Higgins, T.M., Bernstein, I.M. (2012). Financial incentives for smoking cessation among pregnant and newly postpartum women. Prev Med. Dec 27 . PMCID: PMC3399924
Higgins, S.T., Bernstein, I.M., Washio, Y., Heil, S.H., Badger, G.J., Skelly, J.M., Higgins, T.M., Solomon, L.J. (2010). Effects of smoking cessation with voucher-based contingency management on birth outcomes. Addiction 105(11) :2023-30. PMCID: PMC2970671
Higgins, T.M., Higgins, S.T., Heil, S.H., Badger, G.J., Skelly, J.M., Bernstein, I.M., Solomon, L.J., Washio, Y., Preston, A.M. (2010). Effects of cigarette smoking cessation on breastfeeding duration. Nicotine Tob Res 12(5) :483-8. PMCID: PMC2861887
Higgins, S.T., Chilcoat, H.D. (2009). Women and smoking: an interdisciplinary examination of socioeconomic influences. Drug Alcohol Depend 1;104 Suppl 1:S1-5. PMID: 19390842