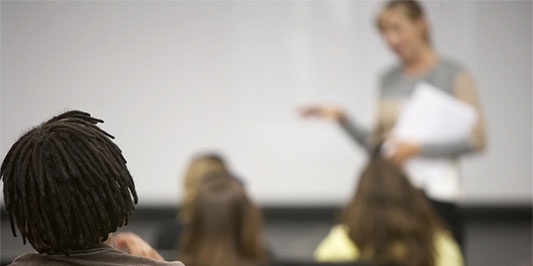 In the College of Arts and Sciences, we naturally combine multiple disciplines with creativity and critical thought. For the most capable students who wish to take their studies, research and creative works to the next level, there are many honors options.
College Honors
The College Honors program, designed for superior students with unusual initiative and intellectual curiosity, provides an opportunity to pursue two semesters (six credits) of independent research under the direction of a faculty sponsor. Students may pursue a thesis or creative project.
The University Honors College
The Honors College at UVM is a residential college enrolling some of the most capable students from our full spectrum of programs. In the junior year, Honors College students work on developing research methods and identifying research questions (usually in their home schools/colleges) that will prepare them for an independent research or creative project--the six-credit Honors thesis--they will undertake in their senior year. Honors College students who complete all curricular requirements of the Honors College as well as a degree in one of the seven undergraduate colleges and schools at UVM will graduate as Honors College Scholars.
Departmental Honors
Many of the College of Arts and Sciences departments have opportunities for their majors to achieve departmental honors. For example, the History Department faculty nominate students who have submitted exceptional papers in 200-level seminar courses. These papers are then reviewed by a faculty committee for honors selection. Economics majors with an economics GPA of 3.5 or higher at the end of the fall semester of that year are eligible to submit a portfolio of work to a faculty committee for review and honors selection. Additional information is available on individual department websites.
Graduating with Honors
Bachelor's degrees may be conferred and the diploma inscribed with honors in recognition of general high standing in scholarship. Students in the top one percent of the graduating class of their college/school will receive summa cum laude; the following three percent will receive magna cum laude; the next six percent will receive cum laude. The total number of honors awarded will not exceed ten percent of the graduating class of each college/school.