Departmental Honors
Departmental Honors, which is a degree distinction, is awarded in accordance with the following procedure:
Professors nominate students who have submitted exceptional seminar papers (papers written for 200-level courses). Should a person wish to accept nomination, he or she will then revise that paper, if it needs revision, along lines suggested by the professor usually over the course of a semester long independent study.
Submission to the committee: Whether revised or not, that paper will be submitted to a committee of three professors from the department who will examine the candidate. This examination, which will be an oral interview and which will last about one hour, will not only probe the paper's thesis and the methods of investigation and analysis employed by the student, it will also ask the student to place his/her work into a larger historiographical context.
Upon successful examination: Upon successful examination, the student will be awarded Departmental Honors provided that he/she is a History major and has a graduating average in all History courses of at least 3.3.
College Honors
Students who have a GPA of at least 3.4 are eligible to apply for permission to undertake an honors research project during their senior year. Additional information is available in the Dean's office.
GORAN PRIZE IN AMERICAN HISTORY
The History Department annually recognizes an outstanding junior or senior major working in the field of American history. Candidates for the prize are nominated by faculty on the basis of academic achievement and all nominees are required to submit a major piece of academic writing in being considered for the award.  Intended to honor the academic achievements of a student who hopes to pursue a career in history or the public humanities, the prize was established in 2014 by UVM alumnus Arnie Goran '54 and his wife Mariel. 
Previous Recipients
2022 --  Holly Kuhn, Tess M. Hastings
2021 -- Carmen Harris
2020 -- Jason Goldfarb
2019 -- Maggie A. Mahoney , John R. Suozzo
2018 -- Kiara Day
2017 -- Sarah A. Jauris
2016 -- Rose Newton
2015 -- Patrick Maquire
URECA! (Undergraduate Research Endeavors Competitive Awards)
The purpose of this program is to provide prestigious, competitive awards to outstanding undergraduates who wish to pursue a specific research project under the mentorship of a faculty member. In this way, undergraduates have the opportunity and resources to pursue independent research as well as work closely with active faculty members who are leading scholars in their fields.
Paul D. Evans Award
The History Department annually recognizes its outstanding graduating senior history major with the strongest academic record (as measured by overall grade point average and grade point average in History courses) with the Paul D. Evans Award for Excellence in History. Paul D. Evans had a distinguished career as a professor of history from the 1930s until his retirement in 1972. Consideration is also given to the level of difficulty of the courses taken within the major and preference accorded to those students doing a senor honors thesis in History.
Previous Recipients
2022 -- Katie  Wynn
2021 -- Theo  Cutler
2020 -- Daniel  Ortiz
2019 -- Hunter M. Heberg
2018 -- Hannah E. Johnson, Maria C. Koutsouris
2017 -- Hunter A. Colvin
2016 -- Erin A. Clauss, John M. Marchinkoski
2015 -- Emily  Stoneking
2014 -- Michael R. Edmondson
2013 -- Eliza B. Kelsten
2012 -- Douglas A. Nelson III
2011 -- Bronwen   Gulkis, Marshall   McKenzie
2010 -- Kara L. DeDonato
2009 -- Kathryn  Boolukos, Justine  Trombley
2008 -- Kaitlynne  Ward
2007 -- Elizabeth  Ehrlich
2006 -- Adam S. Rostler
2005 -- Nicholas C. Bewley, Rose M. McGovern
2004 -- Oliver C.  Inslee
2003 -- Kathryn Q. Hughes
2002 -- Jesse W. Lawson
2001 -- Christina E. Nolan, Maximilian P. Owre
2000 -- Benjamin D. Gordon, Kristina M. Jacobsen
1999 -- Timothy Ryan Ashe
1998 -- Aaron V. Stephenson, Kevin A.  Young
1997 -- Rachael C. Diana, Kristina  Pisanelli
1996 -- Nicole Y.  Brumsted
1995 -- Michael K. Lantagne
1994 -- Shayne M. Jolie
1993 -- Ann M. Newell
1992 -- Jeffrey A. Iasilli, Steven J. Oatis
1991 -- Jonathan K. Balas
1990 -- William B.F. Steinman
1989 -- Jeanne-Marie  Bates, Suzanne Marie Dressler
1988 -- Deborah Lynn Day
1987 -- Diane M. Saunders
1986 -- John F. Alexander, Cynthia L. Reid
1985 -- Mary Jane Peloquin
1984 -- Robert  S. Steinberg
1983 -- Kathleen A.  Kelleher
1982 -- Juanita B. Andrea, Robert L. Danyow
1981 -- Michael  Cohen, Amanda  Stedman
1980 -- John  L. Kellner, Allison J. Kiffin
1979 -- Christine M. Dudley
1978 -- Susan Souther Curley
1977 -- Elizabeth F. Arms, Elaine C. Kilburn
1976 -- Ralph A. Barnes, J. Kevin Graffagnino
1975 -- Edward  French, David S. Gonyau
1974 -- Craig  N. Meurlin
1973 -- Valerie  L. Lewis
1972 -- Melissa M. Lewis
1971 -- Carl E. Korman
Phi Alpha Theta 2023
UVM History Department Alpha Alpha Psi Chapter Requirements:
Undergrads: Seniors or Juniors with 15 or more UVM earned credit hours (5 classes) in History; 3.6 History GPA; 3.4 overall GPA
Graduate students: 15 or more UVM earned credit hours (5 classes) with 3.75 History GPA
Further details are available from our Phi Alpha Theta faculty advisor, Professor Sean Field. Additional information about the National Honor Society can be obtained on Phi Alpha Theta National website.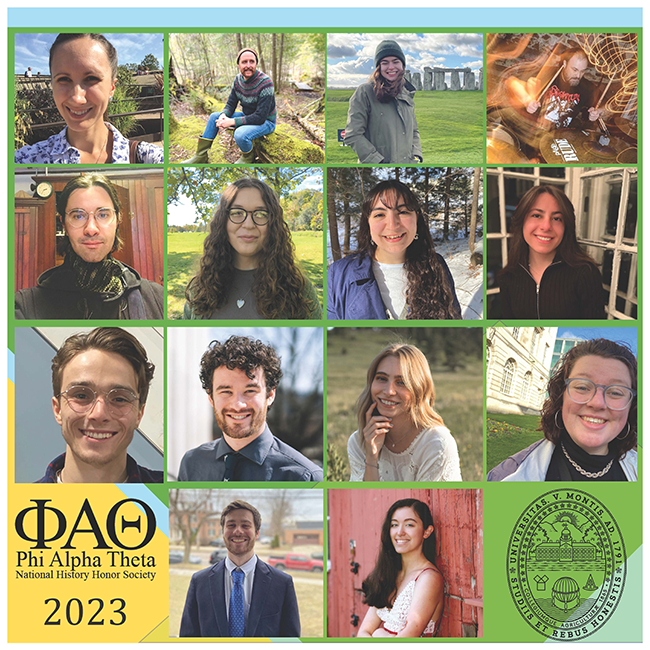 Phi Alpha Theta Inductees 2023
| | | | |
| --- | --- | --- | --- |
| Joseph H. Alexander | Bridget Mary Grew | Wade James Mullin | Richard Matthew Witting |
| Jane Read Brinley | Michael Warfield Harrity | Casey Lynn Murphy |   |
| Michael R. Carter | Meghan A. Hessler | Sophia Cope Nolan |   |
| Elisabeth N. Champion | James Francis Hughes II | Juniper Minerva Devereaux Oxford  |   |
| Anna K. Clark | Catherine M. Jones | Shira Natalie Palmer |   |
| Forrest Coleman DesLauriers | Shannon Boland Kaiser | Margaret Elizabeth Pierce |   |
| Grace Clara Elston | April Olivia Kilkenny | Iain Andrew Pless |   |
| John Russell Evans | Jacqueline Beth Kruse | Sophie Jane Prager |   |
| Zoe SH Fay | Simone E. Martorano | Caleb McCone Reilly |   |
| Meaghan Elizabeth Feeney | Sophia M. Miller-Grande | Evelyn Dion Stearns |   |
Phi Alpha Theta Induction Ceremony, April 11, 2023