Departmental Honors
Departmental Honors, which is a degree distinction, is awarded in accordance with the following procedure:
Professors nominate students who have submitted exceptional seminar papers (papers written for 200-level courses). Should a person wish to accept nomination, he or she will then revise that paper, if it needs revision, along lines suggested by the professor usually over the course of a semester long independent study.
Submission to the committee: Whether revised or not, that paper will be submitted to a committee of three professors from the department who will examine the candidate. This examination, which will be an oral interview and which will last about one hour, will not only probe the paper's thesis and the methods of investigation and analysis employed by the student, it will also ask the student to place his/her work into a larger historiographical context.
Upon successful examination: Upon successful examination, the student will be awarded Departmental Honors provided that he/she is a History major and has a graduating average in all History courses of at least 3.3.
College Honors
Students who have a GPA of at least 3.4 are eligible to apply for permission to undertake an honors research project during their senior year. Additional information is available in the Dean's office.
URECA! (Undergraduate Research Endeavors Competitive Awards)
The purpose of this program is to provide prestigious, competitive awards to outstanding undergraduates who wish to pursue a specific research project under the mentorship of a faculty member. In this way, undergraduates have the opportunity and resources to pursue independent research as well as work closely with active faculty members who are leading scholars in their fields.
Ruth Boelsen Baird Award
The Baird Award was established in 1998 by Mrs. Baird to be used to recognize deserving students in the History Department. Mrs. Baird graduated from UVM in 1942 with a double major in history and psychology. This award is given to the out-of-state senior history major with the greatest financial need and the strongest academic record as measured by overall grade point average and grade point average in history courses. The recipient of the award is recognized at the Honors Day ceremonies.
Paul D. Evans Award
The history department annually recognizes its in-state outstanding graduating senior(s) with the Paul D. Evans Award for Excellence in History at Honors Day ceremonies.  Paul D. Evans had a distinguished career as a professor of history from the 1930s until his retirement in 1972. This award is given to the in-state senior history major(s) with the strongest academic record as measured by overall grade point average and grade point average in History courses. Consideration is also given to the level of difficulty of the courses taken within the major.
Phi Alpha Theta 2022
UVM History Department Alpha Alpha Psi Chapter Requirements:
Undergrads: Seniors or Juniors with 15 or more UVM earned credit hours (5 classes) in History; 3.6 History GPA; 3.4 overall GPA
Graduate students: 15 or more UVM earned credit hours (5 classes) with 3.75 History GPA
Further details are available from our Phi Alpha Theta faculty advisor, Professor Sean Field. Additional information about the National Honor Society can be obtained on Phi Alpha Theta National website.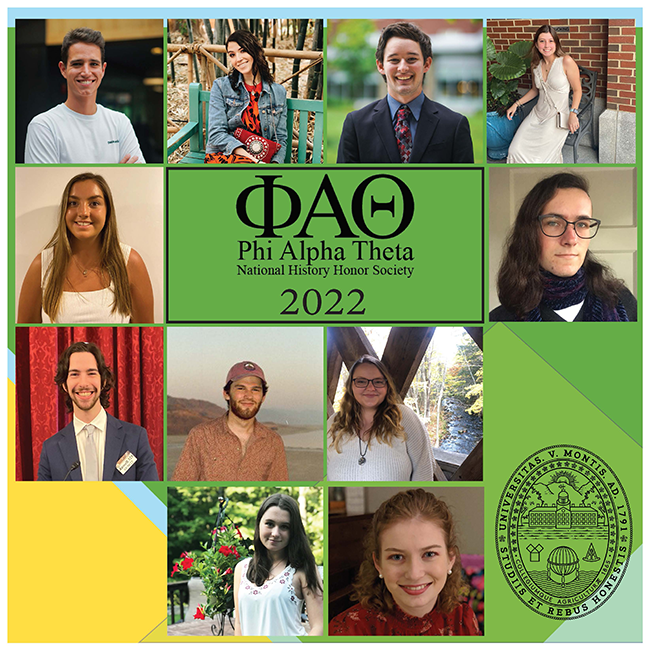 Phi Alpha Theta Inductees 2022
| | |
| --- | --- |
| Philip Maas Bern | John Fitz Harrington |
| Benjamin J. Barry | Autumn Grace Headwell |
| Dominic Joseph Bove | Hannah Kirkpatrick |
| Kris K. Brown | Isabel Kathleen MacGregor |
| Patrick John Conway | Lily McGuire-Eggleston |
| Jessica M. Dion | Jahnessa A. Ryea |
| Zoe R. Drajem | Eleanor Grace Setchko |
| Anna Elizabeth Feloni | Sarah Faith Shapiro |
| Jessica Sera Fine | Benjamin D. Stewart |
| Joseph Anthony Gallo | Nicholas Hayden Wendell |
Phi Alpha Theta Induction Ceremony, April 6, 2022