The Film and Television Studies program is dedicated to producing critical media thinkers and producers who are capable of working and contributing to our increasingly diverse and technologically sophisticated society.
Welcome from the Director of the Film and Television Studies Program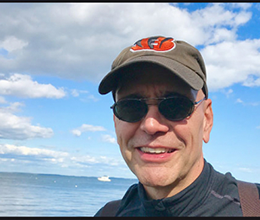 Film and television surrounds us constantly. No one goes through the day without contact with the hypnotic power of the screen. The aim of the Film and Television Studies program at the University of Vermont is to make sense of the mediatized world that we inhabit and to give students the tools to contribute thoughtfully to it. We offer courses that deal with topics ranging from Italian Neorealism and Akira Kurosawa to Pixar films and Breaking Bad. These courses not only introduce students to the formal aesthetics of media but also the history and theory that give it context, including theories such as psychoanalysis, critical race theory, cultural studies, and feminism. Our creative courses include screenwriting, animation, cinematography, and all major aspects of media production. Film and Television Studies students participate in organizations such as the UVM Film Club, take up vibrant extra-curricular options for producing media, screen films, work on internships, and meet people with similar interests. All our research faculty members are actively publishing scholars, while our creative faculty produce significant film and video works. Above all, we are here to help students find a way to actualize their passion, whether it be through critical thinking, theorizing, writing, or creating film and video pieces.
Todd McGowan
Todd.McGowan@uvm.edu
Why study film?: FTS graduates share their experience.