The Film and Television Studies program is dedicated to producing critical media thinkers and producers who are capable of working and contributing to our increasingly diverse and technologically sophisticated society.
Welcome from the Director of the Film and Television Studies Program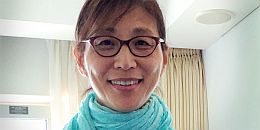 Whether you are interested in Film and Television Studies as a major, a minor, or just want to take a course or two, our program has something for you. Our course offerings include a range of topics, from film studies to theory, production, and screenwriting. Our faculty are actively engaged in research and creative work. In addition to the academic program, student-run clubs, such as the UVM Film Club, offer vibrant extra-curricular options for engagement in producing media, screening films, and meeting students with similar interests. Many FTS majors also take advantage of internship opportunities, both locally and around the country to gain additional real-world experience. I look forward to hearing from you.
Hyon Joo Yoo
hmurphre@uvm.edu
Why study film?: FTS graduates share their experience.