This Fall, the UVM Institute for Agroecology is offering two online courses for graduate students, advanced undergrads, as well as activists and professionals seeking creative learning in agroecology. Read below to learn more about these course offerings.
We believe that we learn best from a diversity of sources and a diversity of voices – online participation means you can join us from almost anywhere. Read below about our two offerings this fall (September-December 2023).
These can be taken as a part of the Certificate of Graduate Study in Agroecology (CGSA) or as stand-alone courses.
Participatory Action Research and Transdisciplinary Approaches (PSS 6130)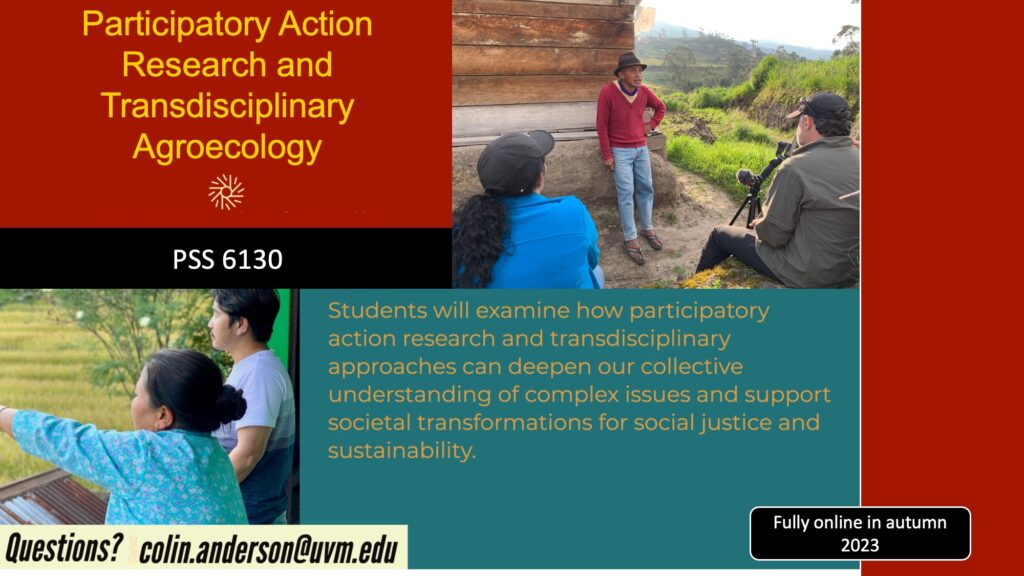 Instructor: Colin R. Anderson (colin.anderson@uvm.edu)
Class meeting times and location: Fall Semester 2023: August 29th – December 12th. 2 hour Weekly online meetings on Thursdays from 12-2pm EST.
Registration: To register for credit as a for-credit UVM student, click here. To register through continuing education as a non-credit student click here.
Participatory, transdisciplinary and action research have become internationally recognized as pillars of knowledge production for sustainable and just food systems. Participatory Action Research (PAR) can be described as a process of research, education and action in which participants work together to understand and transform reality.
In this course, students will examine how these approaches can deepen our collective understanding of complex issues and support societal transformations for social justice and sustainability, especially in the context of agroecology. Together, we will encounter the 'politics of knowledge' or the ways that power and privilege shape science, academia, innovation, and development, as well as the value of "people's knowledge". We will also engage with critical theoretical traditions, such as feminism and decoloniality.
Then we will get practical and focus on the nuts and bolts of doing PAR in agrifood system studies and action. We will examine examples of agroecological PAR projects, to draw lessons learned and to find inspiration. We will shine a spotlight on several methods used within this tradition including, for example, participatory photography, popular education, theatre, indigenous approaches, deliberative methodologies, auto-ethnography and different forms of qualitative, quantitative and mixed methods inquiry. This course develops students' PAR and transdisciplinary competencies through a systematic engagement with theory, skills, methods, and a critical reflexive self-examination of our role in the research processes.
PSS6110: Introduction to Agroecology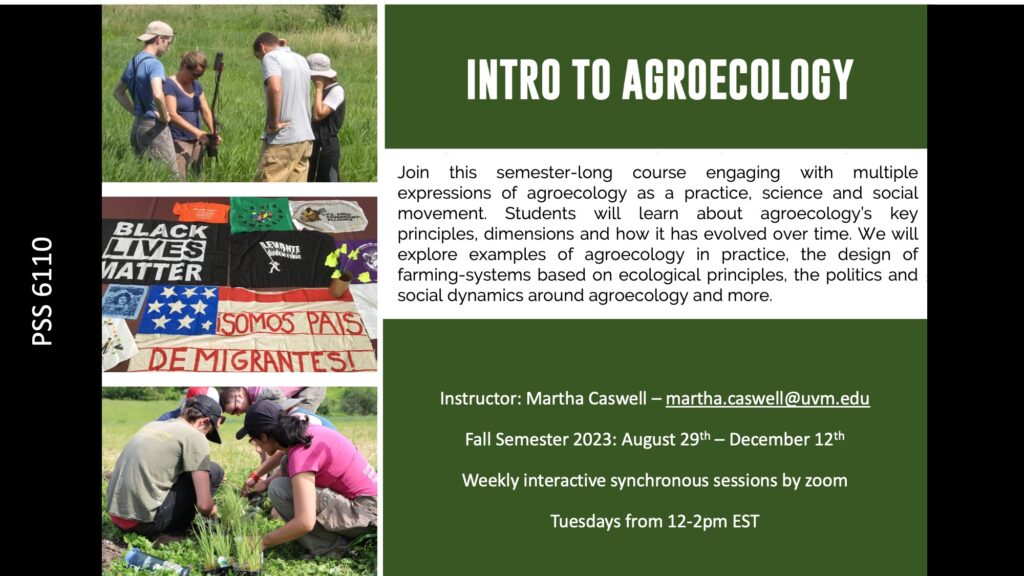 Instructor: Martha Caswell – martha.caswell@uvm.edu
Class meeting times and location:Fall Semester 2023: August 29th – December 12th. Weekly interactive synchronous sessions by zoom – Tuesdays from 12-2pm EST
Registration: To register for credit as a for-credit UVM student, click here. To register through continuing education as a non-credit student click here.
This 15-week online course presents an in-depth overview of research and applications in the field of agroecology. The last week students will participate in a virtual experience that engages with our local Vermont partners and their farms.
The course seeks to provide students with both conceptual and practical content, covering the evolution of the field of agroecology, from its origins to the present, as it gains increasing recognition in scientific, policy, social movement and farming spaces. Students will engage in some of the debates agroecologists are now facing, as they grapple with maintaining the core characteristics of the field as it is increasingly applied by a wide diversity of actors. A special emphasis is placed on discussing the different expressions of agroecology as a science, a social movement and a practice. We will consider the intersections of agroecology and transdisciplinarity, as we integrate different knowledge systems to search for solutions to the current challenges of our agrifood systems. And finally, we will explore the use of participatory action research (PAR) and agroecology principles, as an essential approach to agroecological research and practice.