Join our Introduction to Agroecology Course this Spring
Looking for a crash course that brings a learning community together to explore the social, political, ecological and cultural dimensions of agroecology? Join in on our Intro to Agroecology course. This year's offering is fully online and will bring you into an interactive learning environment with committed instructors and inspiring guest speakers. More information below.
Click here to learn more and to register.
Questions can be directed to the co-instructors Vic Izzo (victor.izzo@uvm.edu) and Martha Caswell (martha.caswell@uvm.edu).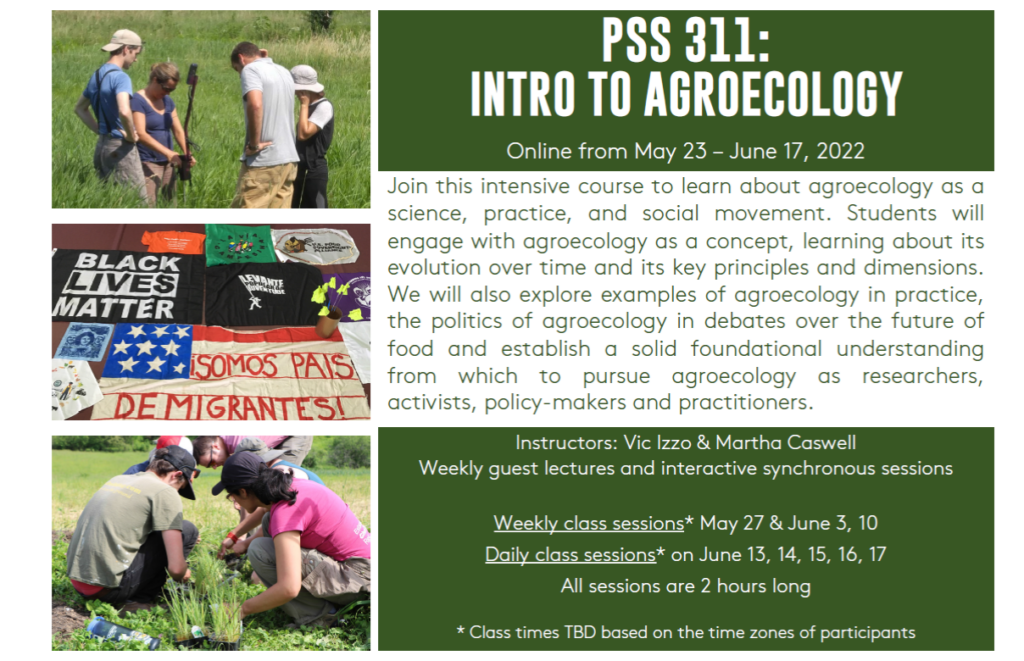 This 4-week online course presents an in-depth overview of research and applications in the field of agroecology. The last week students will participate in a virtual experience that engages with practitioners from our widespread agroecology network.
The course seeks to provide students with both conceptual and practical content, covering the evolution of the field of agroecology, from its origins to the present, as it gains increasing recognition in scientific, policy, social movement and farming spaces. Students will engage in some of the debates agroecologists are now facing, as they grapple with maintaining the core characteristics of the field as it is increasingly applied by a wide diversity of actors. A special emphasis is placed on discussing the different expressions of agroecology as a science, a social movement and a practice. We will consider the intersections of agroecology and transdisciplinarity, as we integrate different knowledge systems to search for solutions to the current challenges of our agrifood systems. And finally, we will explore the use of participatory action research (PAR) and agroecology principles, as an essential approach to agroecological research and practice. We will cover international and domestic geographic perspectives, and examine, more in- depth, agroecology and PAR with 3-4 local Vermont farms.
COURSE DAYS & TIMES:
Full Course timeline: May 23 – June 17, 2022
By the end of this course, students will be able to:
Describe the state and evolution of the field of agroecology and engage in the debate on agroecology's dimensions as a science, a social movement and a practice
Understand and apply a principles-approach to agroecology
Understand some of the opportunities and challenges of applying agroecology and PAR in three local Vermont farms
Understand the challenges and opportunities of applying agroecology as a transdisciplinary, participatory and action-oriented approach
Engage in active peer-to-peer learning with fellow classmates, instructors and guests.
Students taking it as a non-credit course will receive a Digital Badge signifying completion of the course.