A Note from Staff Council President Catherine Symans

At the beginning of the semester, President Sullivan informed the University community of a university-wide initiative that will replace UVM's current model of budgeting. Incentive-Based Budgeting (IBB) has now been presented and discussed in all the governance groups and a steering committee, led by Provost and Senior Vice President David Rosowsky, has been formed. Johanna Brabham, Manager, Residential Life and Davis Center Custodial Department and a Staff Council Representative, will be serving on the Steering Committee as our organization's representative. Continue reading...
Remember, if you print any of the information found in the Staffline, please choose the double sided or multiple page option on your printer to reduce paper usage.
Staff Council News :
Discounts:
Events:
Other Announcements:
Follow us here:
Email: Staff.Council@uvm.edu or call the Staff Council Office at 802-656-4493 Staff Council Office
85 So. Prospect Street
313 Waterman Building
Burlington, VT 05405

Hours
M -TH 8am - 3:30pm
F 9am - 1pm
www.uvm.edu/staffcouncil
Information from Staff Council:
Staff Council Holiday Bazaar & Food Drive

The Staff Council Social Committee will hold the Annual Holiday Bazaar & Food Drive on Wednesday, December 4, 2013 from 9am - 3pm in the Grand Maple Ballroom of the Davis Center. If you would like to participate as a vendor to sell your homemade crafts or goods, tables can be purchased for only $30. We are also looking for volunteers to work at the event or donate a baked good to our Bake Sale. For more information on how to reserve a table or volunteer at the event, visit the Holiday Bazaar & Food Drive website.

Staff Council Survey

The Staff Council's 2013 Survey of non-represented staff in October. Stay tuned for an email invitation and please complete the survey so Staff Council can better serve you.
Staff Council's Outreach Video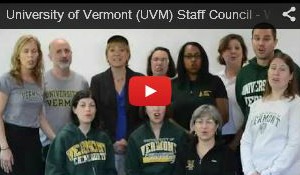 Human Resource Services News: