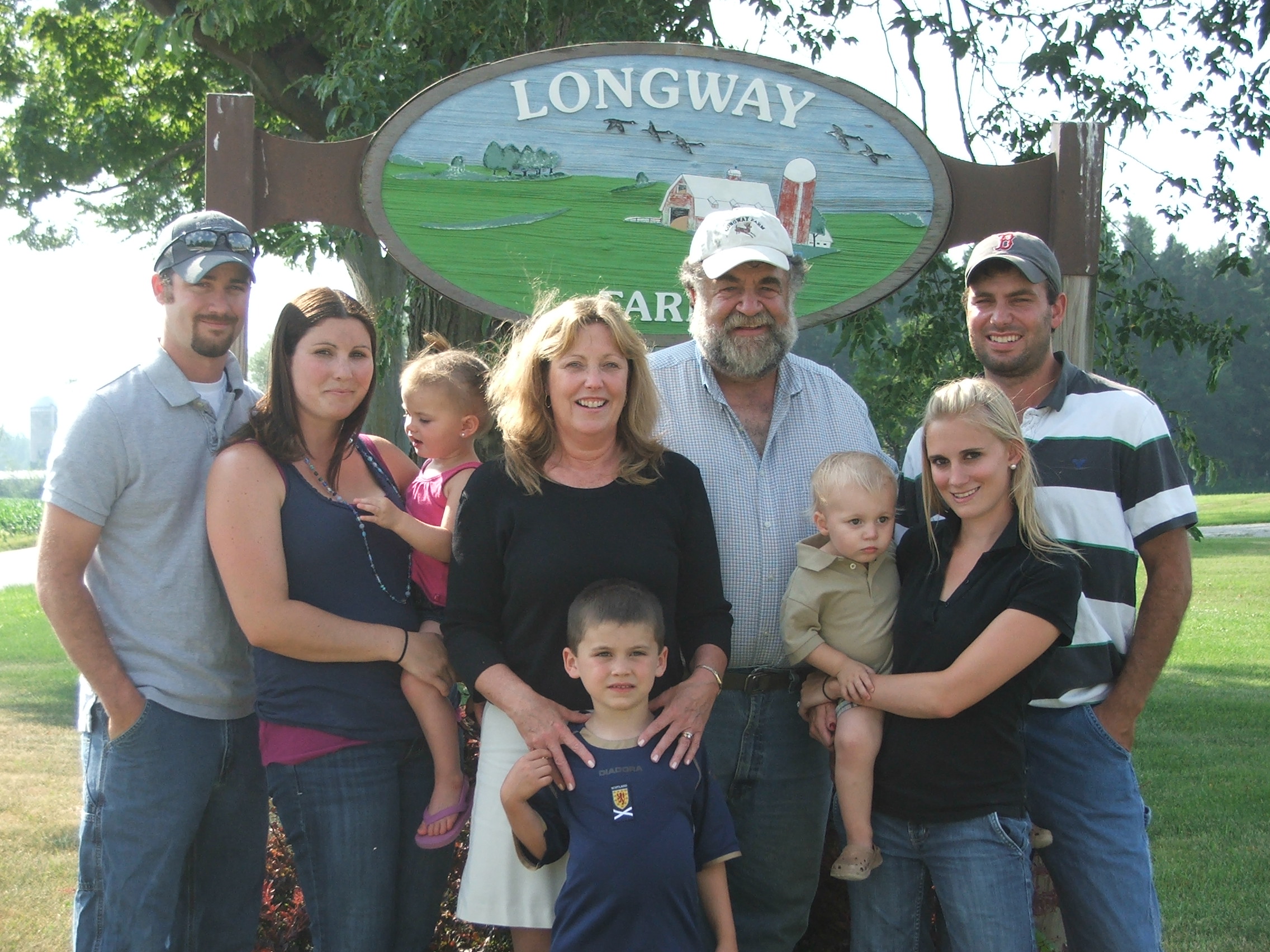 Longway Farms in Swanton was named the 2010 Vermont Dairy Farm of the Year Award. Family members (from left to right) include Adam, his wife Chrissy holding daughter Addyson, Julie with Adam's son Camden, Dick, Kirston holding son Mason, and Travis.
(Photo: Peggy Manahan)
Ask Dick Longway and his sons, Travis and Adam, what makes their dairy operation so successful, and they can't point to just one thing. A savvy business attitude contributes as do meticulous cow and crop records, attention to detail, and an eagerness to adopt new technology. The bottom line, however, may just be that they really love what they do.
For these and other reasons, Longway Farms in Swanton has been recognized as the Vermont Dairy Farm of the Year for 2010.
University of Vermont (UVM) Extension and the Vermont Dairy Industry Association, in cooperation with the New England Green Pastures Program, present this coveted award annually to an exemplary, economically sound, and efficiently managed dairy operation, representative of the best farms in Vermont. Nominees are evaluated on a number of criteria including their production records; herd, pasture, and crop management; environmental practices; contributions to agriculture and the local community; and overall excellence in dairying.
Alan Curler, a farm management educator with UVM Extension's Farm Viability Enhancement Program and coordinator of this awards program, notes that the judges were particularly impressed with the Longways' use of technology, innovativeness, and strong commitment to the dairy industry. They were the first in the state to develop their own certified nutrient management plan, he says, just one example of them taking the initiative to find ways to cut costs and maximize the efficiency of their operation.
The family, which also includes Travis's wife, Kirston and son Mason, and Adam's wife Chrissy and children, Camden and Addyson, will be honored at an awards banquet at the Eastern States Exposition in W. Springfield, Mass., in September and the Vermont Farm Show in Barre in January. The winners also will be featured on Across the Fence, the UVM farm, home, and community show on WCAX-TV, airing at 12:10 p.m. on Aug. 30. Finalists for this year's award were Eric and Jane Clifford of Starksboro.
Dick, his wife Julie, and their two sons operate a 420-cow dairy farm in northwestern Vermont, not far from Missisquoi Bay. The operation includes the 226-acre home farm where they raise their heifers and their 236-acre main farm that they acquired through the Vermont Land Trust in 1995, trading their development rights towards its purchase. Travis and Adam recently bought a 200-acre neighboring farm, which is used to grow grain crops.
The Longways currently milk 400 Holsteins three times a day in a double-12 parallel automated milking parlor with the help of their four farm employees. Their rolling herd average is 22,300 pounds with 3.8 percent butterfat and 3.15 percent protein, numbers attributable to a good breeding program, precision feeding program, and concern with cow comfort and herd health. They ship their milk to the St. Albans Co-op as they have since 1979, the year Dick Longway bought the home farm and started milking 42 cows. For several years they have earned quality awards from the co-op for their milk.
"Keeping cows comfortable is a big deal to us," he explains, noting that the milking herd is housed in a 326-stall free-stall barn equipped with mattresses and sensor-controlled side curtains for temperature control and state-of-the-art fans to regulate air flow.
"We don't crowd our animals," adds Travis Longway, who manages the cow side of the operation. "We're never over 15 percent stall capacity in the barn. Bedding is changed once a week. We try to stay on a routine bedding schedule, which helps ensure higher milk quality." A representative from Cargill Animal Nutrition, Inc. in Swanton reviews milking procedures with the farm employees once a month.
They raise all their own replacements, breeding their heifers to freshen at 13 months with a calving interval of 23 months. "Next year we hope to be at 22 months," the 29-year-old dairyman, says. Cows are bred with single sex semen through A-I (artificial insemination) with genetic selection for better milk production and foot traits. Single sex semen is semen treated to remove most of the male chromosomes, resulting in a higher percentage of female calves.
"Before we built the new 130 x 75-foot calving barn two years ago, we didn't have a proper calving facility," he continues. "Now we have six calving pens, which has greatly improved our calf survival rate."
To give calves a healthy start, they are bedded in one of the 28 individual pens on clean straw and fed colostrum for two days after birth, then given powdered milk, water, and grain. The barn also houses 26 close up and 26 fresh cows. Sand is used as bedding, providing additional herd comfort.
Adam, 27, who handles the crops, feeding, and machinery purchases, works with nutritionists from Cargill and Poulin Grain, also located in Swanton, on a twice weekly basis to balance the feed ration for high milk production and proper body condition. Cows are fed a total mixed ration of corn silage, haylage, and snaplage (high-moisture corn) along with purchased grain and protein mixes.
They grow all their own forages with their 520 acres of corn yielding close to 22 tons per acre of silage. Their 210 acres of grass and 220 acres of alfalfa each produce an average of six tons of dry matter per acre. Bunks are covered and packed, so there's no spoilage, Dick Longway, says.
"Last year we saved $5,000 to $6,000 per month with our snaplage as we didn't need to buy corn meal," Adam Longway notes.
"Adam takes a lot of pride in being able to develop a forage production system that yields the high quality feed that Travis demands for the dairy herd," says Dr. Heather Darby, a UVM Extension field crops and nutrient management specialist based in St. Albans. A computerized system in the milking parlor informs them how much forage and grain each cow is fed, allowing them to adjust the feed needs of the animals on an individual basis.
In 2003 the farm was named the Franklin County Conservation Farm of the Year for its sound conservation practices including no-till planting and seeding and manure injection in environmentally sensitive areas on the farm. They have 30-foot buffer strips along stream banks and installed a system to handle silage leachate from the feed bunkers. The farm is enrolled in the U.S. Department of Agriculture's Environmental Quality Incentives Program, which helps fund on-farm projects such as milk house waste systems and manure storage facilities--including their 3,000,000-gallon manure pit--that manage manure more efficiently.
"They started shorter-season corn to get their cover crops in early," Darby says, "Their corn grows better with a much higher yield, but they also benefit from improved soil quality."
Adam Longway was among the first group of farmers to enroll in the Digging In Nutrient Management Course developed by Darby in 2006. Through this five-week course, participants learn how to write a nutrient management plan for their farm that meets state and federal regulations. These comprehensive plans help them achieve the most from their livestock manure from both an economic and environmental standpoint by estimating annual livestock manure quantities, analyzing soil test results, planning crop rotations, and calculating nutrient value from animal manure and legumes.
"Very few farmers take on this time-consuming and arduous task," Darby points out. "Most choose to have a crop consultant write and maintain their plan."
"We didn't have a good crop rotation plan," Adam Longway says. "We were losing money. The plan also helped us cut our fertilizer bills by 20 percent as we were able to see what we needed instead of having the fertilizer dealer tell us what to buy. Using less fertilizer reduces phosphorus." Phosphorus run-off is a concern, given their proximity to Missisquoi Bay, as excessive levels of phosphorus in the water from farms, storm water run-off, and other nonpoint source pollution can adversely impact water quality.
Adam is currently working with Darby's Extension team to develop a cell phone application for farm recordkeeping that will allow farmers to access and update their records--even when out working in the fields---to provide them with up-to-date information for on-the-spot decision-making.
The Longways also work to protect the environment through the Franklin and Grand Isle County Farmers' Watershed Alliance, which Dick Longway helped establish.
"We started the group to help farmers in the Missisquoi Bay and St. Albans Bay watershed areas understand environmental regulations and deal with non-regulatory environmental issues on their farms," the 59-year-old farmer explains. The alliance works with individual member farms to identify environmental risks and develop an individualized water quality protection plan, as well as lobbies legislators and educates the public and the agricultural community about water quality issues.
Dick also advocates for farmers through Dairy Farmers Working Together, a Vermont-based organization that seeks fairer milk prices for both the producer and the consumer through a new national dairy industry policy.
"Farmers get in the mode that they are too busy to go to meetings or find time to try something new," Darby concludes. "This farm family is constantly looking for new information to educate themselves to be better farmers and better stewards of the land. They plan for the future, finding ways to continually do better to bring the farm to the next level."
UVM Extension helps individuals and communities put research based knowledge to work.
Issued in furtherance of Cooperative Extension work, Acts of May 8 and June 30, 1914, in cooperation with the United States Department of Agriculture. University of Vermont Extension, Burlington, Vermont. The University of Vermont Extension and USDA, cooperating, offer education and employment to everyone without regard to race, color, national origin, gender, religion, age, disability, political beliefs, sexual orientation, and marital or familial status.